Protect Worcestershire's history through our Adopt a Document scheme
---
Get involved in protecting Worcestershire's history by making a contribution to the vital work of conserving the county's archives through our Adopt a Document scheme.
Your gift will give us the financial support we need to ensure that Worcestershire's archives are preserved and accessible for centuries to come. All money raised will only be used to support the work of our conservator. A number of options are available:
Choose from our list
For a donation of £20 you can choose one of the documents from this list. After you have donated you will receive a beautifully designed 'Thank You' from us, which can then be sent as a present to some one important to you or kept for yourself.
View the documents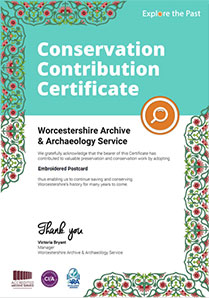 Choose any document
---
If you are celebrating a special event or commemorating a life then this more personal option would be ideal. For a minimum of £200 you can adopt any document dating from the 12th century to the present day.
We will send you a thank you certificate, a digital copy of your document and your donation will be recorded as a permanent listing in our 'Sponsors Record'. In recognition of your donation a book plate will be held with your document in perpetuity.
For more information about our bespoke service please contact us.