Explore the past with our Historic Environment Record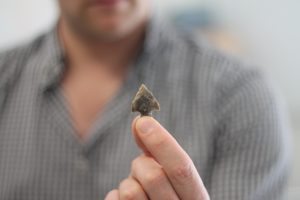 There are a number of ways to access information about the Historic Environment Record, both online and on-site at The Hive. If you have any questions or queries about our archaeological resources, or the information within them, please contact us for advice.
Historic Environment Record (HER)
The HER database is the County of Worcestershire's primary resource for archaeological and historic environment information. We hold approximately 83,000 records including archaeological sites, historic buildings, monuments, and landscape features. The HER can help you to research:
Your area, whether that's a village, a particular building, or parish
A particular period of interest, including Roman, Medieval, and World War II
Industries such as lime kilns, carpet factories, and needle manufacturing
Historic artefacts, such as coins, pottery, plant, and animal remains
Parts of the HER database are available to search online through the Heritage Gateway. To access the full database visit us on Level 2 in The Hive at the HER desk Tuesdays & Thursday 10:30-13:30, or contact us for information.
To submit a commercial search request please check our list of fees and charges and contact us.
For further information about the data recorded by Worcestershire's HER, please see our Recording, Information and Disposals Policy.
Ceramics Database
Our ceramics database was designed to make the complete pottery fabric and form type series for Worcestershire accessible online. The database is aimed at ceramic specialists and students, but can be used by anyone interested in the study of pottery, as it includes both simple and advanced search facilities.
It contains information on all pottery used and made in Worcestershire from the Neolithic to the early post-medieval period, as well as the most commonly identified later post-medieval and modern fabrics and forms. Also included are high-resolution fabric images and concordance information for other type series in surrounding counties.
"Thank you so much for all your hard work and diligence in creating this [ceramics] database! The design is excellent and I believe that this sets the standard for searchable online data banks" (blog)
Online Archaeology Library
The Online Archaeology Library provides access to unpublished archaeological reports for Worcestershire.
Not all reports we produce are available online due to:
Copyright restrictions
Request of copyright holder
Inclusion of confidential or commercially sensitive information
Reports not on the Online Archaeology Library can be accessed by contacting the HER.
By using the resources you are agreeing to abide by the terms of the Copyright and Liability Statement and the Online Library Access Agreement.
From the 31st December 2019 there will no longer be access to the Online Archaeology Library, due to obsolete software.   The majority of the reports on the OAL are also accessible via the ADS website and we are working towards ensuring that the remainder are transferred across.  This will require permission from copyright holders, but in the interim those reports can still be accessed by contacting the HER directly.
Tithe and Inclosure Maps
Many of these 18th and 19th-century maps of Worcestershire and their associated documents have been digitised. Together with the other records within the HER, these form part of a powerful, searchable research tool.
Download our Worcestershire maps guide
We rely on external funding to undertake this work, and new maps are being added as they are completed.  If you belong to a local history, archaeology or community group we may be able to assist your organisation to apply for a grant to allow this work to continue as part of a group/community project. We have already worked Badsey and Aldington, Stourport  and Hanley Castle on mapping projects and the results are available on their websites.
Download the Hanley Castle guide