For a donation of £20 you can choose one of the documents from our list
---
Following your donation you will receive a beautifully designed 'Thank You' from us, which can then be sent as a present to some one important to you or kept for yourself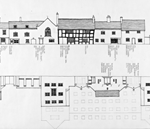 A Survey of Existing Buildings on Friar Street, Droitwich, 1960
(r705:1246 BA14644/19)
• 1600mm x 350mm
• Survey drawing on tracing paper by architect Mary Charles (1924-2005), who ran a local architectural practice alongside her husband, the nationally recognised timber-framed buildings specialist, Frederick William Bolton "Freddie" Charles (1912-2002).
• Over time, tracing paper becomes extremely dry and fragile, frequently falling apart when handled.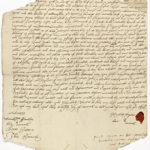 The will of Elizabeth Taylor, 1694
(008:7 BA3585/774(110))
• 300mm x 350mm
• Paper documents are susceptible to damage from light, moisture and pests such as rodents and insects, unless stored in environmentally controlled conditions. Many items have suffered damage prior to arrival at Worcestershire Archive and Archaeology Service, leaving the paper soft, spongy and likely to fall apart on handling.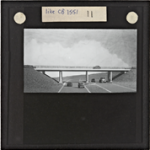 Glass slides of M5 bridges during construction c. 1960
(250.1 BA5417)
• 82mm x 82mm.
• Prior to the invention of cellulose nitrate film in 1903, photographic emulsions were made on glass supports and are typically referred to as glass plate negatives. Due to the fact that they are glass based, such collections are extremely vulnerable to damage over time.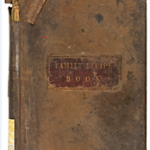 A Family Recipe book from 1847-1882
(899:310 BA10470/318)
• Leather bound volume 220mm x 332mm x 35mm.
• A collection of 'recipes' for the treatment of anything you may need – from a 'Liniment for Rheumatism', to a 'Remedy for Hooping Cough' and even a mixture 'To Check Baldness'.
• Binding materials can breakdown with the repeated action of opening and closing leaving the pages within vulnerable to damage and loss.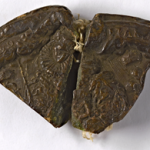 The Great Seal of Queen Elizabeth, 1590
• Wax fragments
• From a Letters patent conveying to Francis Knollys, Robert Cecil and others, property in Hanbury.  Originally this would have been approximately 120mm in diameter, attached to the parchment document using silk and/or silver thread.
• Great Seals are very susceptible to damage as they are made from wax and easily damaged during document handling.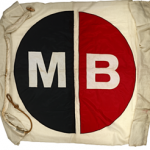 A Twentieth Century flag from Crown Food UK (formerly Carnaud Metalbox of Worcester)
(705:1616 BA15531)
• 1840mm x 1200mm
• The Worcester site in Perrywood Walk was formerly owned by Carnaud Metalbox, a leading manufacturer of metal and plastic packaging which Crown Holdings, Inc. (then Crown Cork and Seal), acquired in 1996.  It produced two piece and three piece cans and ends for the food market.
Instructions to Servants c.1931, from the Jessiman family collection.
• 206mm x 325mm
• Scrapbook written by Helen Mary Jessiman including instructions to the Cook General and House Parlour maid.
• Scrapbooks are a common item within the archive, usually being made from a collection of materials that were important to the owner. Often put together with pins, staples and sticky tape, these materials can degrade over time, causing damage to items they were intended to secure.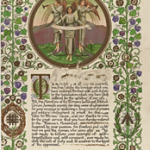 An Illuminated Address presented to Suffragettes
• 353mm x 454mm
• Presented to suffragettes that had spent time in prison 'for the cause'; signed by Emmeline Pankhurst and E Pethick Lawrence
• This document was used as a backing board for a framed picture and has been adhered to a piece of acidic cardboard.  Over time, this will cause darkening and staining to the document.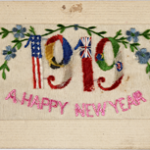 An Embroidered Postcard celebrating the New Year in 1919
(705:198 BA5334/2)
• 137mm x 90mm
• Silk embroidered postcards first appeared at the Paris Exhibition in 1900 and became popular as souvenirs for soldiers on the Western Front. This card was sent by Kidderminster man Eddie Preece to his parents in 1918.
• Textile items are particularly susceptible to damage from light, which causes fading of colours and eventually, breakdown of the fabric.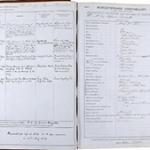 A Descriptive Register of Police Officers, from the West Mercia Police Collection.
(010:18 BA13870/94)
• Leather bound volume 80mm x 405mm x 80mm
• Included personal details of officers such as age; physical description; details of spouse and children; promotions; commendations and awards; and date of discharge, transfer or resignation.
• Originally produced as 'working documents', these volumes were consulted frequently and as a result, many volumes have suffered damage to the spine and binding materials over the years.