Lost Landscapes of Worcestershire
Celebrating our Ice Age past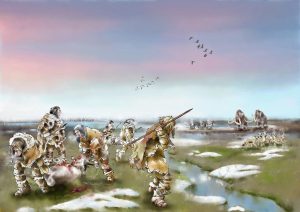 Grants from the Heritage Lottery Fund and Arts Council England have enabled the Lost Landscapes of Worcestershire to be brought back to life in 2018. We will be celebrating half a million years of history, from the time our first ancestors arrived until the end of the last Ice Age 10,000 years ago.
Over 500,000 years there were many changes in climate and habitats with humans coming and going as conditions altered. Once, woolly mammoths roamed the icy tundra and in another, prehistoric lions hunted in the grasslands beneath Bredon Hill.
Working with Museums Worcestershire and digital artists we are telling this story through a series of children's and family events, art installations and activities. The project culminates in the summer of 2018 with exhibitions located at The Hive and Worcester City Art Gallery and Museum, both in the heart of Worcester. More information on events and opportunities to get involved can be found at www.iceageworcestershire.com.