Explore your past with us at The Hive
You can contact us with enquiries via our Contact Us page and download a free guide to our online resources here.
Visit us at The Hive and you'll discover a wealth of archival resources and facilities to assist in your historical research. Under our care, 12 miles of original archives have been collected and preserved. These are made available to our customers under the guidance of friendly, knowledgeable, and experienced staff. All types of archival research on Worcestershire people and places can be undertaken using our collections.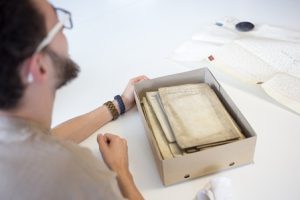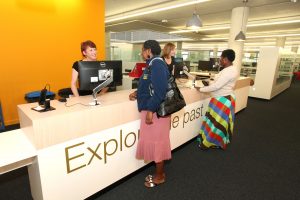 The Hive is open seven days a week from 8:30am to 10pm, during which time visitors can freely access all of our self-service resources, our extensive local studies and archaeology reference library, and our catalogues and indexes. Opening hours for access to the self-service area and original archive collections can be found on the Contact Us page.
"Exceptional service, and really helpful staff. An explanation of use was very clearly given. You could not have been more helpful with information-finding, use of computer and printing. Thank you."
Original archive collections
This is the area in which a wide range of original, and unique, archives are studied. Our collections date from the 1100s to present day and relate to every aspect of Worcestershire life. Here you can find the private records of local families and estates, school and hospital records, business records, the collections of Worcestershire County Council, Worcester City Council, and other official archives – including those of the Diocese of Worcester.
These collections are likely to contain historical maps, diaries, accounts, minute books, photographs, and many other items which help to tell the story of Worcestershire's people, places, and history.
We are now a member of the new Archives Card scheme, but we will accept valid CARN (County Archive Research Network) tickets until they expire.
If you do not already have a valid reader's ticket you should apply for membership of the Archive Card Scheme before you visit us by going to www.archivescard.com.
When you visit you will need to provide two forms of ID to complete your registration, please see the list of possible forms of ID on the Archives Card website under 'How to Get a Card'.
Please note that we cannot guarantee that all members of the old scheme will continue to accept CARN tickets after 31st March 2020 as they will not be supported. Therefore, we advise that you join the new Archives Card scheme as soon as possible.
Self-service archive collections
A number of our archive resources can be explored on a self-service basis. These include microfilm copies of commonly-used resources such as wills, parish records, newspapers, Bishops' Transcripts, electoral registers – as well as the local studies and archaeology reference library, tithe, and enclosure maps on CD – and much more.
Guide to Original Archive Area
An introduction to using our catalogue here and ordering documents can be seen below
Computers are available in this area for internet searches, with free access to Ancestry and Find My Past.
For more detailed information on our on-site services, please download our Visitor's Guide.
Read our policy on access to archives
If you have any questions, just get in touch and we'll be happy to help.