Market Gardening Heritage
Autumn 2018 – Summer 2021
WHAT'S THE PROJECT ALL ABOUT?
Market gardening shaped the landscape and economy in the Vale of Evesham from the 19th to mid-20th century, but due to much of this heritage and knowledge being lost a project has been underway to record, share and celebrate it before it's too late. The key focus of this two year National Lottery Heritage Fund project is memories and buildings.
In order to preserve a record for future generations, a survey has been carried out of surviving market garden buildings, three 'hovels' restored as heritage sites, local memories recorded and a programme of public events and displays held. Early in 2021, the project's digital resource pack for local schools was launched, followed by an online exhibition, reminiscence pack and final open day.
This project is being run by Worcestershire Archive & Archaeology Service, in partnership with Cleeve Prior Heritage Trust, Vale Landscape Heritage Trust, Worcestershire Farmsteads Project and Cleeve Prior Parish Council, thanks to £68,700 of funding from the National Lottery Heritage Fund (NLHF) and £5000 from Historic England.
STEP BACK IN TIME
Explore the story of market gardening and communities involved at three restored 'hovels' (market garden sites). Onsite panels are accompanied by an app with local memories, extra photos and children's games to allow all ages to explore the former market gardens. For the adventure-seeking, there is a four-part geocache series leading to a fifth puzzle cache – head to geocaching.com and search for 'Market Garden Trail' to get started.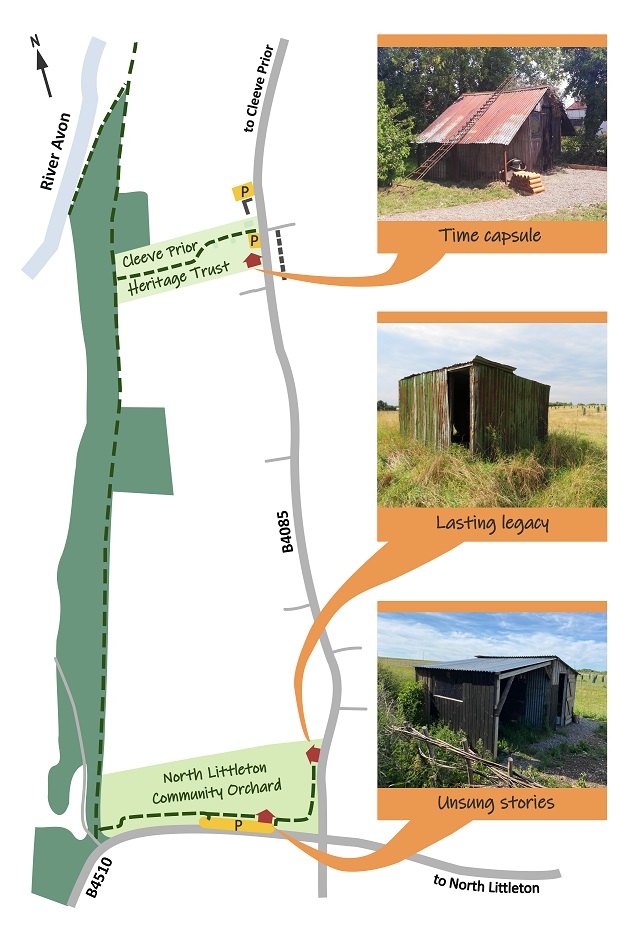 Mr Wheeler's time capsule (Field Barn, Cleeve Prior) – Peek inside Edgar Wheeler's hovel to be transported back to market gardening's heyday, discover the incredible variety of crops grown and hear what life was like beyond work.
Wooden hovel (North Littleton Community Orchard) – Discover wartime tales, unsung stories of helping hand and how these buildings were hubs for more than just growing.
Little hovel (North Littleton Community Orchard) – Find out how crops travelled the nation, discover related trades (including the sweetest of all!) and changes over time.
Good to know: Hovels are publicly accessible at any time and parking is available at Field Barn in Cleeve Prior and along the verge of the B4510, by North Littleton Community Orchard. Please be aware that there may be uneven ground in the orchards.
SCHOOL RESOURCE PACK
This digital school pack covers market gardening in the Vale of Evesham. It has been designed for cross-curricular use – from exploring local and national history to design, food production and landscape change over time. Whilst it is primarily aimed at Key Stages 2-3, the digital resource pool can be used to create activities for any age group and subject.
Market Gardening School Resource Pack
ONLINE EXHIBITION
Grown in the Vale – tales of life on the land, helping hands and the nationwide reach of a key Worcestershire industry. Filled with local memories, photos and stories of market gardening in Vale of Evesham, this exhibition explores over 100 years of history.
Take me to the online exhibition
MARKET GARDENING IN THE VALE
What exactly is a hovel? Discover these unique local buildings and find out what the survey is all about.
At one time, most of the population around Evesham and Pershore were employed in market gardening, and a wide variety of vegetables, fruit, herbs and cut flowers were sold at markets up and down the country. As all gardeners know, a shed is essential for storing equipment, produce and providing shelter. Market gardening was no exception: rows of timber, corrugated iron and occasionally brick built structures once lined the ends of their grounds. Generally built to market gardeners own design and requirements, each was unique in both design and function. Alongside doubling up as temporary accommodation for hired hands, some were also used for keeping racing pigeons or brewing homemade alcohol, and one even served as a monthly barber's shop!
Since the rise of commercial horticulture and decline of market gardening during the latter half of the 20th century, these small buildings, locally known as 'hovels', have been slowly disappearing – it is thought that over 80% have already gone. A survey to record surviving hovels within 20 Vale parishes is almost complete, thanks to the work of dedicated volunteers. Once collated, the photographic and written information gathered will be added to the publicly accessible Historic Environment Record for Worcestershire.
A variety of topics have been researched by our wonderful volunteers. As interesting stories and insights emerge, we've been sharing them on our blog. Take a look at the tales we've written about so far:
In our search to find out more about local grower Edgar Wheeler, whose time capsule hovel has been restored by the project, we were generously assisted by the Cotswold & Vale Magazine and their readers. Their articles, telling the story of this search and the man behind the mystery, are reproduced by kind permission (copyright retained by Cotswold & Vale Magazine).
For further information, please get in touch by email explorethepast@worcestershire.gov.uk or phone 01905 766352.
Open Day – 12-4, Sat 21st Aug 2021
Field Barn, Cleeve Prior, WR11 8JX
Explore the unsung stories, incredible feats and lasting legacy of market gardening in the Vale at three historic buildings, restored by the project. Hovel sites will be open 12-4pm, with short talks on the half-hour. See our Eventbrite page for full details – booking recommended, but not essential.
Badsey Walk – Sat 27th April 2019, 1-4pm
3.4 mile circular walk, free (booking required)
Join us on this circular walk through Badsey and Wickhamford to explore the historic heart of market gardening within the Vale. Along the way, we'll see several 'ovels – unique structures built by market gardeners – and take a look at the area through the eyes of children in the 1930s, before going back in time to the villages' medieval origins and local prehistoric settlements.
Tiddesley Wood Open Day – Sun 5th May 2019, 10-5
Did you know that Pershore's famous yellow egg plums were first found in Tiddesley Wood (or so the story goes)? Find us alongside the food and craft stalls to discover more about the area's history and what the Market Gardening Heritage project is all about. Find out more about the Open Day at www.worcswildlifetrust.co.uk
Asparagus Festival – 23rd April to 21st June 2019
Look out for us at various events throughout the festival, including the Asparagus Auction (26th May) and Family Fun Day (27th May) at the Fleece Inn, Bretforton. Drop by to find out more!
Pensham Walk – Thurs 30th May 2019, 1-4pm
3.5 mile circular walk, free (booking required)
Starting from Pershore Bridge, we will explore the medieval settlement of Pensham to discover how the lives of villagers and their relationship with the land changed over time, from 17th century tobacco growing to the rise of market gardening and future of horticulture at the neighbouring Pershore College.
Offenham Market Gardening Walk – Thurs 4th July 2019, 9.30am
8.5 mile circular walk, run by Evesham Walking Festival
Market gardening memories – drop in events
Evesham Town Hall, Sat 6th July 11-2
Pershore Town Hall, Sat 10th Aug 11-2
Drop in to find out more about the industry that shaped the Vale's landscape and history throughout the 19th and 20th centuries, or bring along photographs and memories to help share, celebrate and preserve this important local heritage.
Pershore Plum Festival – Mon 26th Aug 2019
Come and find us in Abbey Park, within the Plum Fun Zone, to discover what the project's all about, the key role plums played in the Vale's history of market gardening and have a go at our kids' building challenge! More info can be found in the Plum Festival programme.
Open Day – Sat 21st Sept 2019, 11-4
Field Barn, Cleeve Prior, WR11 8JX
One day, a market gardener walked out of his 'ovel (shed) in Cleeve Prior and didn't return, leaving behind a rare time capsule. Come along to discover more about this story and see the hovel itself, which is one of three being restored.
Bring your own apples for pressing (and bottles, preferably freezable!), join in the bug hunt, take a short guided walk around Cleeve Prior (starting at 12 and 2pm) and discover what specialist tools of the trade growers used and invented. Homemade refreshments available throughout the day.
11-1 Apple pressing
12-1 Guided history and nature walk
2-3 Guided history and nature walk
11-4 Bug hunts, refreshments and horticultural tools of the trade
Virtual School Launch – resource pack & art competition
Tues 2nd Feb 2021, 4.30 – 5.15pm
Pershore Plum Festival and the Market Gardening Heritage project are excited to launch a new art competition and digital resource pack!
Join us for an overview of the digital resources, including curriculum links, adaptability and why market gardening is integral to the Vale of Evesham, followed by details of how to get involved with the Plum Festival's inaugural art competition and a chance for Q&As. Open to all teaching staff at schools in Wychavon, Worcestershire.
The digital resource pack contains photographs, oral history clips and letters written by children in 1933, alongside summaries of market gardening and its nationwide reach. Whilst primarily aimed at KS2-3, these resources can be drawn upon to create lessons or use as creative inspiration for any year group.
To register, visit our Eventbrite page.