Market Gardening Heritage Project : Transportation research
As part of the Market Garden Heritage project volunteers have started researching different aspects of market gardening, particularly specific parishes or topics. One topic we are interested in is transportation. We know from a previous project about orchard heritage that there was a major logistical infrastructure to move produce from the farms to the cities around the country. For that project we interviewed Jim who told us how they would take fruit from their farm at Eastham to Newnham Bridge railway station where large numbers of waggons would be waiting – something you wouldn't expect today as it is small village surrounded by other villages.
Richard was one of the people who came along to our research workshops and offered to look into transportation, especially railways. He is still working on it but has been uncovering stories and information which give an insight into the logistics of transporting produce quickly and in large quantities.
Railways were important to market gardening because the network allowed produce to go quickly and in large amounts. Previously it would have to go by packhorse or river (which we find in the records) but these were slower and more expensive. The railways were a lifeline because speed was of the essence, needing the produce to be at markets across the country by early next morning so it could be sold whilst fresh and get the best price.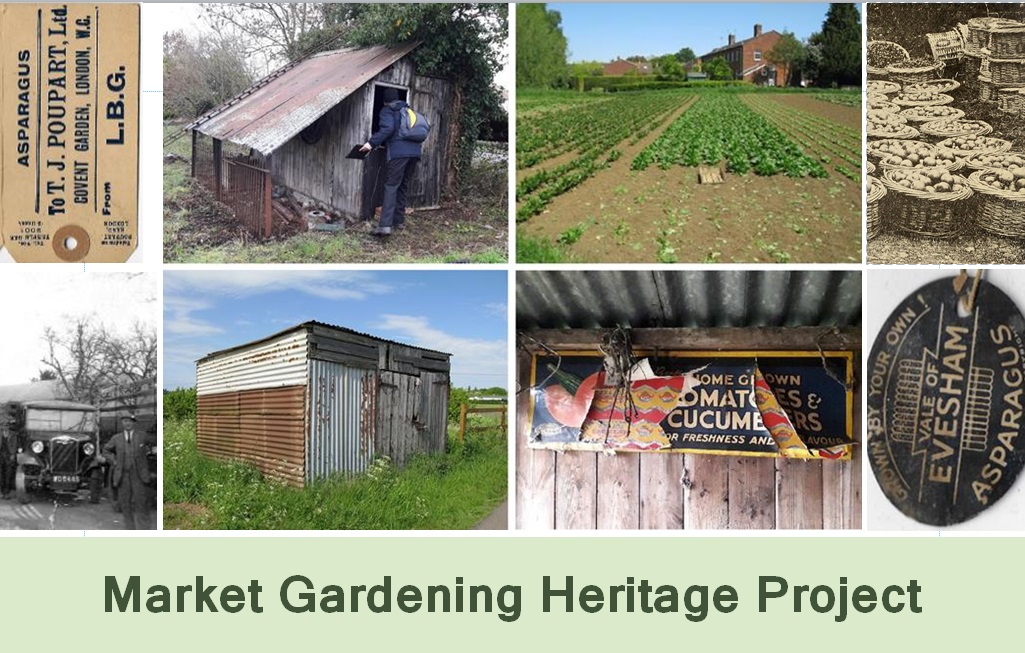 The Midland Railway's Birmingham to Gloucester line bypassed the important fruit and vegetable growing towns of the Vale, but the Oxford, Worcester & Wolverhampton railway (later part of GWR) ran to Evesham from 1852 onwards. The villages wanted their own stations and petitions were raised to open new ones, partly to enable to produce to be transported. This was a key reason for the opening of Littleton Station in 1884, where Littleton & Badsey Growers purchased land for a depot in 1908..
Evesham had two stations when the Midland Railway added another one in 1866, providing access to the important Birmingham market. Today the remaining station is quiet, but back in 1903 36 people were employed, and 68 in 1932, with the fruit and vegetable trade an important reason. For instance in August 1929 2608 fruit waggons were recorded, including 214 in just one day, and in August 1948 1118 waggons, gong as far afield as Aberdeen and Penzance! Some of these would be from larger farms but market gardening was an important part.
The system was well established, with grower and seller rarely meeting. Produce loaded on an afternoon train would arrive in Birmingham later the same day and Manchester by 4am the next day where salesmen would obtain the best price and send a cheque to the grower, after deducting commission and carriage charges.
The stations didn't just send produce, they also had plenty of arrivals. In the summer pickers would arrive to help with the harvest. 'Shoddy' would also arrive, a waste product from Yorkshire woollen mills used as a fertiliser by gardeners. Other minerals including coal were also brought in from elsewhere in the country.
Littleton & Badsey Growers had a system too for transportation. Special hampers and crates were used for specific fruit or veg, which would then be collected by LBG lorry. They then took them to their warehouses by Littleton or Badsey stations.
Big changes took place after WWII as lorries started taking over from rail, and many of the smaller stations started to close. All except Evesham (GWR) and Pershore had closed by the mid 1960s.
Research into transportation is ongoing and there is plenty more to uncover. You may notice that we don't have many photos with the blog. Checking our photo collections we have very few of the stations, and almost none of produce being transported. If you have any you can share with us, or any information which can help, we'd love to hear from you explorethepast@Worcestershire.gov.uk.