Market Gardening Heritage: David Tower, Pershore Plums from Pershore
This leaflet, which was recently passed to us, has revealed a fascinating story.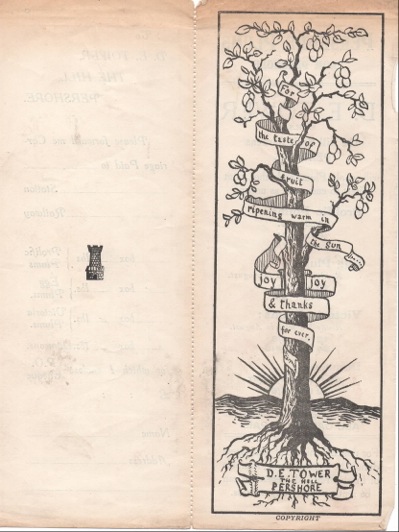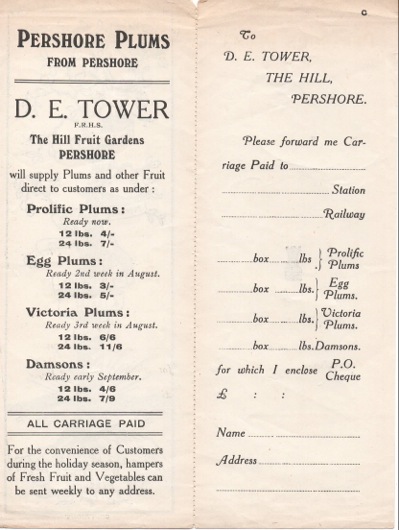 It is an advert by David Eric Tower of The Hill, Pershore, who offers Pershore plums from Pershore. However looking into his story he doesn't seem your typical market gardener, being an Oxbridge graduate with some private wealth behind him.
He originated in Earls Shilton, Leicestershire and the census shows us that he moved to Pershore between 1901 and 1911. The 1911 census shows him living alone at The Hill, age 41, and listed as a market gardener.
His background doesn't appear to be what you might expect. David studied at Hertford College, Oxford, graduating in 1890, and was the 5th son of the Rev Ferdinand Eric Tower.  Two of his older brothers also studied at Oxford before becoming priests. Prior to moving to Pershore he was down in the 1901 census as 'living off own means' whilst living with one of his brothers, implying he had a reasonable private income. When he died in 1944, age 74, he left £8,000 to his sister, over £300,000 in today's money. He described himself as a retired market gardener. From the leaflet we can also see he was a Fellow of the Royal Horticultural Society, which again we're not sure how many other market gardeners would have been.
Another intriguing part of the story was his time as a Freemason. He was a member of Weedon Lodge, Northamptonshire, before being excluded 'according to Rule 175'. He then appears as a founder member on Avon Lodge, Worcestershire,  from 19 January 1912 and continued at least into the 1920s.
What was Rule 175 and why was he excluded? Bob James of Worcestershire Masonic Library & Museum explained to us that this related to non-payment of fees. A Freemason should clear his debts before joining another branch but there is no sign that this happened. Was it just due to moving from one county to another, was it overlooked, or have details of payments been lost?
Oxbridge graduates with private incomes are not what you might expect of a market gardener, and some of the stories we have had are of hand to mouth existence, hard work and struggling to make ends meet. However as we look into market gardening and speak to more people there some exceptions who come up, and David's not the only Oxbridge man to be a market gardener. Depending on circumstances and the era it could be lucrative for some and this is something we're looking at.
We're currently following up some of the stories from the people who we met at the  Market Gardening Heritage Project public events over the summer, and researchers are hard at work looking into records. If you have information, stories or photos about market gardening in the Vale of Evesham which you think could be useful please let us know by emailing explorethepast@worcestershire.gov.uk
Thanks to Jenni Waugh for forwarding the leaflet and some of the details she's found out about David.