Charles R Davies, hairdresser – an update
On Twitter on Tuesday we showed an advert from 1869 for Charles R Davies at 80 High Street, Worcester. A few people asked whether we knew any more about him so we had a look.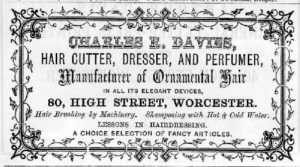 We have found very little. Checking the census the only match appears to be a Charles Rowland Davies born in Oxfordshire in 1843. In 1861 he was an apprentice to a barber in Shipston on Stour. We have not been able to find him in the census records until 1891 in Wolverhampton.
Checking other records we have found that he was involved in a court case where he prosecuted a former worker. An article in the Worcestershire Chronicle of 1 June 1870 about the Police Courts states:
"A respectable looking young man named Frederick West, who carries on a business as a hair dresser in Sansome Street, was brought up on a charge of feloniously receiving 25 dressing combs, 3 ladies back combs and 4 nail brushes, the property of Mr Charles Rowland Davies, hair dresser, High St."
West was undefended, as he did not feel the need for an advocate. He worked for Davies until August 1869. David Davies, the brother of Charles, who worked as a hairdresser himself in Birmingham, was alleged to have been asked to steal them by West and was paid 50 shillings for them, with 20s now and 30 shillings on account. West later cabled 30 shillings to the brother which was intercepted along with an incriminating letter. The Police, led by Detective William Underhill, searched 4 Sansome St and found the articles with marks on them showing them to be the property of Charles Davies. The marks were a figure two. West, when challenged, admitted they were the items, although he had previously denied seeing them when approached by Charles Davies. West claimed that the money given to David Davies was for money lent for horse racing. He also said he had bought the items at a fair price and believed David Davies had acquired them honestly.
The case was adjourned to be sent to the Quarter Sessions. West couldn't find anyone to stand surety for him at £20, so he was locked up until the trial. Fortunately for him it was only for a short while and on 30th June the case was heard (found on the Court registers on Ancestry.co.uk). He was found guilty and sentenced to six months imprisonment.
The adverts for Charles Davies are all 1869-71 and as we couldn't find any census record for him we wondered if his stay in Worcester was short. However, upon checking Trade Directories we have found he is listed from 1869-84, with his private residence on London Road. After this he is not mentioned again, so it appears he was in the area for around fifteen years.