Thanksgiving Day
Happy Thanksgiving Day to all our American friends! The first Thanksgiving is said to have taken place in 1621, when 90 Native Americans and 53 Pilgrims, including two Worcestershire men, ate together at Plymouth Colony to celebrate a successful harvest. The event was described by Edward Winslow, one of the men who travelled on the Mayflower. His brother, Gilbert Winslow, was also there, and in the following decade they were joined by their brothers, John, Josiah and Kenelm.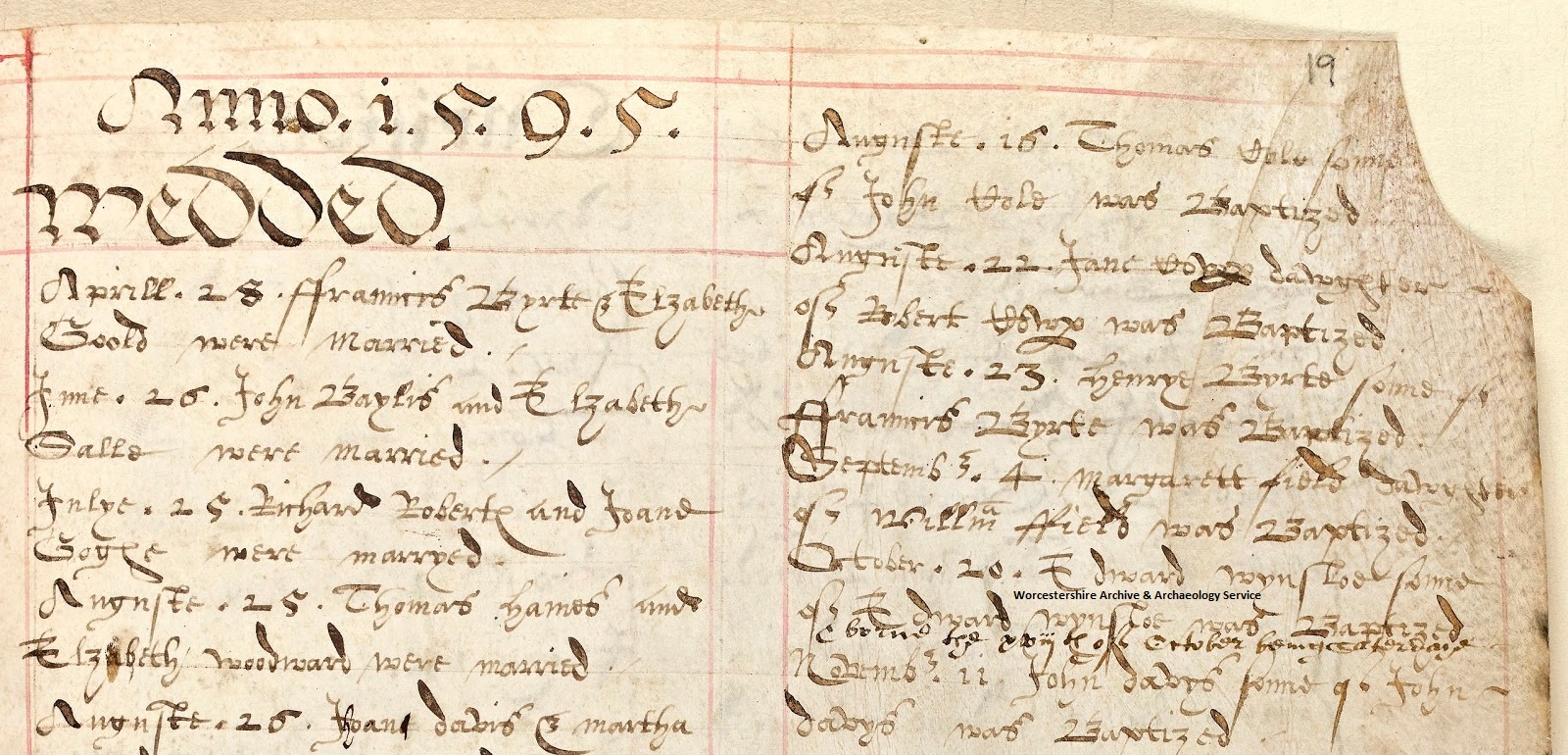 Droitwich St Peter's register. Edward Winslow entry on bottom right. Photographed by our Digitisation team.
Edward was born in Droitwich in 1595.  His baptism at St Peter's church is recorded in the parish records held here in the archives. The family had lived in the county for many years, residing at Kerswell Green Farm near Kempsey, before Edward's father, Edward senior, moved to Droitwich to be part of the salt trade.
After spending five years at King's School, Worcester, Edward began an apprenticeship in London.  He moved to the Netherlands soon after, and became involved in the Separatist church there. This group formed the basis of those who went to America on the Mayflower in 1620 and celebrated the first Thanksgiving after surviving the harsh winter. In fact, Edward and his second wife Susannah were the first to be married in the colony after they had both been widowed during that winter.
Edward went on to become Governor of Plymouth Colony three times. He was considered an accomplished diplomat and liaised with the English government in London on the colony's behalf. In 1646 he went back to England and worked for Oliver Cromwell, including helping to sell off estates of Royalists. His son Josiah later served as Governor of Plymouth Colony like his father, and called his residence Careswell, after the family's Kempsey home.
If you would like to explore the Worcestershire roots of the Winslows, you can find these publications in our Local Studies Library:
The Winslows of "Careswell" Before & After the Mayflower, by Quentin Coons and Cynthia Hagar Krusell (1975, The Pilgrim Society)
'A Pilgrim Father's Village', by A.F.C. Baber (1959, History Today)