Shakespeare in the Archives: William Shakespeare's Marriage
Among the thousands of documents in the 12 miles of archives we hold, some stand out more than others, and Shakespeare's marriage bond is one of these.
Everyone has heard of William Shakespeare, but there is very little about him as a person in Stratford as opposed to his plays and literary life. Here in The Hive, as part of the Diocesan Archives, we have a couple of documents about him. The first is the marriage bond created when he came to Worcester to get his marriage license to enable him to marry Anne Hathaway quickly.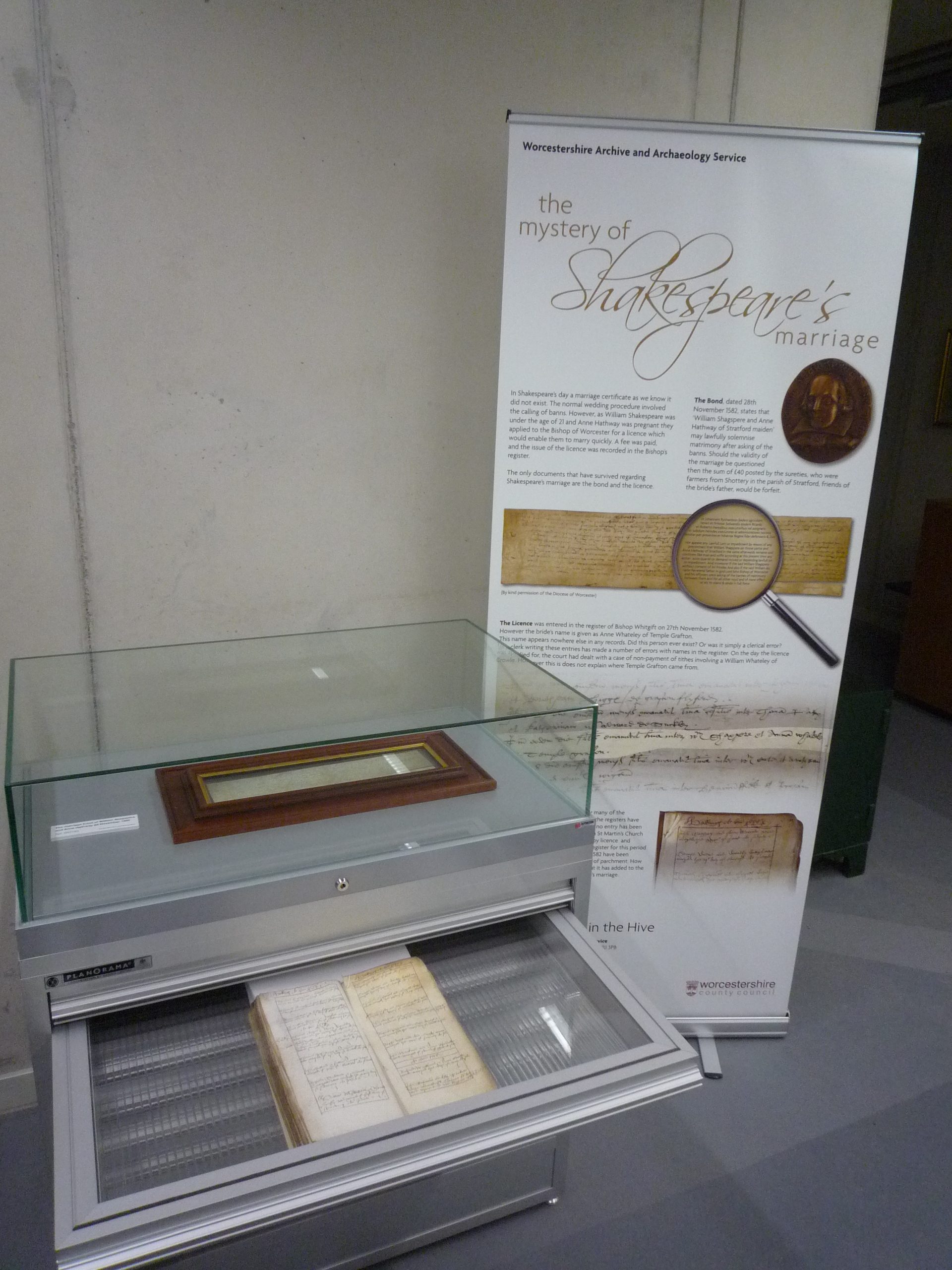 The second document we hold which mentions Shakespeare (or Shaxpere as it is spelt here) is the Bishop's Register which records his marriage licence the day before within the Bishop's own record. This though says he was marrying Anne Whateley of Temple Grafton. This has led to all sorts of theories as to why this differs from the marriage bond.
The third related document is the marriage register of St Martin's in the Cornmarket. Six churches claim he got married with them, but no direct evidence survived for any of these. The registers of St Martin's has a gap covering 1582, with the pages removed, and one theory is that this was due to Shakespeare being on them and someone removed the pages. Until we find the evidence it remains a theory!
The documents are part of 90 which are recognised by UNESCO as internationally important and International Memory of the World Register.
Why did William Shakespeare come to Worcester to get his licence and why do we have them? At the time Stratford upon Avon was part of the Diocese of Worcester so it was here that he needed to come. The documents still belong to the Diocese so we hold them here along with the rest of their archive. There are occasional requests from TV and major exhibitions to use them, which are passed on to the Bishop for permission as the owner.
We brought the intriguing story together in a booklet The Mystery of William Shakespeare's Marriage Bond, which is on sale here. The documents are also some of the main ones we show on our Behind the Scenes tours.