1621 City Charter – 400 Anniversary
2021 is the 400th anniversary of a City Charter issued by James I to the people of Worcester, which transferred the power from the high bailiff to the mayor, and created Worcester City and County.
The City charters are kept in The Hive, looked after by Worcestershire Archive & Archaeology Service on behalf of Worcester City Council. They are kept in our temperature and humidity controlled strongrooms so they are preserved for the future.
There are several city charters, with the first issued by Richard I (Richard the Lionheart) in 1189.  They are part of city archive which we hold and which we catalogued 10 years ago in a 4-year project, to make them more accessible.
The 1621 Charter is important for several reasons including that for the first time Worcester has a Mayor.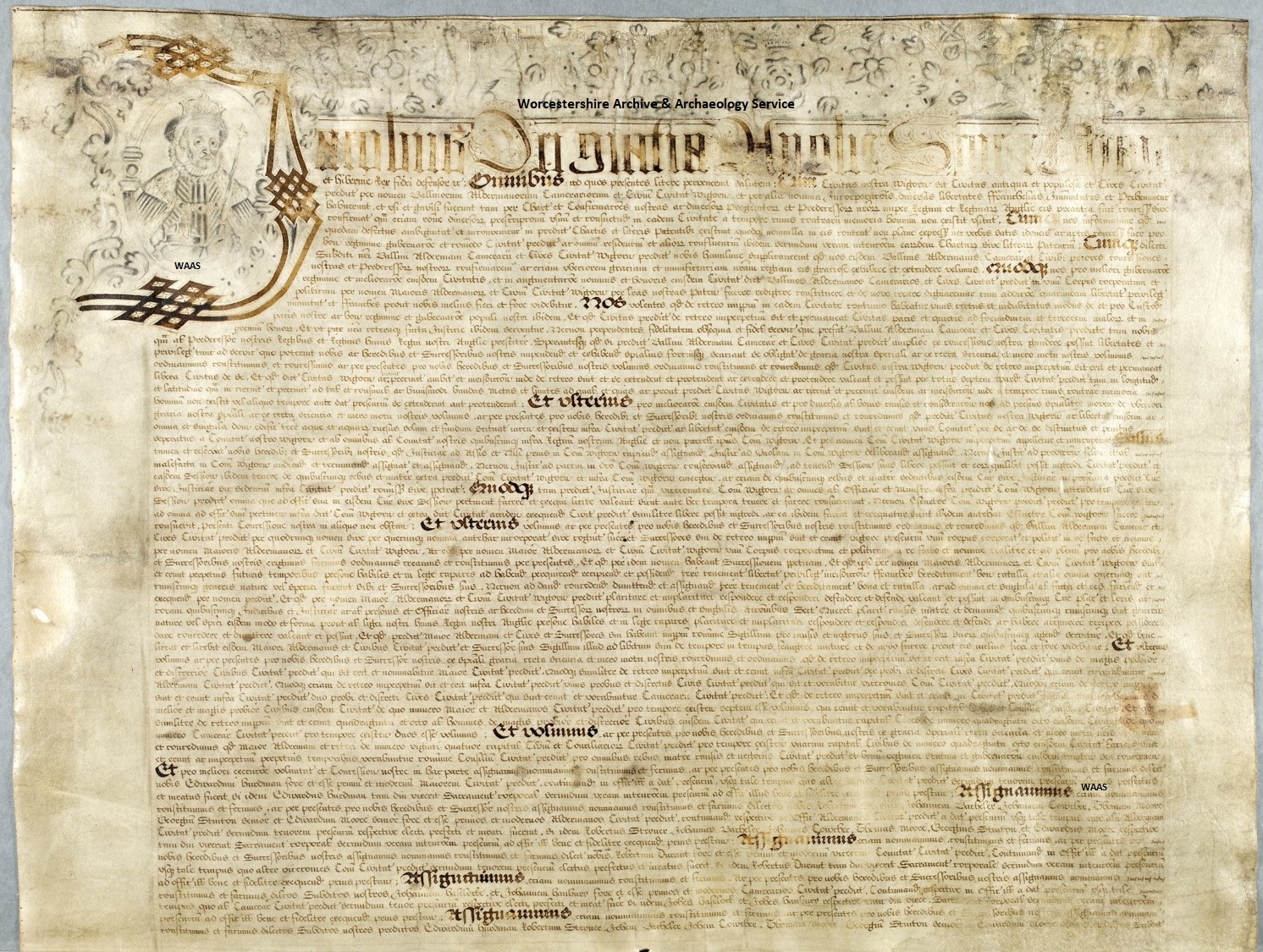 The charter of 2 October 1621 is a long and elaborate document in which the whole governance of the city is reviewed. It starts by declaring that the city 'ever hereafter is, shall be and remain, a free city of itself…' The city was declared a county of itself.
The governance of the city was entrusted to the mayor, 'six lawfull and discreet citizens' as aldermen, a sheriff and two chamberlains, a body of twenty-four, including the mayor and aldermen, and a body of forty-eight, including the two chamberlains.
Other roles would be elected, such as a common clerk, auditors, coroners, sword-bearer and sergeants-at-mace. Some of these would incur fines if they refused to bear office after their election.
The legal powers of the County Court of the city, held monthly, was confirmed too. These included tolls, fines, fairs and markets, many of which stayed the same but were still included within the charter.
The only exception to the authority of Worcester City Corporation was that nothing in the Charter would affect the existing rights of the Bishop, or the Dean and Chapter of Worcester Cathedral. All privileges enjoyed by the cathedral body before the granting of the charter were declared inviolate, 'the liberty of bearing the sword before the mayor of the said city according to the tenor of these presents excepted.'
Edward Hurdman was appointed the first Mayor of Worcester. His likeness, along with his second wife, can be seen in a monument in All Saints Church. He lived his later years in a house just by the church. In his will – which is also contained in the archives-  he leaves £5 (£600 in today's money) to purchase a silver communion cup, which is still in use within the church, and £5 to be distributed to the poor of the parish.
Watch out for events during the year celebrating the Charter anniversary on the Charter 400 webpage.
Hear about the document itself, what it is made of, and how it is cared for.