Signing Wills When You can't Write
We have recently secured funding from the National Manuscripts Conservation Trust for our conservator Rhonda to work on 15 boxes of early seventeenth century wills and associated documents that are currently too fragile to issue in our searchroom or to be microfilmed. During this work Rhonda has noticed a number of unusual and intriguing markings on the documents and we would like to share them with you.

We think these markings are interesting for many reasons. Firstly, they appear to be a way in which people would authenticate legal documents as an alternative to a signature. This is often assumed to occur due to illiteracy, but there is some thought amongst scholars that sometimes, a marking of a cross on a document for example could in fact be a way of adding weight to the commitment that they make rather than simply indicating an inability to write. However, whilst acknowledging something similar as a possibility with our markings, it seems the most likely explanation for at least some of them is that they are simply initials, used as a form of signature. This seems likely to be the case with the below examples, both found on documents where one party has a name beginning with 'W', although in the case of Walter Smith (below left) the mark could have been added alongside the signature, which is written in a different hand to the rest of the document.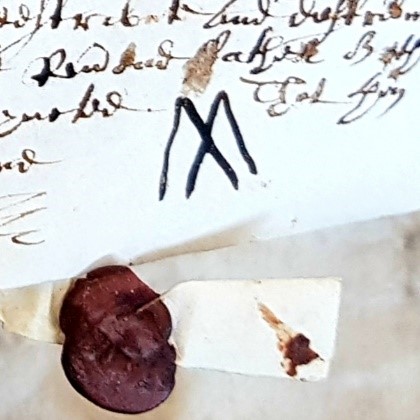 It is interesting to consider similar looking 'VV' markings can be found in other contexts, such as buildings, and much ongoing debate continues about their function. However, it should be noted that this is how the letter W was often written in the past, looking like two interlocking V's.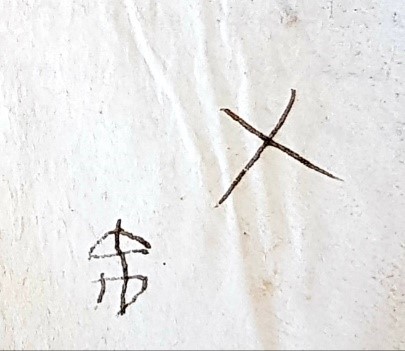 The next examples shown bear no obvious relationship to initials. The example on the left looks at first quite like a little boat, though it does also seem somewhat similar to the example below which we have come to think of fondly as an 'umbrella' though there is no real evidence to suggest what it might be. What we do know is that this is the way someone chose to formally add their agreement to a document that made legally binding requirements of them. It therefore seems reasonable to assume in these cases that these 'doodles' had some sort of significance, at least to the people who created them.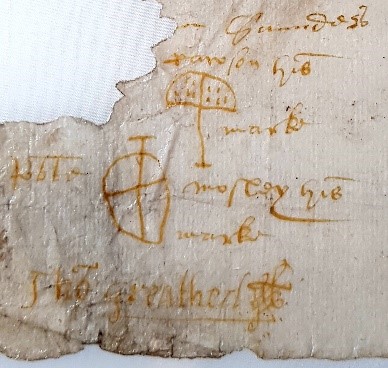 Something particularly interesting about the example above is that one of these markings appears to have been made by someone who was familiar with using a writing implement, as it is precisely and neatly drawn. This suggests that the person that made this mark could well have been able to write, and was choosing to use this symbol to represent their consent to the conditions laid out in the document. Why this may have been remains a mystery!
If you have noticed any similar markings in the course of your research, or have any thoughts about those that we have shared here do please get in touch.