Childhood Tales – Toys and Games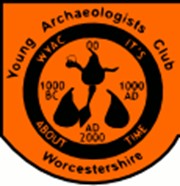 Worcestershire Young Archaeologists Club have been working on a project, Childhood Tales, as part of the From Ordinary to Extraordinary project, funded by National Lottery Heritage Fund. We have been supporting them with this project and are sharing some of what their members found. This blog looks at what members found out about Toys and Games.
At two of our meetings we brought a number of games to play, many of which they'd know. In the past many games would have been played which would not have been recorded and required no objects which would have survived. How would you know what games they played such as tig (or variations)?
Gaming pieces are sometimes found by archaeologists. Some are elaborate so probably wouldn't have been used by children, who'd have used whatever they could find. A gaming piece was found in the Forest of Dean a few years ago, and in the past this was shown to WYAC members.
Oliver
Oliver looked into toys and games, and visited Hartlebury Castle to find out more. He thought the museum was really good and well laid out. He was especially taken by the mechano. He thought that toys and games were similar in the 1800s and today. Although materials were different he said they had the same ideas, such as soldiers, dolls, and throwing games.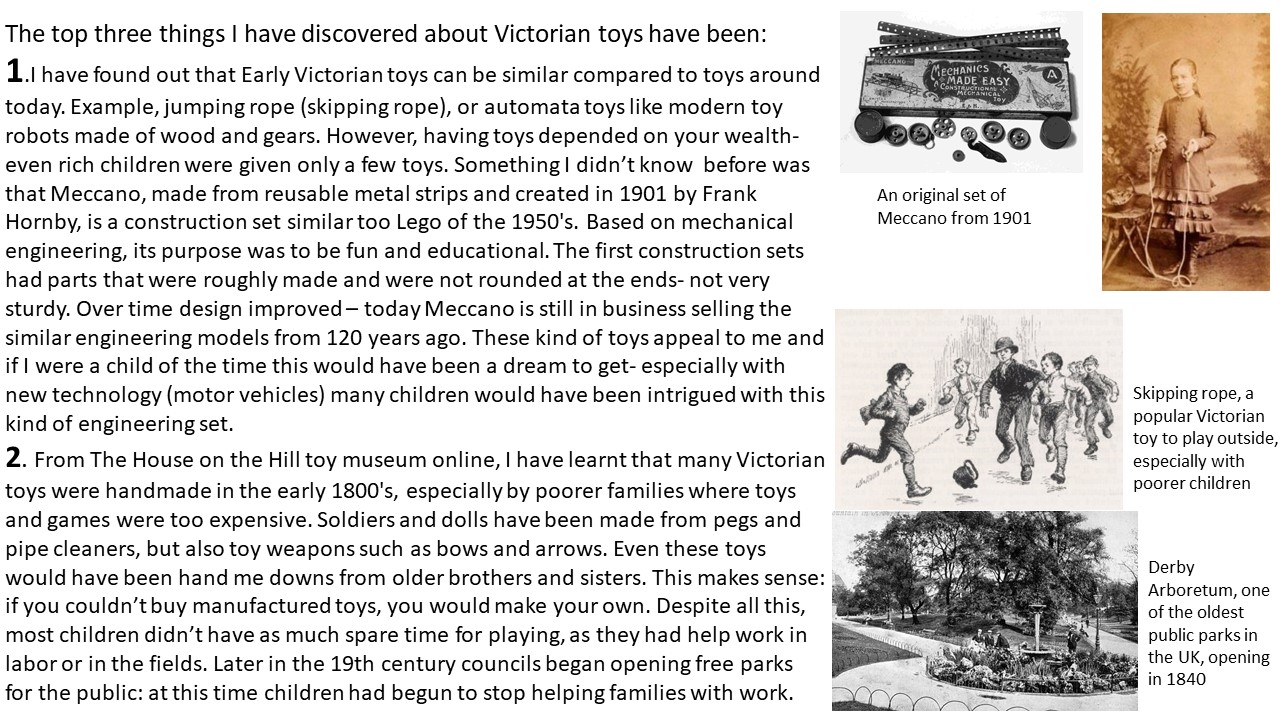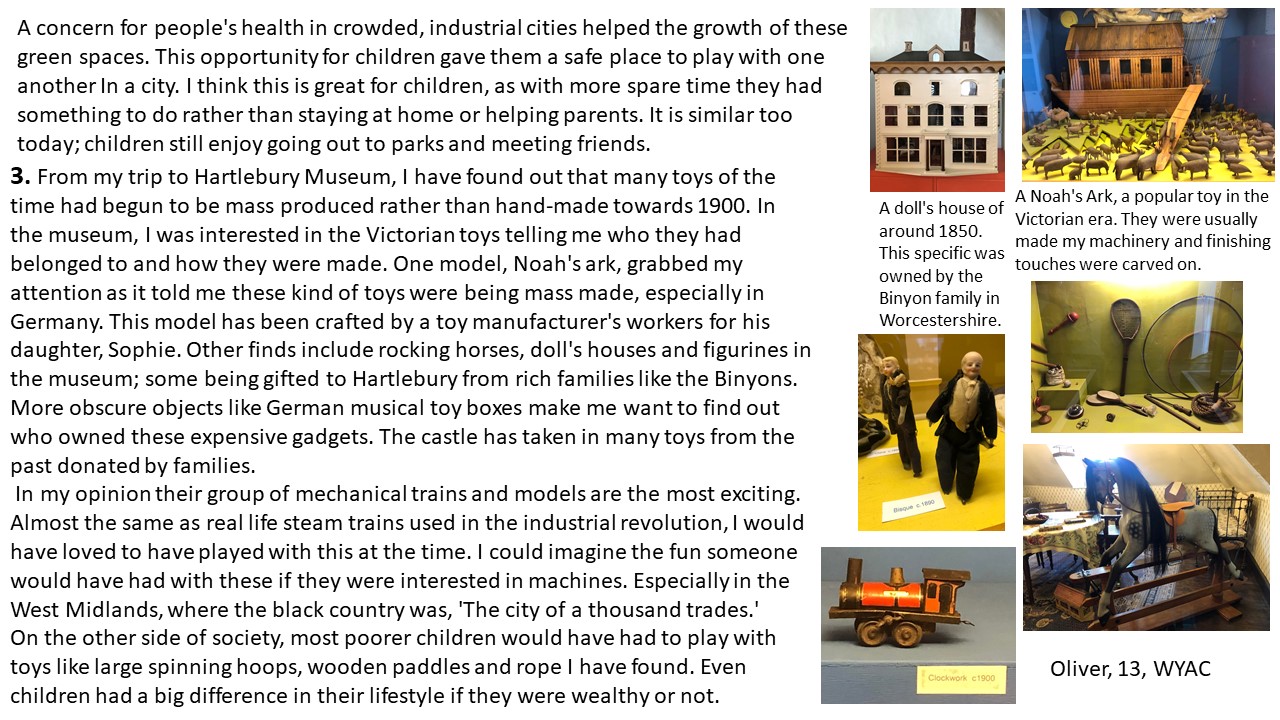 Games through the Ages
One of our members looked into the history of several games after being inspired by playing them at WYAC events.
"Lots of games we know today go back a long time. It's amazing to think other children have been playing these for centuries. Some, like knucklebones, can be played with stones and other things you find. Others, like dominoes, you need to buy but families would be able to start to afford them in Victorian times. Lots of the games have different rules depending on where you play them."
Nine Men's Morris
This game is played on a board and you have to try to get 3 in a row.
The board has been found marked on floors and walls over the past 2000 years. It has also been found scratched on Cathedral seats.
It is simple to scratch and then you just have to find stones as counters. So it would be easy for children to play.
It's also called Merrills
Game pieces
Some pieces for games have been found by archaeologists although we don't always know how they were used. These are special ones and children would have used simple ones
The image shows a medieval game piece found in Forest of Dean and which we were shown in WYAC
You can look up game pieces on the Portable Antiquities Scheme website
Playing cards
The common set we have today (52 cards) is French and dates to 16th century.
At first they would have been expensive, but printing changes made them cheaper, so families could afford to buy them and children would play.
There are lots and lots of different games which can be played with cards. The same game can have different rules.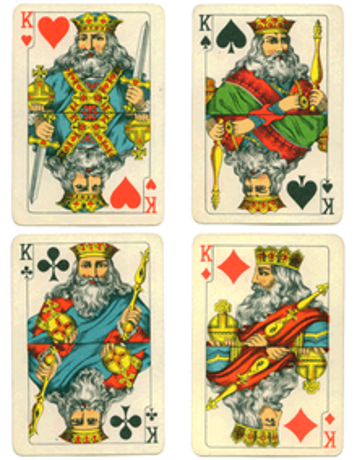 Marbles
Archaeologists think the earliest 'marbles' they have found come from 2500BC.
Marbles can be made from glass, clay, metal or can be stones. Many children would be creative in finding their own
There are many games you can play with them.
The World Marbles Championship takes place in Sussex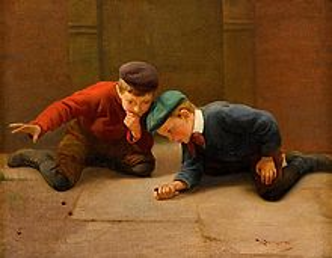 Dominoes
Modern dominoes are from the 18th century but the Chinese had a version earlier.
Like many games there are different versions you can play
By Victorian they were affordable for many families.
There are domino leagues in pubs in some areas
You can also set them up to fall, with special plastic versions for this in the 1980s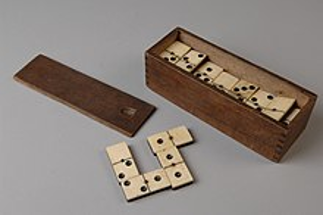 Skittles
Skittles probably began with it being played like bowls, throwing stones to get closest to the centre. It's thought Ancient Egyptians played this 5000 year ago.
For skittles you have to know over skittles or pins. You can buy sets, but children probably made their own.
There are lots of variations of rules around the country.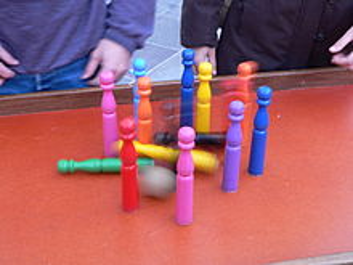 Knucklebones
In knucklebones you have objects on your hand and throw them up to catch on the back of your hand and back again.
It is played all over the world. The Ancient Greeks played it. They used bones, which gave it the name. You can use lots of other things too, so is easy to play with whatever you can find, such as stones.
It has lots of different names – jacks, snobs, dibs and fivestones – and lots of different rules.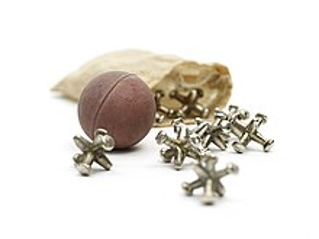 From Ordinary to Extraordinary is part of Shout Out Loud, English Heritage's national youth engagement programme. Shout Out Loud is funded by the National Lottery Heritage Fund's Kick the Dust programme. http://shoutoutloud.org.uk