Childhood Tales – World War II
Worcestershire Young Archaeologists Club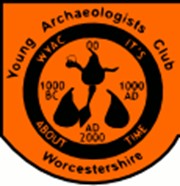 have been working on a project, Childhood Tales, as part of the From Ordinary to Extraordinary project, funded by National Lottery Heritage Fund. We have been supporting them with this project and are sharing some of what their members found. This blog looks at what members found out about memories of WWII.
Quite a few of WYAC members were interested in the Second World War. As well as reading up about it, the advantage of looking into a period 80 years ago is that there are still some people to ask. We encouraged members to speak to friends and family, if they wanted to, and gave tips on how to do this.
Ken
Paul spoke to Ken about his memories of the war, and sent us this summary of what he found out.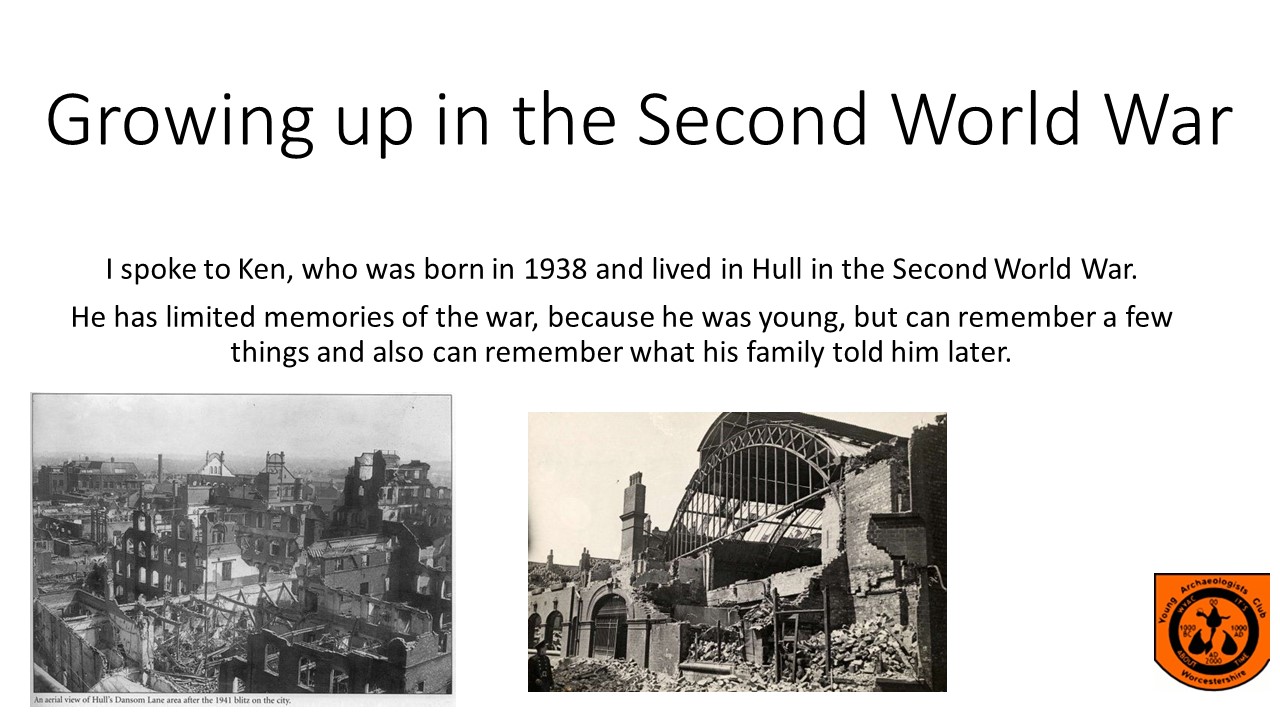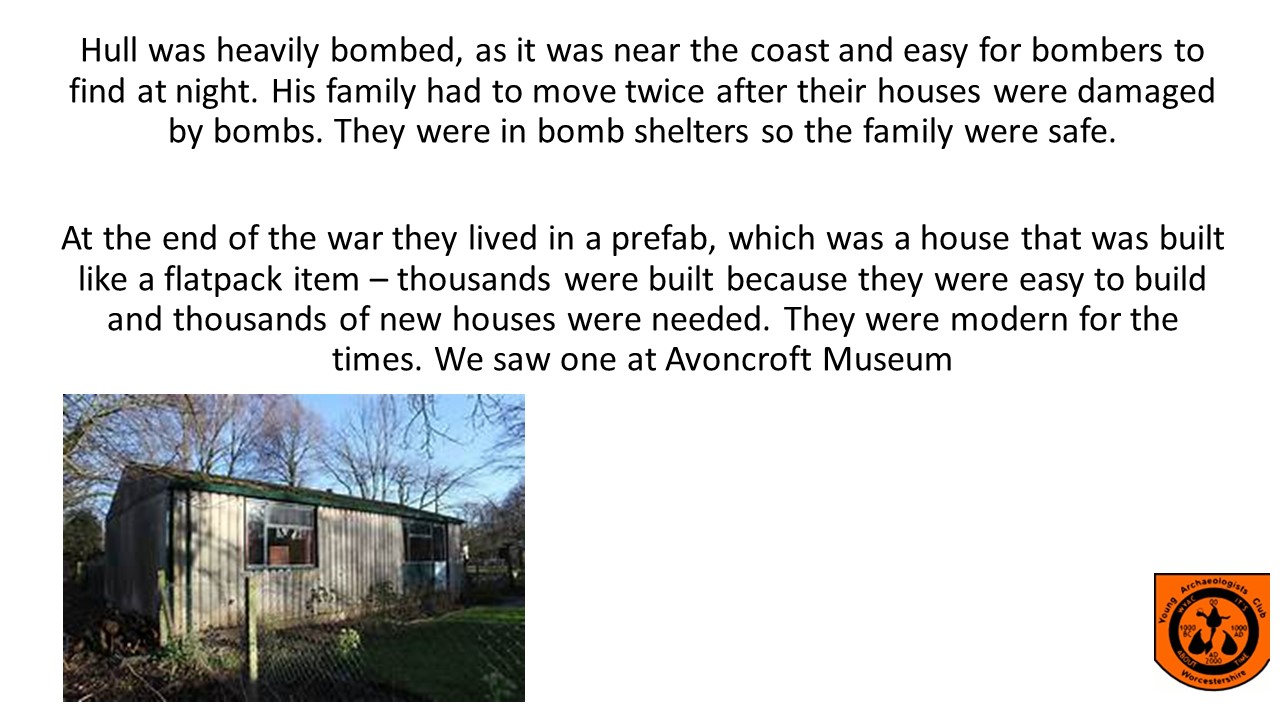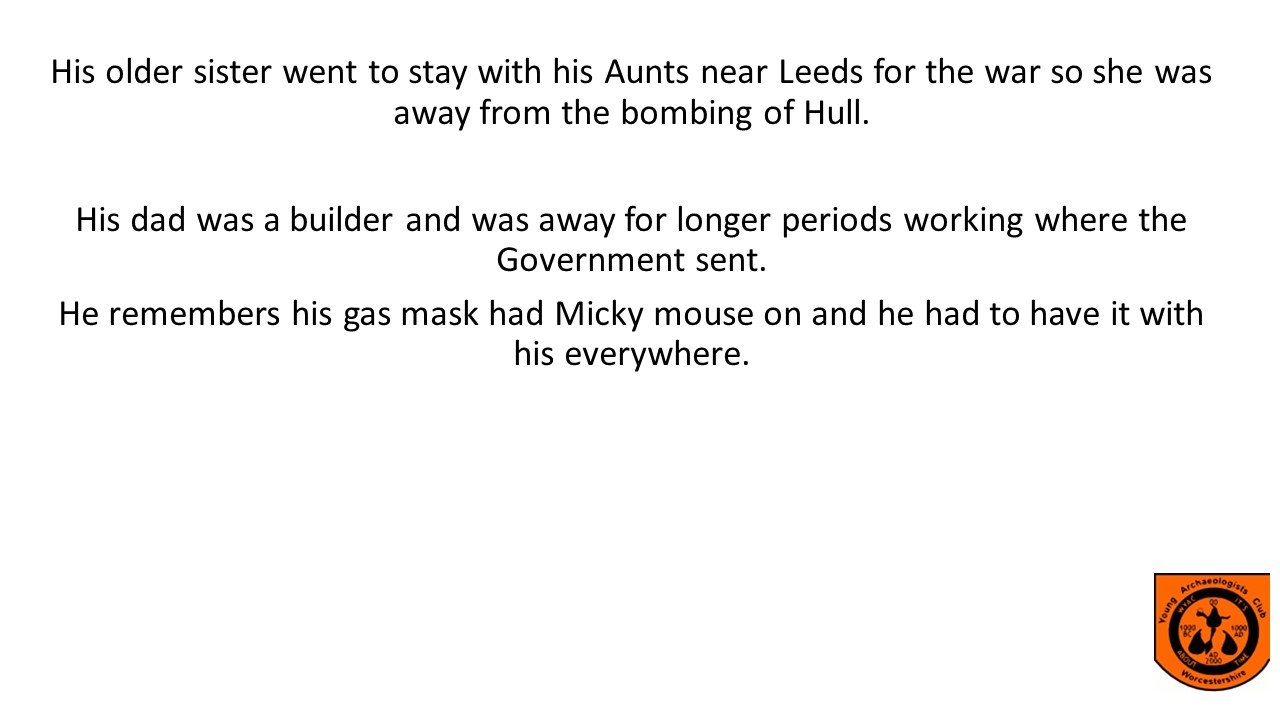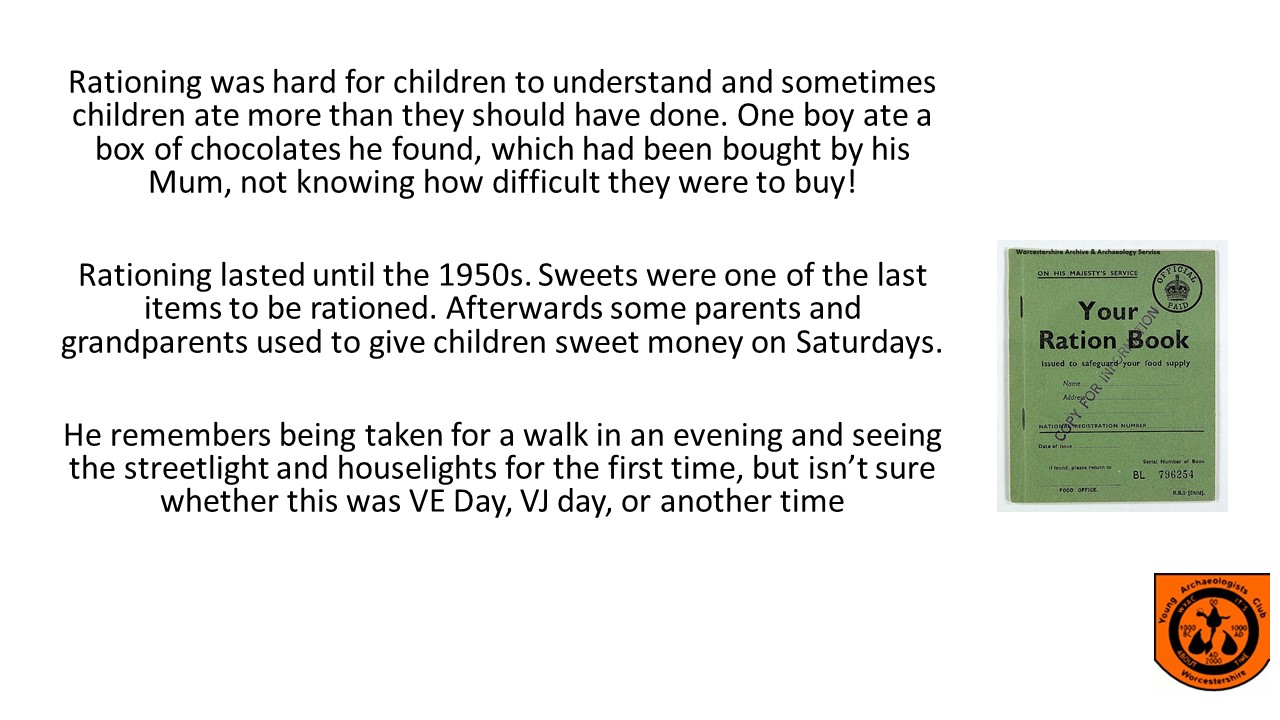 Eric
Harry interviewed his 93 year old neighbor to discuss what life was like for him during World War 2. This interested Harry because it was a different perspective to all of the information gained at school and from books because Eric lived in a small village near Ross On Wye rather than in a city. They didn't have air raid shelters or the blitz to deal with.
"Eric was delighted to be a part of it and happily spent nearly 2 hours recalling all of his memories with great affection."
Life in the countryside during the war was very different to life in the city. They didn't see much of the war. Some Italian prisoners of war were kept in Llancloudy, the village next door. They were sent out to work on the local farms and were really nice to the local children. They were keen to chat to them to improve their English. One day a Mosquito exploded in the air and crashed into a local field. Dora, Eric's wife, found a large piece of Perspex from the aircraft and gave it to one of the prisoners of war, who carved it into a ring for her. A Wellington Bomber got into difficulties overhead but managed to land in a field nearby. It exploded when it landed with bullets from the aircraft guns were flying everywhere. A girl from the cottage next to the field managed to pull one of the crew from the burning plane and she was awarded the British Empire medal.
During the blackouts, you could see the searchlights from Hereford and Gloucester.
The local village primary school had 30 children in it and one teacher until the evacuees arrived. They had congregated at the village hall were they were collected by local farmers and families. Boys were chosen first due to their ability to help on the farms. The local school was soon inundated and struggled to cope. The children were provided with a basic education of reading and writing, but not much arithmetic. Eric's wife was one of the children who was evacuated to the area. Eric's best friend was also one of the evacuees and after the war found it very hard to return to life in the city, remaining in the area on a smallholding.
The grammar school in Ross on Wye took in an entire school from Birmingham and also had difficulties accommodating them all. So much so that they had some afternoons off lessons to stagger the learning and then had to go to school on Saturday mornings to make up the time. Eric had to cycle six miles to school in Ross on Wye every day. Because there were so many extra children in the school, they had to carry all of their books and resources with them. The one thing that was the most inconvenient to carry was the gas mask. On their route to school, they would sometimes come up behind the convoys of army vehicles travelling from Wales into England and they would grab hold of the back of a lorry and let them pull them up the hills.
Rations were not as much of an issue in the countryside because they had access to plenty of fruit and vegetables as well as sharing their meat when they took turns to kill the animals. Most people would keep pigs, one for the government and one for themselves. They had chickens for eggs and everyone caught wild rabbits from the field. Tea, sugar, butter and cheese were in short supply. They had 2 or 3p worth of sweets a week. Tea and sugar came in small paper bags so Eric's grandma would tear open the bags to get every last grain and flake out of the seams so as not to waste any.
James
James spoke to his Great Grandma about her childhood growing up in the 2nd World War.
She was 4 when the war started. She was the youngest of 7 children growing up in Tamworth, Staffordshire. Her dad died when she was little so her mum bought them up alone until she remarried.

She recalls a particular time when her 7 year old twin cousins came to visit from London with their mum. Tamworth was mainly spared from the bombings. Most of the attacks happening over Coventry and Birmingham. The children of Tamworth would wave at the planes that came over. It was a highlight but her cousins would be scared. If a siren went off they would run into the house and hide under tables trembling. They were used to running to the nearest tube station and hiding there.

There was a little military presence in Tamworth due to Whittington Barracks being close by. Her cousins couldn't believe how things were so different outside of London. As if the war was not happening at all.
Top 3 facts
One of our members up on children in WWII and came up with his top 3 facts
1 – Boy Scouts were taught how to shoot a gun to protect the beaches  from Axis attacks
2 – Girl Guides were seen as more secretive and better at keeping quiet so the MI6 and MI5 used them as messengers for secret messages.
3 – The schools were told that students had to collect conkers as they were useful for bullets and shells.
From Ordinary to Extraordinary is part of Shout Out Loud, English Heritage's national youth engagement programme. Shout Out Loud is funded by the National Lottery Heritage Fund's Kick the Dust programme. http://shoutoutloud.org.uk

2 responses to "Childhood Tales – World War II"