Archives 75 – Debbie Birch, Records Information Services Manager 2004-2007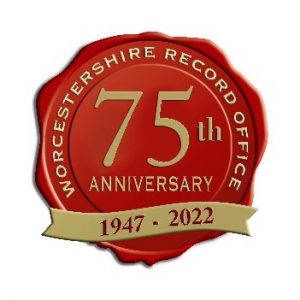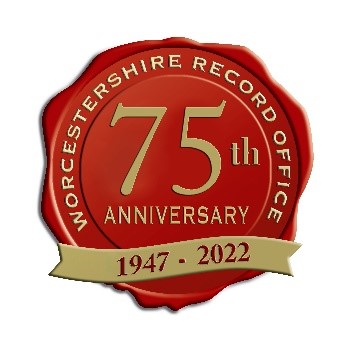 Debbie Birch followed as the third County Archivist, although now named Record and Information Services Manager. In the next in our Archives 75 series she shares her memories of her times here. During this period plans advanced to be part of the Library and History Centre project, which culminated in the move to The Hive.
My journey with Worcestershire Record Office started in 1998 when I joined, fresh out of the Liverpool University Archive Administration course, as an Assistant Archivist, working both in the Modern Records department and in the public archives.  It was an incredibly busy time in Modern Records as the joint local authority of Herefordshire and Worcestershire had recently split, and there was an awful lot of closing down old and opening up new ways of managing the parent body's important records, some of which go on to become archives.
This was my first 'proper' job.  Reflecting now, my memories are of a supremely organised and structured office, together with a warm, family atmosphere that was a perfect combination for a new recruit.  Tony, Robin, Liz, Adrian and Maggie were all incredibly supportive managers and mentors, with a strong focus on providing opportunities for young, new staff to make their mark, to experiment, to carry out all sorts of different roles and combine their own ideas with the vast experience that absolutely flowed through the veins of the place.
Fond memories of those early days included developing the Record Office's role in Black History Month by working with the Black and Asian Studies Association to map black presence across UK archives and put on events, and taking my turn in running the Office's family history evening classes; what a steep learning curve that was!  And what a lovely way to get to know members of the public who choose to spend their time in the archives.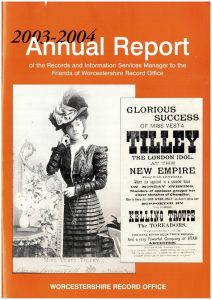 Over time, my focus became much more on the Modern Records side.  The Record Office, led by Tony Wherry, gained a very prominent role within the County Council when it was successfully given responsibility for supporting the Council to prepare for the upcoming Freedom of Information (FoI) Act.  This was my main focus and, together with colleagues, we got to know every single function that the Council delivered.  We went and trained them all in better records management – each department had to understand the requirements of FoI and to manage its records in an efficient and accessible way so as to respond quickly and effectively to public (or journalist) requests.  Staff needed to know what had to be released and what was exempt.  The same applied to Data Protection, for which we also gained responsibility.  This was a huge task, as well as a fantastic way for the Record Office to raise its profile internally; massively important when faced with a tighter financial situation in local government.  We were legally responsible, this mattered, and the Record Office was fundamental to this new legislation.
This increased focus of the Record Office on the records management part of its duties meant that the title County Archivist was, for a while, exchanged for a new title of Records and Information Services Manager, which I became between 2004 to 2007.  I felt very privileged to be stepping into shoes I had hugely admired, and very aware that I would need the team around me to make a success of this; Robin in particular was a huge support on the archives side.
I stayed with the local authority, moving upwards and sideways and having a couple of periods of maternity leave, until 2014, when I decided to start my own freelance career working in arts and heritage.  I had been delighted to work with the team developing The Hive and to see the merger of Archives and Archaeology happen, with fantastic working between both teams.
A host of change and challenges, ups and downs, happened over my time with the Record Office, both bigger picture stuff and more personal stories within the Record Office family.  I enjoyed managing a team that pulled together, and it was always wonderful to see new recruits experiment, grow and bring new ideas and energy, as I'm sure they continue to do to this day.
Projects
Two projects we undertook during this time were Pay and Power and Worcestershire on Film. Pay and Power was a regional archive project. Here in Worcestershire we focused on the Lechmere Collection, the family archive of the Lechmere family who owned large amounts of land around the Hanley Castle area. The Heritage Lottery Fund paid for the cataloguing of this important local collection. As part of the outreach we had an Archive Roadshow in Hanley Swan, in partnership with the local history society, showing off the collection and what it can tell us about local life.
Worcestershire on Film, also a Heritage Lottery Fund project, enabled the digitisation of film footage in our collection, with the help of the Media Archive for Central England, the specialist film archive for the region. The footage was on film and videotape, and in danger of being unplayable in the future, as as being hard to play and share. A local  film company, 7 Inch Cinema, helped us run screenings around the county. Venues included Worcester Guildhall, railway stations, former cinemas, barns, and going to the Asparagus Festival. Over 1000 people came along, and feedback was great, with people recognising people they knew. Highlights included Chris Tarrant interviewing a man walking with ferrets down his trousers, and an interview with a man who lived up a tree in Powick.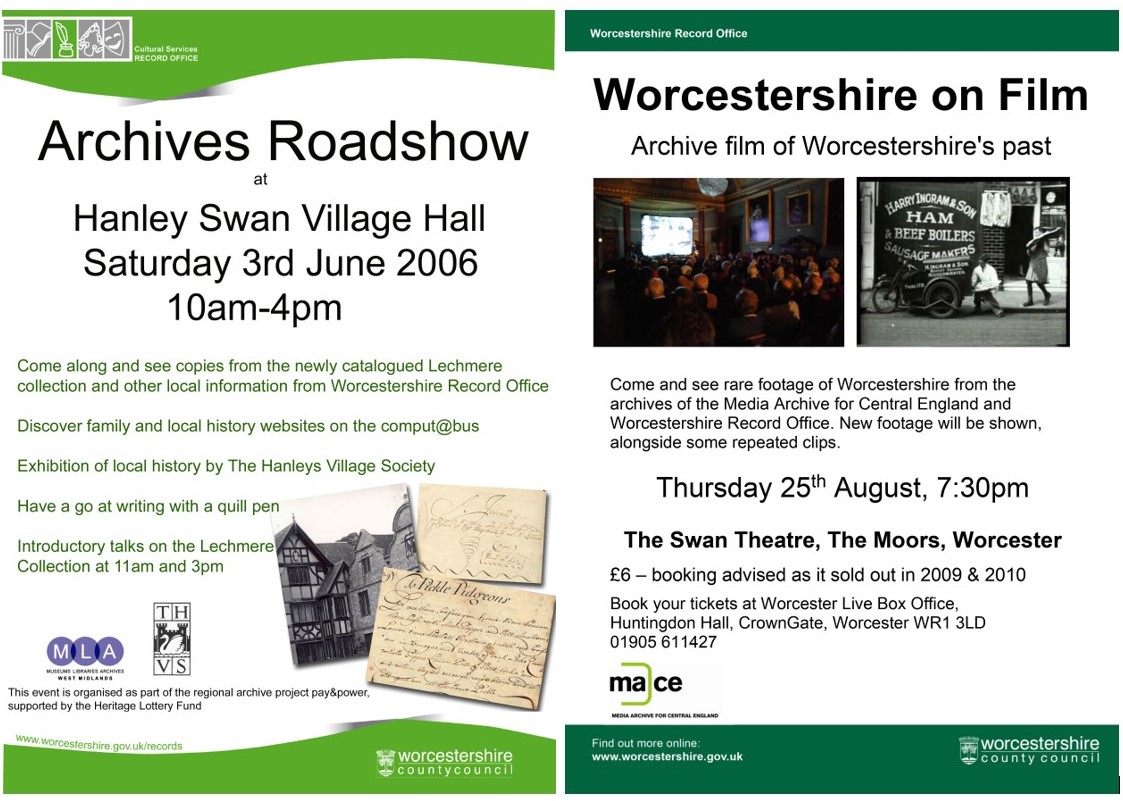 Elaine Cooper
After Debbie moved to be Head of Cultural Services, Elaine Cooper took over as Records and Information Services Manager. She had earlier joined us as Manager of our Corporate Information Management Unit, coming from Redditch Library. During this time the plans to move to The Hive for the join Library and History Centre progressed rapidly. She left at the end of 2011, when Worcestershire Record Office merged with Worcestershire Historic Environment and Archaeology Service.