Charles Dixon: Stourbridge Naval Officer
It is unusual to find information on a naval career in our archives. Here we discover something more about the life of Charles Dixon, whose naval career appears to have begun in the 1770s.
The Foley Scrapbooks which are part of the Palfrey Collection have always been one of my favourite archives. And no matter how many times I delve into them I always can find something I haven't seen before and these documents relating to a Charles Dixon and his naval career are no exception

Charles Dixon was one of ten children born to Charles and Elizabeth Dixon in Stourbridge in 1746.

Charles Dixon first appears in our records as a Lieutenant in the 62nd regiment of foot in 1771 aged 25. However, 7 years later he is on board a naval vessel.

There is no information to say that actually he joined the navy, but according to the regiment's history they were often used as marines to strengthen the navy, so perhaps this is how he was introduced to the navy, becoming   a naval officer but attached to the militia.

In August 1778 at the age of 32 he was made Midshipman on HMS Europe. A potential officer would have had to serve as a midshipman for 3 years prior to taking the examination to become a lieutenant. A midshipman who passed the examination did not automatically become a lieutenant, they would have to wait to be promoted into that position.

In October of the same year he was asked to take charge and command HMS Quebec after the death of its commanding officer. He returned to HMS Europe as a newly appointed Fourth Lieutenant.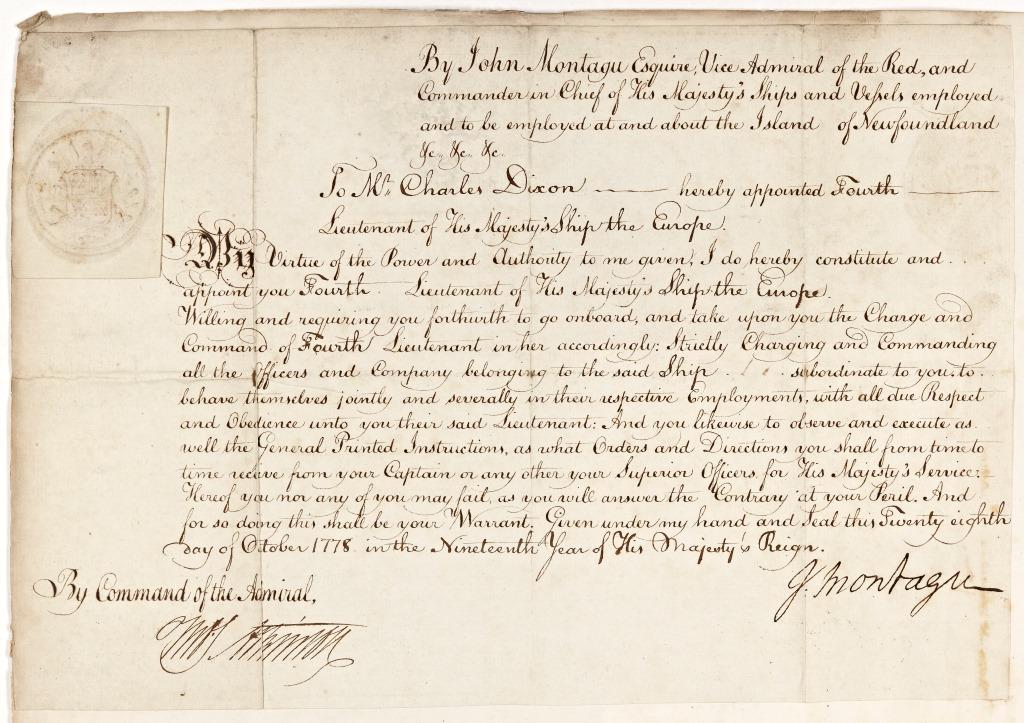 By December of 1781 he had been given the temporary position of Master and Commander of HMS Drake. This was a title given to lieutenants who were placed in charge of small vessels. Dixon took the Drake back to England, where she was refitted between April and June 1782 for the sum of £1,595 5s 4d. She then returned to the West Indies. HMS Drake was a 14-gun brig-sloop.
Naval vessels were given a rating of 1 to 6. However many smaller ships were not rated. HMS Drake was an unrated vessel. This is an extract, showing a list of his Majesty King Charles II naval ships from 1672. Although 100 years earlier, it shows the ranking of the vessels still used by the modern navy. It shows the ships rating, the name of the ship, number of men and guns, the captain and where they are stationed.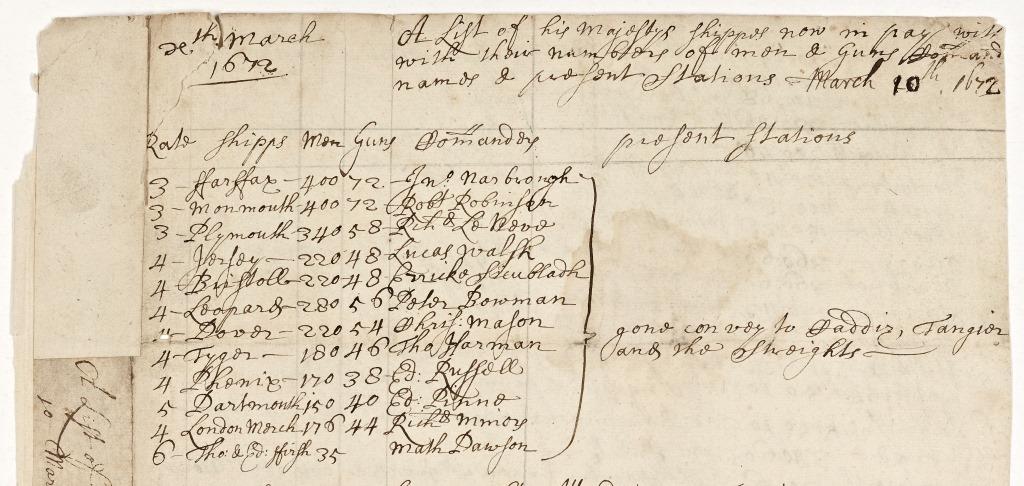 In March 1783 Charles is listed as the Commander of HMS Drake.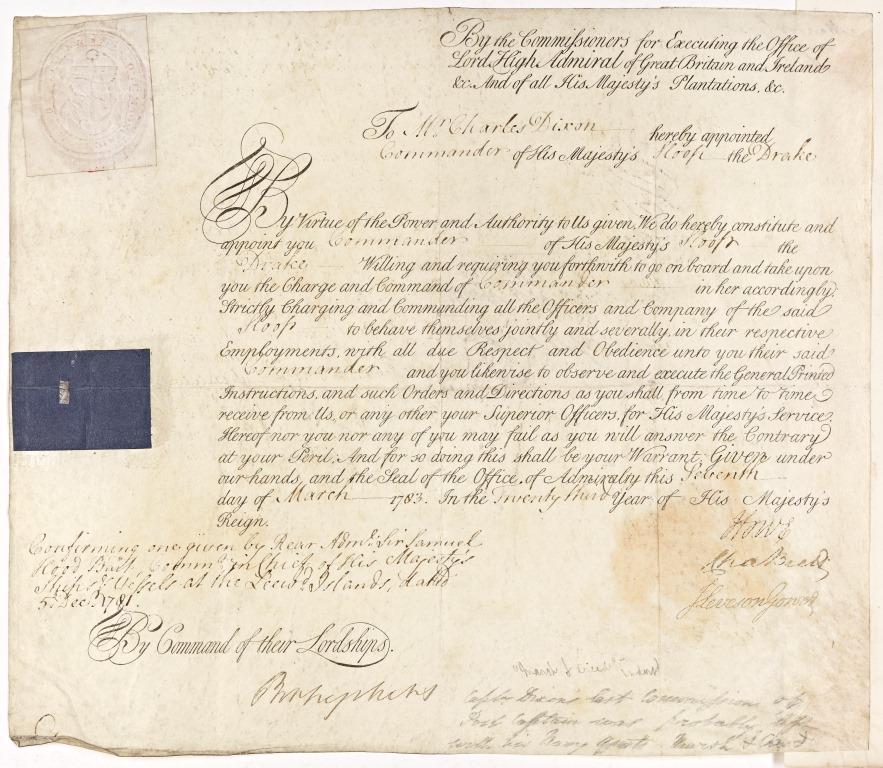 In February 1783 France, during the Anglo- French War had sent ships to the Turks and Caicos archipelago. The French took the islands without resistance. In March of that year an attempt was made to recover the islands, led by a Captain Horatio Nelson
In an extract from Nelson's letter dated 9 March 1783, he states
'……I sent Captain Dixon ashore with a flag of truce to demand a surrender of the islands…
One Saturday morning at daylight one hundred and sixty seven seamen and marines were landed from the ships under the command of Captain Charles Dixon, who very much obliged me by offering to command them…….'
Nelson states that he sent Dixon under a flag of truce to ask the French commander to surrender; he refused. The British then landed 167 troops, under Dixon. Unexpectedly, a shore battery of three guns opened fire on them. Dixon reported that seamen were manning the French guns and that the French troops had several field pieces. Dixon's landing party were outnumbered but he was able to remove the men under his command without casualties. Nelson then decided to withdraw. The islands were returned to British control under the treaty of Paris, signed later that year.
According to another of Nelson's letters Charles was made a post Captain in November 1790. This was a crucial event in an officer's career, when the officer is assigned to a rated vessel. Unfortunately we do not know the name of his ship.
He died on the 18th February 1804 at the age of 58. He was buried in the family vault in Old Swinford Worcestershire.
His brother Gilbert also a naval officer, was killed in a skirmish off the coast of Guinea. He died in 1784 aged 31.
Documents taken from the Foley Scrapbooks which are part of the Palfrey Collection. Reference b899:31 BA 3762. Volume 1 pages 217, 217a 217e and volume 4 page 37.
Nelson's letters are available online at: https://archive.org/details/dispatchesletter01nels.
One response to "Charles Dixon: Stourbridge Naval Officer"