Feedback focus: What everybody's saying about Explore the Past (part 2)
Our Explore the Past guide frequently attracts positive feedback from users, including Roger Leake, Chairman of the Friends of Worcestershire Archives. Read about Roger's experience of using it in this post.
We published our Explore the Past guide a while ago to give people far and wide a helping hand with getting started with researching their roots.
But while the guide – packed with 70 pages of family history research insight – may not be a new addition to the genealogy resource scene, it's still incredibly popular with people, including professional genealogist, Emma Jolly.
The guide's also proven to be a huge hit with Roger Leake too, who is the Chairman of the Friends of Worcestershire Archives. Here's what Roger has to say about it:
"When I became aware that the Worcestershire Archive and Archaeology Service had compiled the Explore the Past guide for researchers, using archive and archaeological evidence, I jumped at the chance to purchase the electronic file. The internet payment of £6 and the download to my laptop were straightforward.
"My particular interest at present is in the history of people and land ownership in my village. Using the archives, I have found references to the village's pre-history; the 1806 Enclosure Award with a large and detailed map; trades and services; our church; the civil parish; the war memorial; old photographs; electoral and Census information.
"All of those original sources are described in the guide, including direct links to access the online indexes, as well as details of the type of information they contain.
"My next step will be to delve into the school records and the Land Tax Survey….so it's back to the Explore the Past guide for useful hints and tips. Anyone with internet access, living in any part of the world can use it in the comfort and convenience of their own home, so that they can plan research. And while the guide is primarily presented as an aid to research people and places in Worcestershire/Worcester, it provides a useful overview of similar material held elsewhere in England."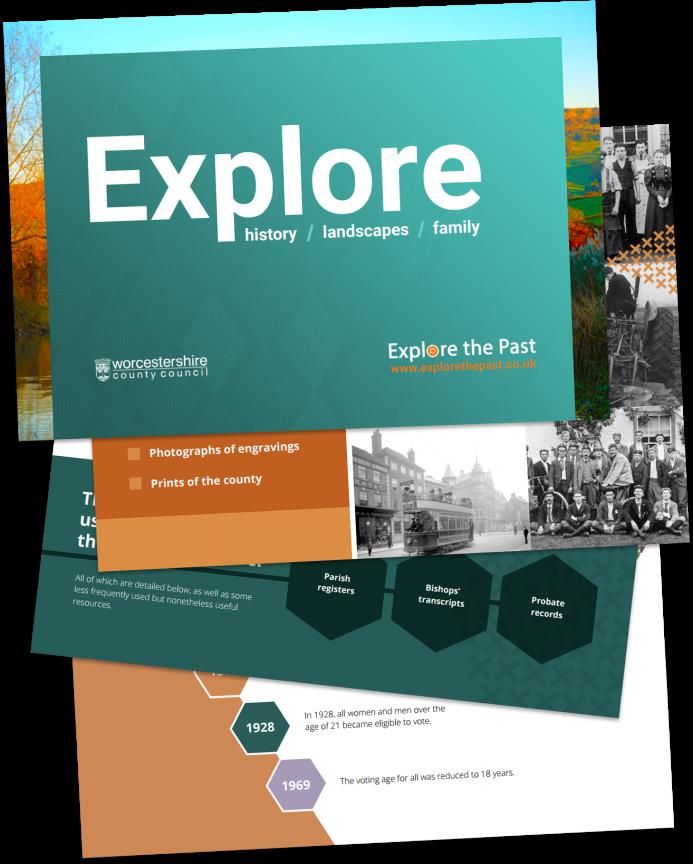 So, that's another thumbs up from another Explore the Past guide user! And it's positive feedback we're incredibly pleased and proud to receive. Do you have a copy of the guide? What have your experiences been of using it? We'd love to know your thoughts, simply send us a message and let us know.
In the meantime, if you don't yet have a copy of Explore the Past, but would like to purchase one for yourself or a friend or family member, you can purchase it for £6 right here – https://www.explorethepast.co.uk/discover-your-past/