Peace Day – 19 July 1919
19th July is the 100th anniversary of Peace Day, which was declared a bank holiday in Britain by a committee chaired by then Foreign Secretary, Lord Curzon. Although 11 November 1918 saw the end of fighting, the Treaty of Versailles was signed in June (which is why many war memorials have 1914-19 on them). A peace committee was set up to decide how Britain would publicly mark the end of the war and do justice to the widespread feelings of jubilation.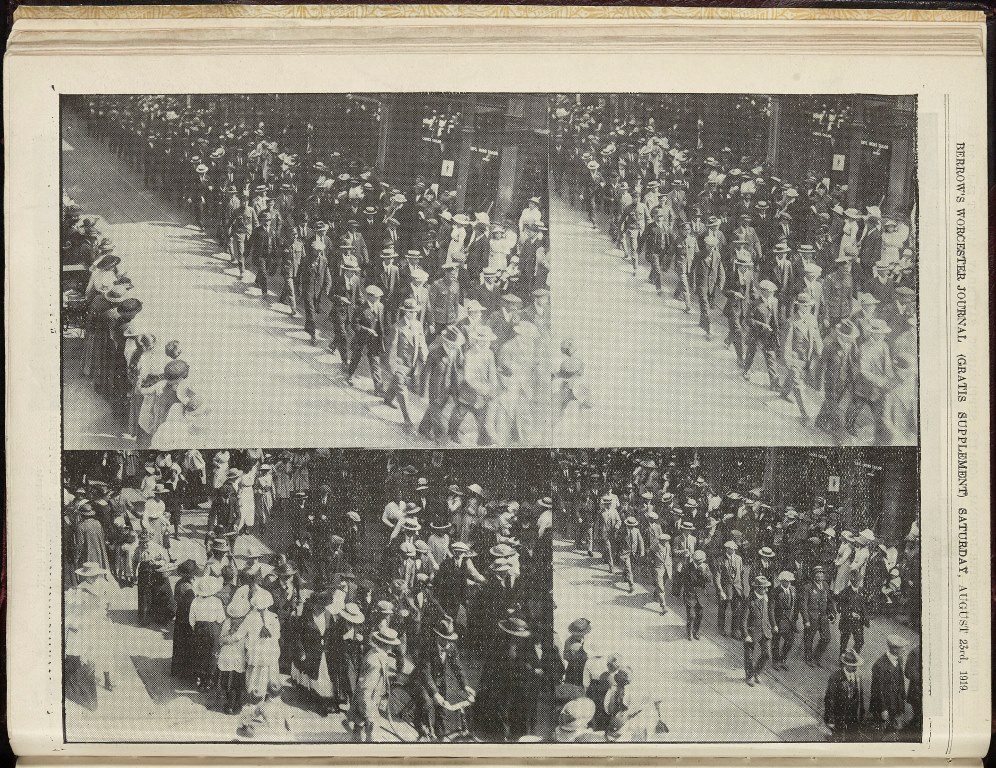 The main national event was in London, where an estimated 15,000 troops took part in the parade to remember the fallen.
Architect Sir Edwin Lutyens was commissioned by Lloyd George to design the monument and had just two weeks to create a piece befitting of the memory of the fallen, which was The Cenotaph. Although many thought it controversial when unveiled it proved popular with the ex.soldiers and the temporary wood and plaster construction was replaced by one made from Portland stone in 1920 and The Cenotaph still stands today as the country's official war memorial.
Peace Day was not popular with some ex-servicemen, who felt they were sidelined. In Luton some men, who felt excluded from the celebrations inside the Town Hall, attacked the building and burnt it down. Here in Worcestershire Berrow's Worcester Journal reported that it had received anonymous letters of complaint, and the Mayor had to address the assembled former soldiers and explain how an oversight was rectified and that he had made sure they were fully involved. A Women's Committee was established to look into organising something appropriate for returned servicemen later in the year.
Many local events were held, and Berrow's Worcester Journal provides summaries. Many followed similar formats with dinners and sports, and most were affected by a tremendous downpour in the afternoon, leading to some activities being postponed to another day. A few of the reported events were:
Abberley – Rain postponed the sports but on both Saturday and Sunday night a bonfire was lit on the hills, with people up there singing until midnight. A dinner was held for ex-servicemen.
Claines – Their event included a parade, and every child received a special china mug.
Clifton-on-Teme & Lower Sapey – the two parishes joined together for an event on the Monday. As was common for the time a ladies committee organised the refreshments and a gentlemen's committee organised the sports. The event ended with fireworks.
Drakes Broughton – A dinner was held for returned servicemen, with sports concluded on the Monday after a washout on Saturday.
Fernhill Health – A fete raised £100 towards their war memorial fund, attended by the Mayor. Messers A& H Jones provided a pig for the tombola.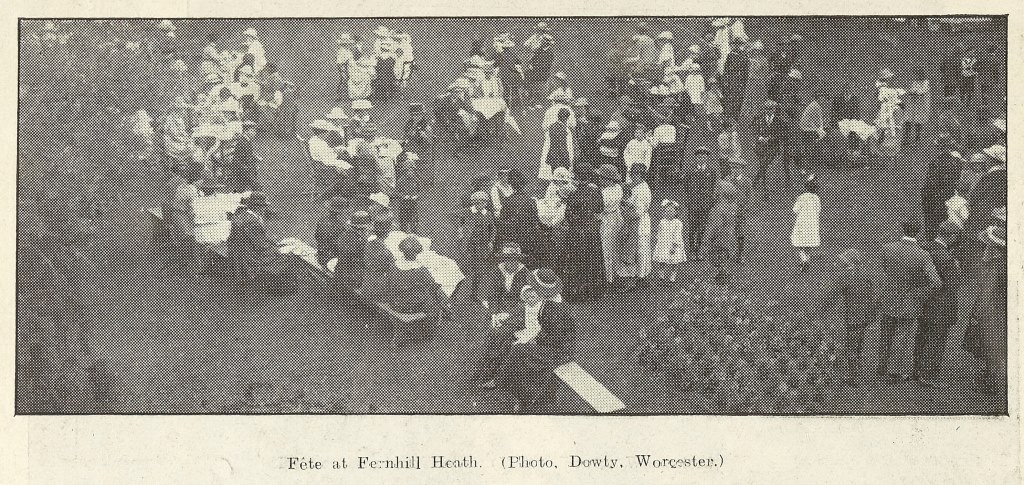 Hallow – A dinner was held for 76 ex-servicemen and 192 children. The Chairman asked the men to work together in harmony.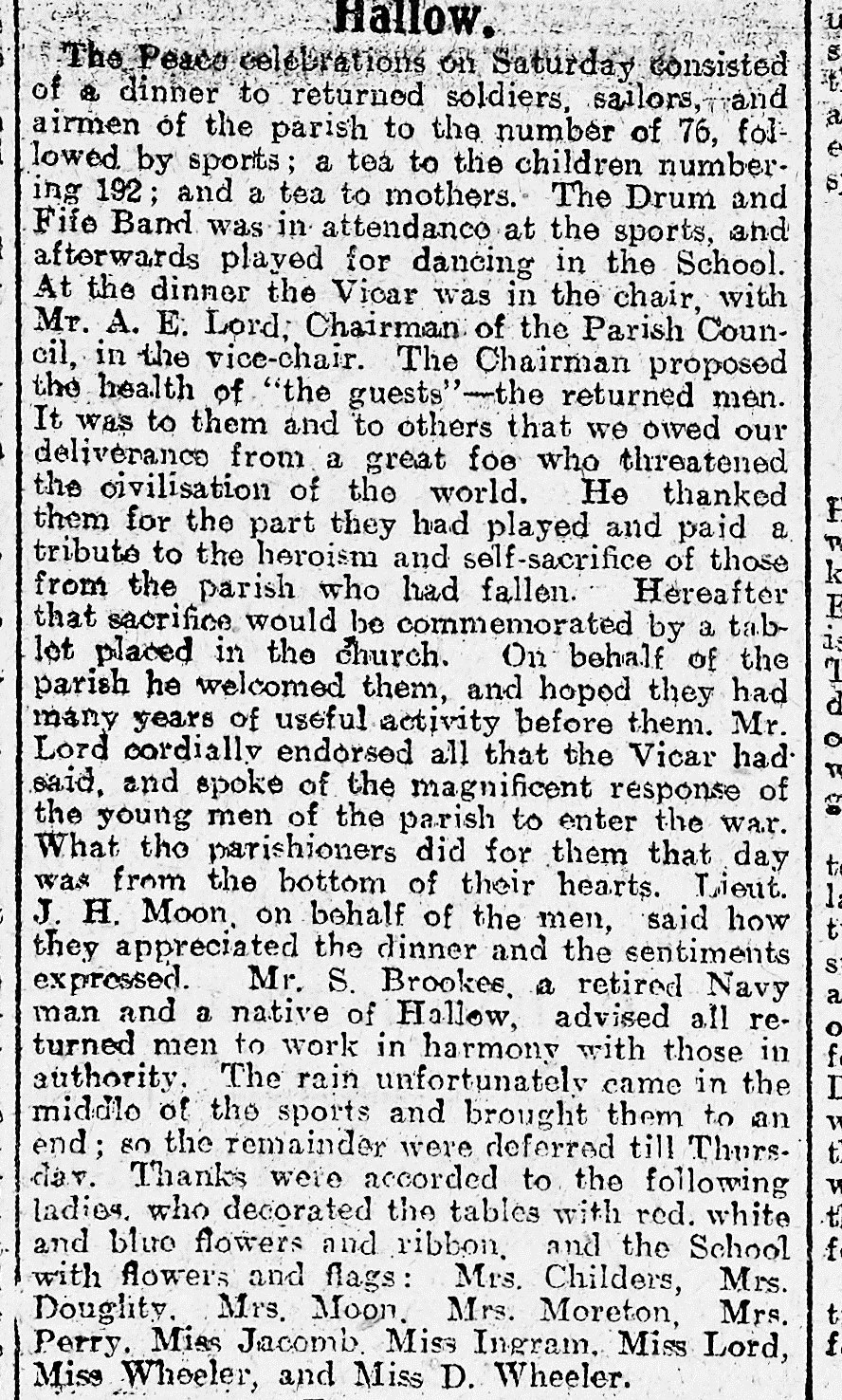 Hanbury – Sir Harry and Lady Georgina Vernon hosted the event at Hanbury Hall. 86 returned servicemen were invited to a meat tea and 120 children took part in sports.
Pershore – an event was to be arranged for mid August, with a meal for men registered as old comrades. £100 allocated from rates, third from St Andrews parish, rest from Holy Cross.
Pinvin – A brass band led the procession. Ex-soldiers were invited to a meal, and wives and mothers could come for a nominal charge.
Tenbury Wells – Houses displayed flags of the Allies, and the parish church had a peal of bells. A parade took place through town ending with a united service. A tea was held for ex-servicemen, school children and wives and mothers. Children were given a orange, sweets and a bun. On Monday there were fireworks and sports.
Upton-upon-Severn – they decided to hold their event in mid August to give them more time. It was proposed to have a decorated procession and sports.
Wichenford – On Friday 25 ex-servicemen had a dinner in their honour, followed a dinner for school children and mothers the following day, and fireworks.
Worcester – rumours of disturbances never materialised and the day went of peacefully. The cathedral rang a peal of bells, before a parade of 2,000 ex-servicemen arranged by Admiral Cuming, Commander of the County. Rev Studdert Kennedy of St Paul's, nicknamed Woodbine Willie, was also in attendance. The planned illuminated boat procession on the river took place but heavy rain meant the riverside was almost deserted. The scouts set off flares from Perry Wood.
On Pitchcroft 8,000 children took part in a pageant and sports, with refreshments provided. Even the Workhouse marked the occasion, with special food, a visit by a conjurer and a sports day with prizes.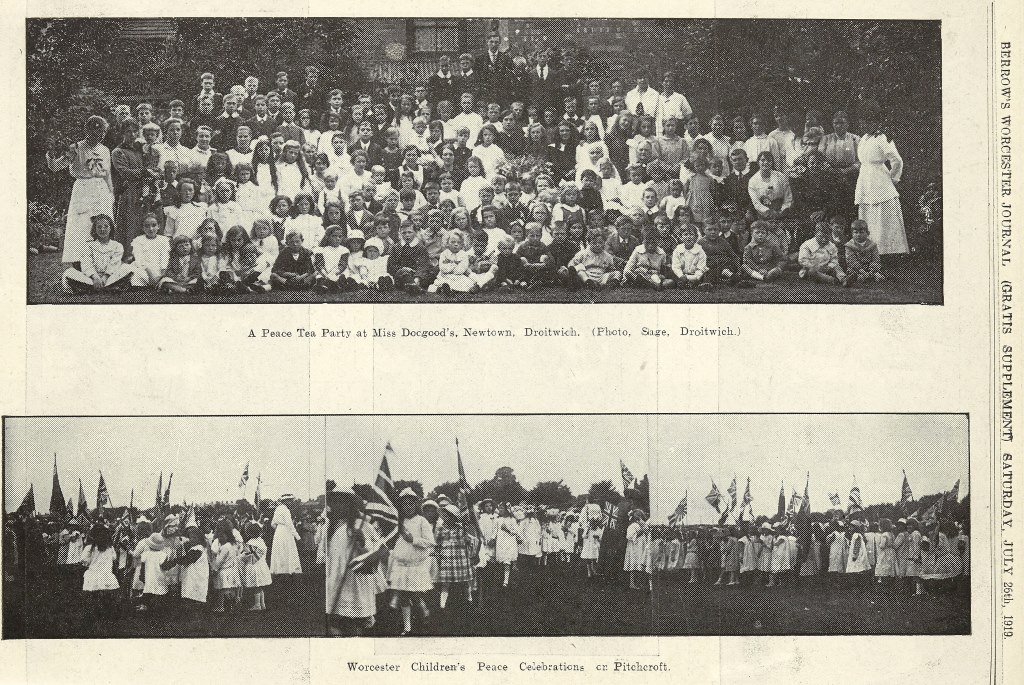 In the evening there was plenty of music including jazz, and the paper described 'boisterous merrymaking', although it also referred to a skeleton being present, probably referring to the fact that everyone would have known someone they had lost during the war, and would have been thinking of during the festivities.
The Mayor, Alderman Carlton, and Rev MacRae, Rector of All Saints and Chairman of the Comrades' Association, addressed the men, aware that feelings had run high. They acknowledged that originally the men had been left out of the plans, but assured them as soon as they realised they ensured that the men were fully included. They also told them that they would look to organise other means of recognition later in the year.

In the archives are oral history recordings made by Mike Dickens. One lady he interviewed was Barber, born 1907 who spoke about her memories of the end of the war and the events afterwards. She recalls Peace day in Birmingham, and going to a party in the park with her school. All the children had made paper hats in red, white and blue. They had races, and she won the skipping rope race, winning a beautiful blue necklace. At the end they all got a bag with a current bun and piece of cake in.