Worcester Woods Country Park 40th Anniversary History Project
Today we are pleased to feature a guest post from Tanya Feasey, Assistant Countryside Sites Officer, who is running variety of activities including some oral history interviewing to mark 40 years of Worcester Woods Country Park. We've been supporting the project, giving expert advice and running a workshop for volunteers to help them. They've also been researching in the archives here. Here's what Tanya has to say about the project: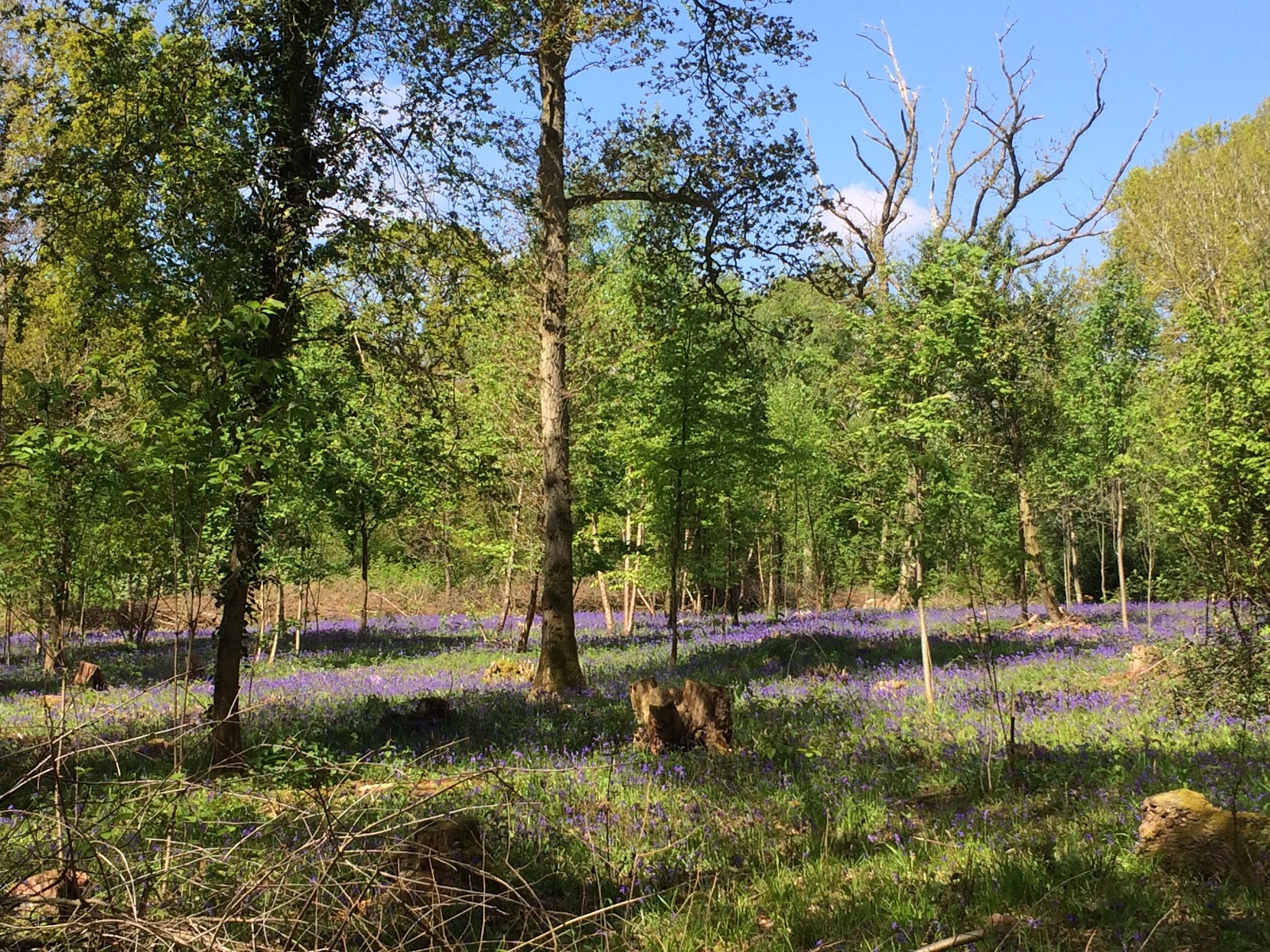 As part of Worcester Woods Country Park 40th birthday celebrations we are undertaking several projects within the park relating to its history.
We are currently running the Worcester Woods Country Park oral history recording project. This has been taking place since July and we have held several drop in sessions and also met up individually with interested people to record their memories of Worcester Woods Country Park and what was here before.
Click below to listen to a clip from Tanya's interview with Jim who lived on Spetchley Road during the 1930s and 1940s and recalled exploring the area as a child.
The oral history work ties in with a bigger project where I have been researching the history of Worcester Woods Country Park and producing a book entitled 'The Illustrated History of Worcester Woods Country Park'. The book is expected to be launched at our 40th Anniversary celebrations on October 26th/ 27th.
On Saturday October 26th I will be doing a talk on the history of Worcester Woods Country Park in the Woodland Room at the Countryside Centre at 10am. I will then be doing a guided walk (meet in the foyer 1.30pm) that same afternoon where we can look at historical features around the park. Both events are free although donations to the upkeep of Worcester Woods Country Park will be accepted on the day!
On Sunday 27th October we will be holding a historical family fun day. This will run from the Countryside Centre, 10am -3pm. We are having several traction engines, a vintage fire engine and children's activities. The event is free to attend and if any local historical groups want to get involved they can contact me on tfeasey@worcestershire.gov.uk.
A very brief history of Worcester Woods Country Park.
The area that now holds Worcester Woods Country Park used to be comprised of four farms; Nunnery Farm, Swinesherd Mill, Newtown Grange and Hornhill Farm.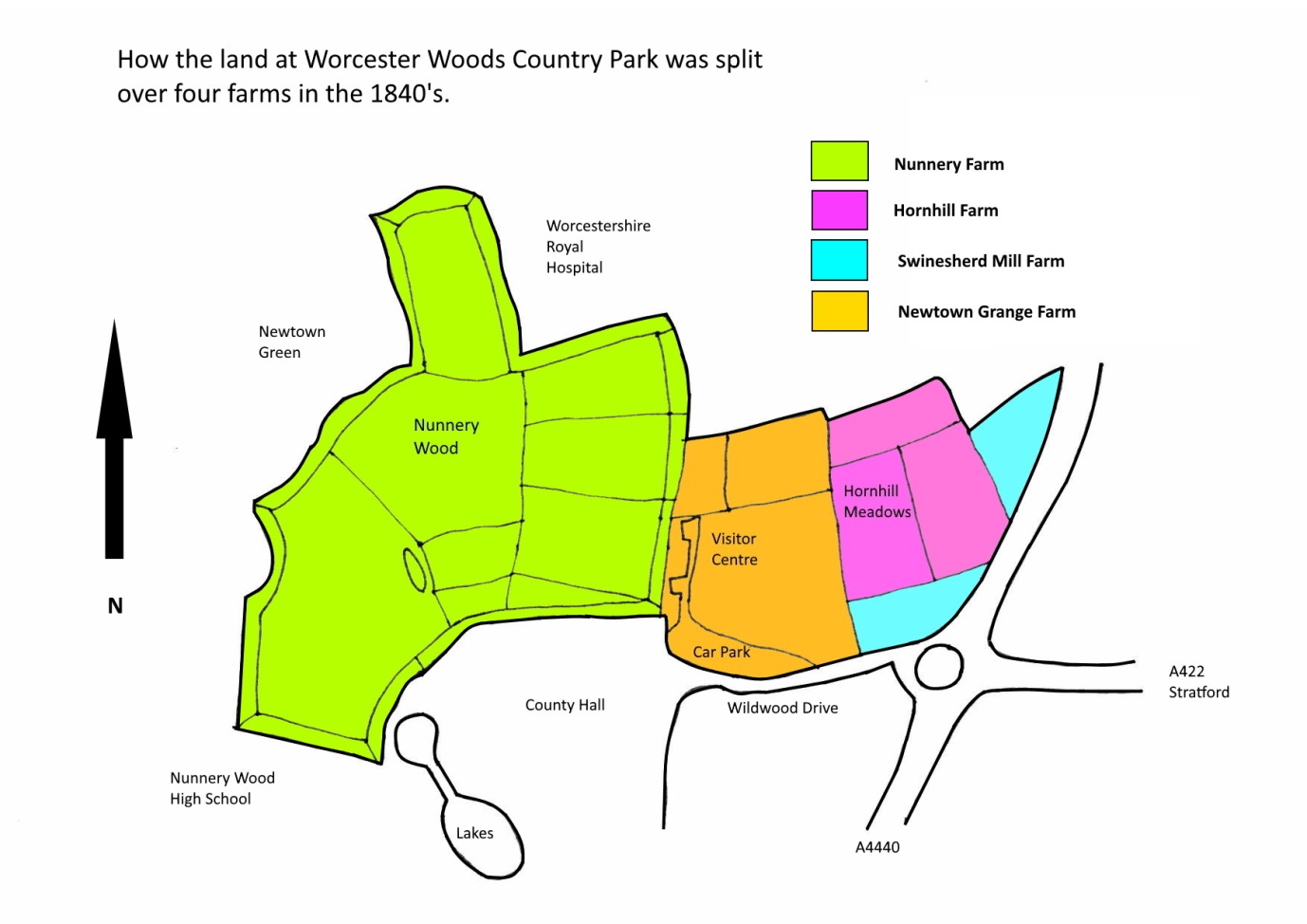 Hornhill Farm was more of a small holding at 11 acres whereas the other three farms varied in size from 150 acres to 250 acres. All the farms were mixed but focused on dairy cows as their main form of livestock. Swinesherd Farm was run for almost 100 years by the Watson family with many generations of John and Edwin Watson farming the land there. Nunnery Farm was farmed by the Pitcher family for over 100 years, with the head of the farm being several generations of George Pitcher. Newtown Grange was run by the Greens and then went through several tenants before John 'Bertie' Somers took it on for almost 60 years.
The Pitcher Family outside Nunnery Farmhouse dated 1892. From the left standing –George Pitcher, Florrie, Jack, Louie and Bessie. Sitting from the left, Anne, William, Mary, Gertie, Sidney and Ernest
The farms were successful in their time but housing pressure grew at the same time as a big depression in the farming sector in the 1930's. This led to the farms getting sold off one by one with the land being used for Worcester Royal Hospital, County Hall and Nunnery School. The rest went for housing or formed part of Worcester Woods Country Park. The last farm to be sold in 1990 was Hornhill Farm which then formed the other half of Worcester Woods Country Park. The remains of Hornhill House which was demolished in the 1950's can still be seen to this day as a pile of rubble in the corner of the orchard in Hornhill Meadows.
If you want to find out more about the project and the activities at the Countryside Centre later this month do contact Tanya direct on tfeasey@worcestershire.gov.uk.
Pitcher family photograph reproduced with kind permission from Robert and Beth Low.
If you are interested in Oral History Projects we are running a free session on Saturday 2 November 11am. We'll play some oral history extracts so you can hear some of the amazing stories we have gathered over the years. So if you are thinking of carrying out an interview or creating a project which will include oral history, this will be useful. It's free and there's no need to book but it would be useful to email us if you are coming so we have an idea if numbers.
We are also happy to discuss ideas with you directly. Drop us a line on explorethepast@Worcestershire.gov.uk