Image Gallery – Black Friday Sale
Within our collections we have many wonderful images. Some of these we share on social media and, unsurprisingly, they are a big hit with lots of re-shares, likes and comments. Other images you may have found yourself  when you used our collections at The Hive .

On our Website we now have an image gallery. Here you can buy  and download  images of  the photos, drawings, maps and documents we look after. We have started will a small  selection but will be adding more very soon. Great news is that until Monday all images are half price to coincide with Black Friday.
The images can be used in many ways, as a screen saver on your PC or phone, a print for your wall or to make your own personalised cards. Another idea is to use one of the many online companies offering this service  to create a gift  for someone you care about.  For examples mugs, tea towels,  mouse mats etc make great stocking fillers. The images you see on-line online are low resolution, but the downloaded ones will be very high resolution, copied by our digitisation team with their state of the art equipment, so can be printed and reproduced at any size  and still retain their sharpness.
Here is a taster of the range of images available today
Maps are particularly popular, people love maps.  When we run our Explore maps workshop we always have at least a couple of people who have an old map on the wall. We have picked a few  of our favourites  for you to choose from. These include Speed's 1610 map of Worcester and Worcestershire (the earliest maps of the city),  the Ogilby Road Map 1675, showing routes from Bristol to Worcester, Exeter and Weymouth. In 2008 Terry Jones did a TV series following the routes of the Welsh maps in the series.
We've also  included some of the wonderful Burney watercolours and drawings, created by Edward and Thomas Burney in the late 18th century,  some of  which were to illustrate a history of Worcester. They are amazing pictures, taking us back 100 years before photographs.  We can see buildings which are no longer with us, such as St Clements, or have changed significantly, such as The Commandery and The Infirmary.
Some attractive posters and adverts from the collections  are now available.  For example, a testimonial to a Suffragette, signed by Emmeline Pankhurst and E. Pethick Lawrence, has been popular when we've shared it as part of exhibitions or in connections with the recent anniversaries of the women's right to vote.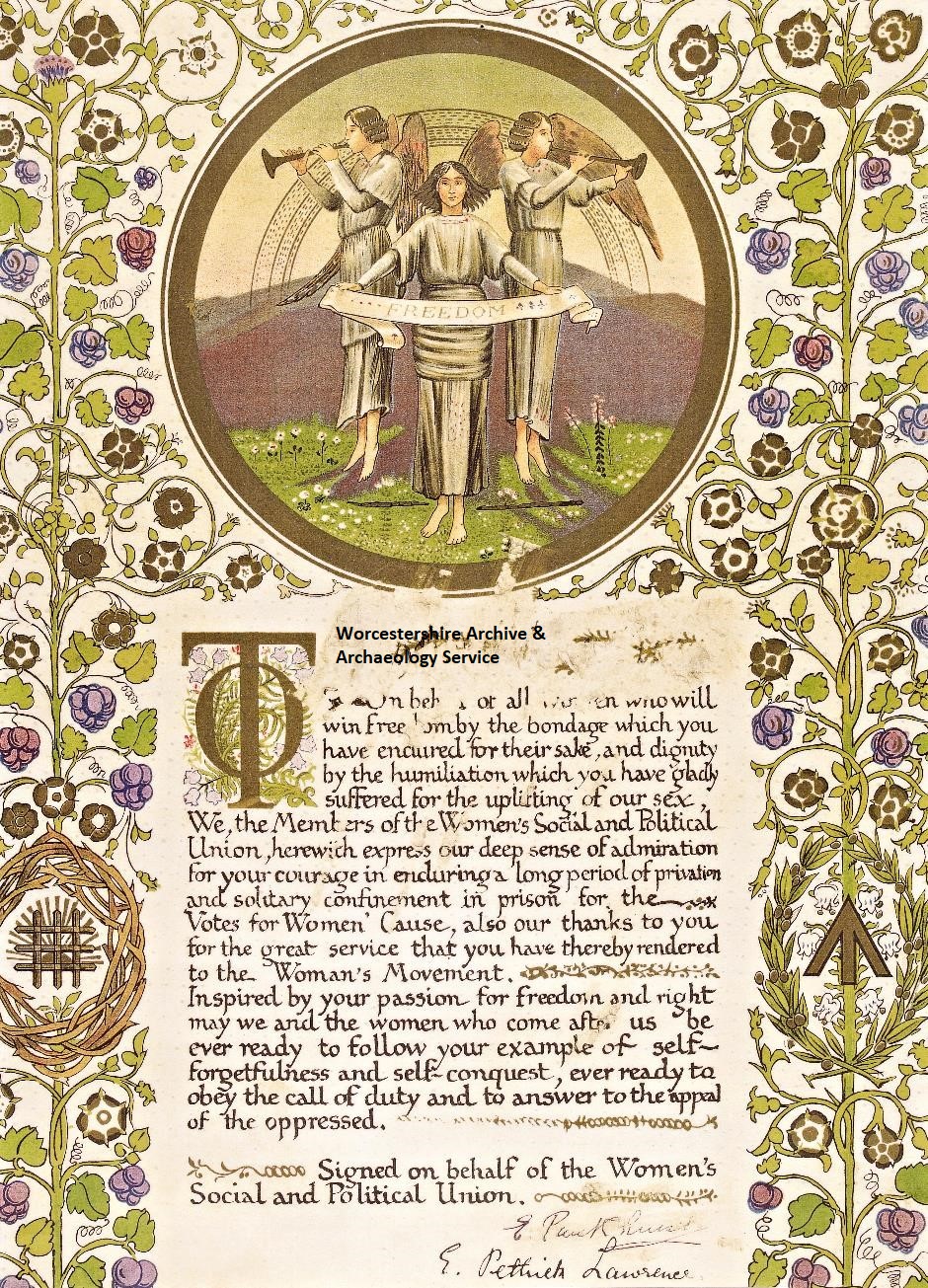 We have started with a small collection of some our favourite images but will be adding more very soon. Go to our Image gallery and have a browse, and keep checking for new images being added.
Some of  the images have been turned into fridge magnets by Rhonda, our conservator, and  her dedicated volunteers. They were launched at the recent Local History Forum Day and went down very well. These are only for sale from the archive desk in The Hive, and can be purchased for £3.