Holly & Mistletoe Thefts
In the past we've told you about the Case of the Stolen Christmas Goose, but that wasn't the only seasonal crime to have taken place in Worcestershire in the past.
Holly, Ivy and Mistletoe were also targets, whether by individuals for themselves, or from enterprising people to sell it on.
Tenbury is a big mistletoe producing area of the country, and still has mistletoe auctions and a mistletoe fair each year.  Money can be made, but this also means that others see opportunities.
The Tenbury Wells Advertiser of Christmas Eve 1907 reported the theft of mistletoe from Tirrell's Farm.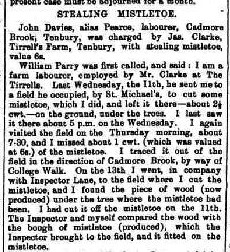 The man accused was John Davies, alias Pearce. It was alleged that after some boughs were cut down he came and took some. The police visited him and found 1 cwt (50kg) of mistletoe but he claimed he got it from elsewhere. The police compared the bough and tools and said they match the cuts on the original tree. Davies denied it and pleaded not guilty, although he had no witnesses and couldn't disprove it.
In court there was what was described as an 'altercation' between the police and the Bench over how much was stolen. Only some mistletoe was in the court, and the bench queried if the rest, which was at the Police Station, was also stolen.
Davies was found guilty after a short deliberation and fined £1 plus costs.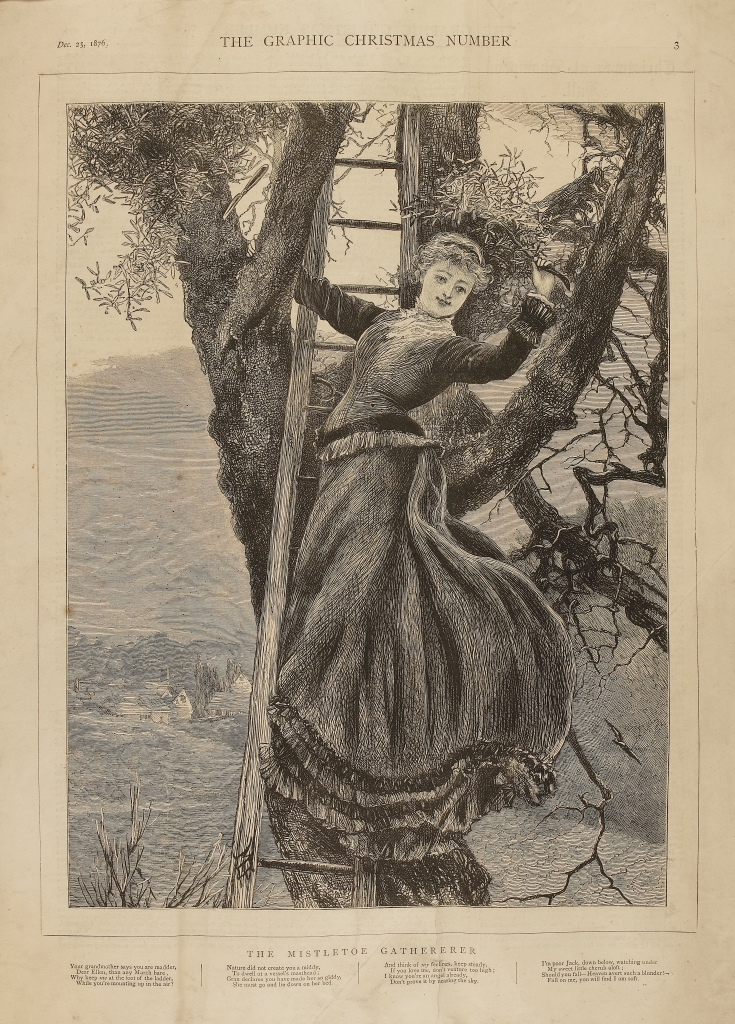 The Worcestershire Chronicle of 30 December 1857 reported the arrest of Edward and Thomas Martin and Thomas Beesley were found with a large quantity of holly, fresh cut from trees. It turned out to be from Mr Fellows' farm, in Lickey, Bromsgrove. The men were fined 19s 2d each.
In 1894 George Green was charged with stealing 18 bundles of holly. Like with the mistletoe case part of the evidence was comparing the stumps with the stolen greenery to see if it matched. The case was adjourned so Mr Green could bring an important witness, but sadly we don't know what happened as we can't see it reported after this.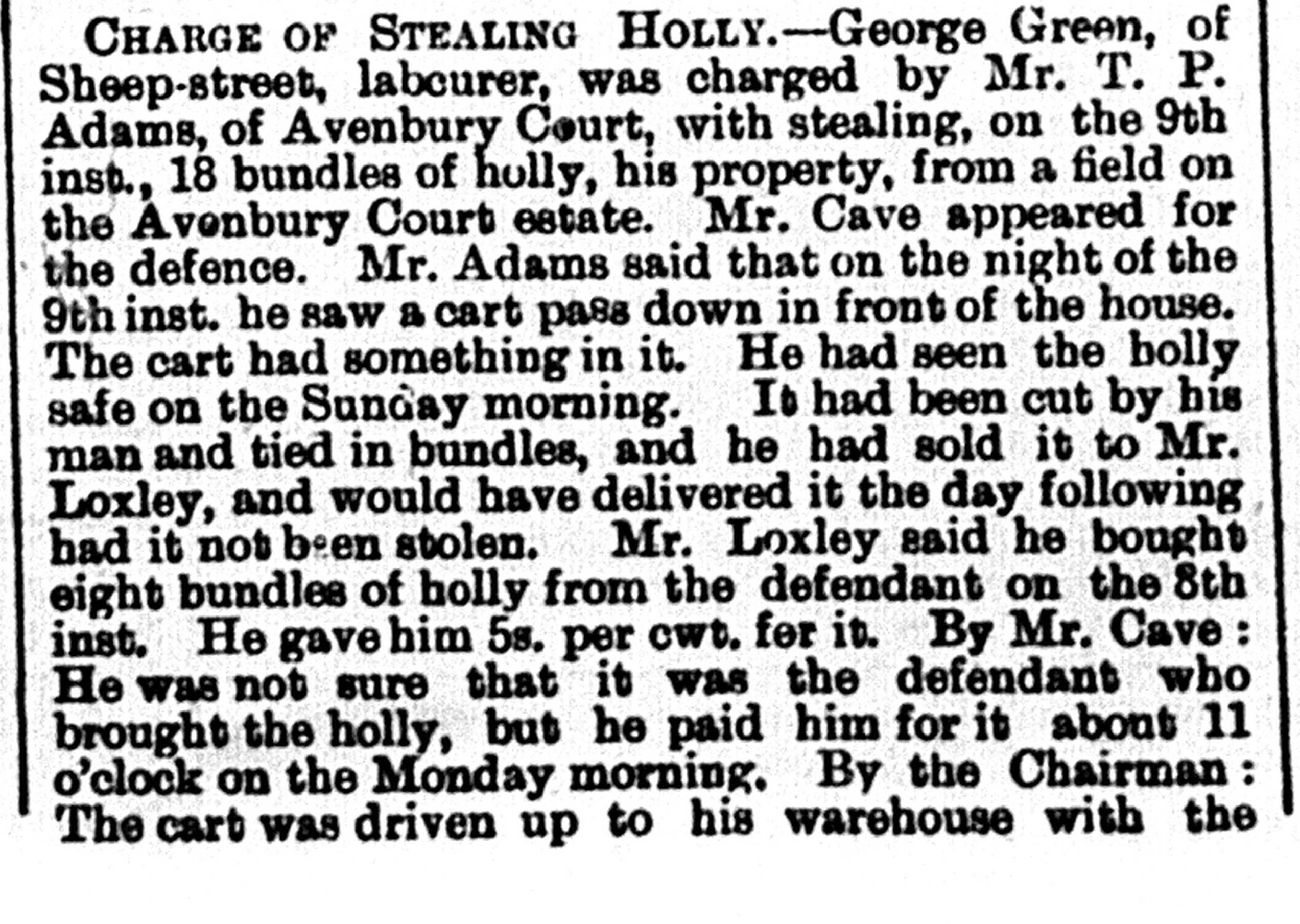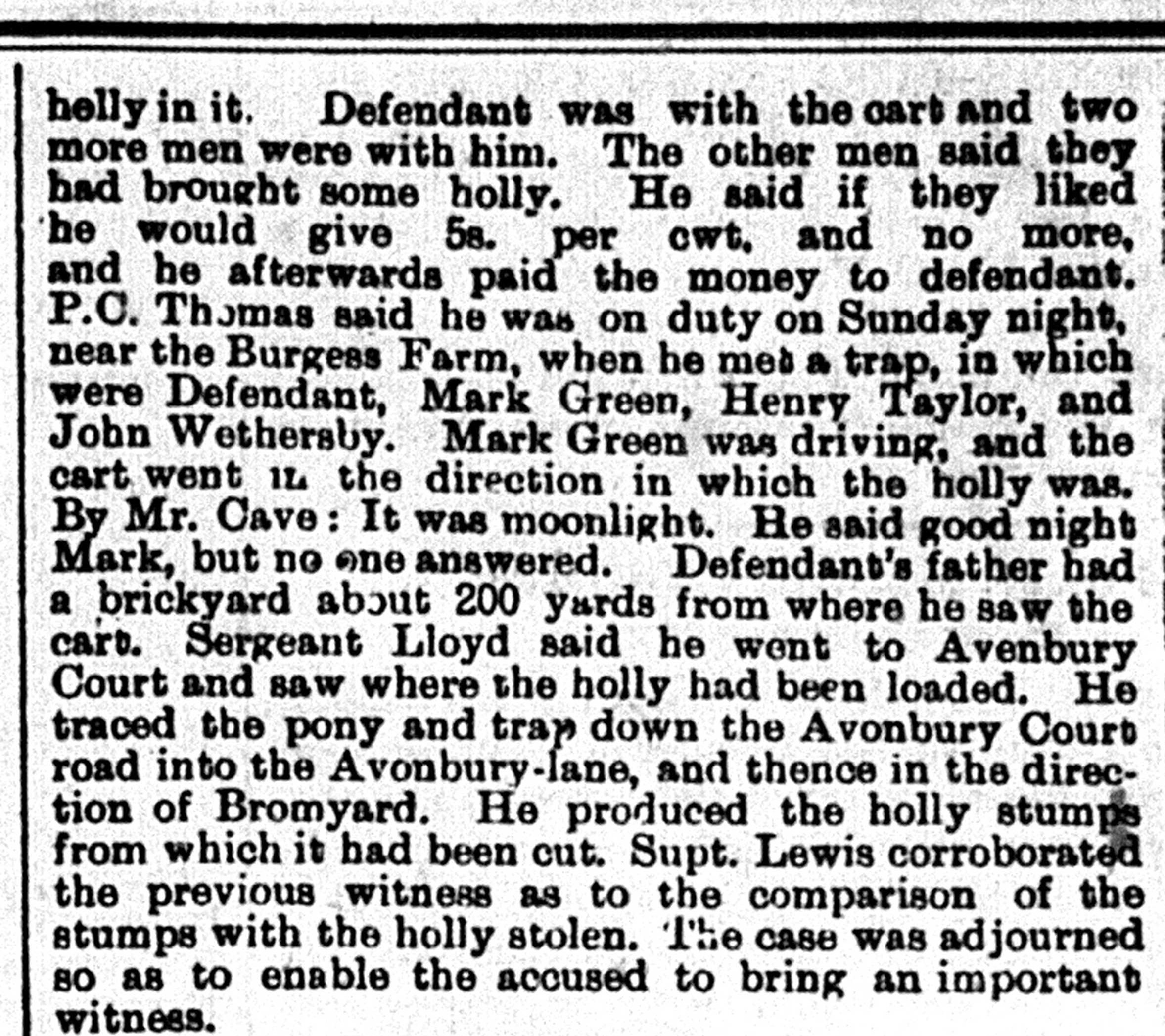 Local papers reported the blatant theft of a holly tree in Smethwick at Christmas 1887. John Dalloway and Samuel Dalloway, fruitiers, called at a farm to ask if there was any holly trees for sale. They were told it was owned by the Earl of Dudley and the tenant didn't have any permission to sell trees. The brothers were then seen cutting a 16 foot tree down. When the police were called they found the holly in the Dalloway shop. They said they'd been drinking and had been muddle headed. They were told they ought to have known better and were fined £5 each (£410 in today's money).
We have 300 years of newspapers here in The Hive on microfilm. they are full of amazing stories and fantastic for local history.