Moving to the City
In The Hive atrium are four large mosaics of photos, with faces made up of hundreds of photos. Moving to The City is a 2 year arts and archive project working with local community groups. Using the archives as inspiration, and photography as a way to engage and work with people, we explored the idea of moving to Worcester, peoples own family photos, and the diverse cultures of people who call Worcester their home. We were really pleased to have the Mayor of Worcester, Allah Ditta, join us for our official launch.
In 2018 we commissioned artist Anand Chhabra, with funding from Arts Council England, to work alongside communities who have come to settle in the City of Worcester with the theme of 'Moving to the City' as an arts project. This links to one of the core values of The Hive, a sense of community as the focus and its use as a facility for learning.
During his residency Anand has engaged with groups around Worcester to work with him through photography workshops. The result has been co-creating a 2D work of art that pictures the people who have moved and settled here.
All the projects conducted with community groups have worked on the thread which details the wider community's migration to Worcester.
Stanley Road Primary School – year 6 pupils were taken on a 4 week journey to learn about each other's heritage. They interviewed each other to learn more about one another's culture, languages they speak at home and the food they eat. They then visited the archives here to see how objects and photographs have been archived and understand why it's important to preserve their own heritage as well as the City's. A further event at the school saw pupils dress to celebrate their country of origin and had a photograph taken by the artist. The photographs were put together in an album which will now be archived at the school for future generations to view and find more information about the origins of the year group.
Dines Community Centre – an After School group worked with an 'Around the World' theme with use of single use film cameras where there were allowed to experiment with the artworks they created for their project.
Walking groups – we invited these groups to photograph the giraffes that formed part of the 'Worcester Stands Tall' project which saw sculpted Giraffes dotted all around the City. All 57 of the giraffes were photographed and most included in the mosaics.
Muslim ladies group – we worked alongside this group who meet at the Mosque's community centre on Stanley Rd. It was fascinating to hear stories and print photographs from images that documented the movement of families from Pakistan and parts of the UK to Worcester.
The Hive – Anand set up his camera one day in The Hive and took portrait photos of visitors. Quite a few members of staff came too, many of whom had originally come from elsewhere in the country or the world.
All these projects have been collated towards creating a mosaic of images and most have been included in the final artwork.
Anand was keen on creating portraits that reveal the very ethnicity and individuality of people photographs and to form the main template for the arts project, creating a series of mosaics where he has put together two people whose faces match and yet are distinctly from another part of the world. By doing this it sends out a statement that although as humanity we are diverse with our own language, culture and yet we have so much in common with one another. This artwork indeed with the whole residency aims seeks to work for cohesion between communities and promote respect of difference.
It has been great working with Anand and the different community groups and the use the archives with diverse groups of people, including many who'd never used us and unaware what archives were, but who were fascinated with what was held here.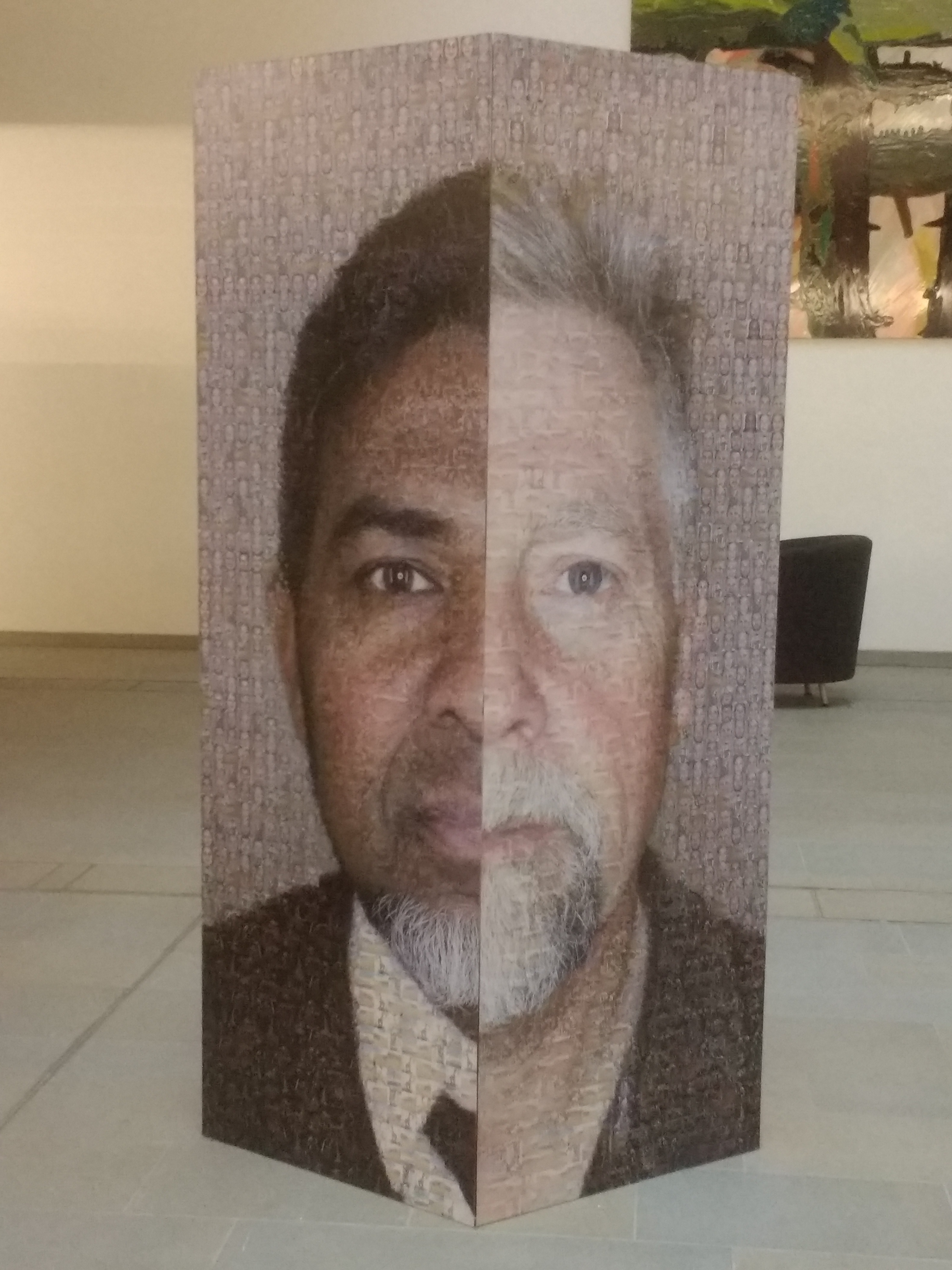 The art will be on display until 27 February.