A Slice of the Past – Food Challenges: Almond Jumballs
A couple of years ago we produced A Slice of the Past, a booklet with recipes taken from the archives. A few have been tried out by staff, including Mince Pies and Almond Jumballs, and were very tasty.
To coincide with the History Begins at Home campaign, promoting history at home, which this week is food and drink, we thought we'd start a weekly food challenge. So whilst we are at home more each week we'll either give a theme or recipe and give you a week to have a go and send us pictures. The winner will receive a copy of the booklet. However as we sadly can't taste what you bake we will have to go on what we can see!
We start with Almond Jumballs. When the booklet was produced Teresa had a go and they were very nice, so we thought this would be a good one to start with. The recipe was found within the family papers of the Berrington family, and dates from the 18th century.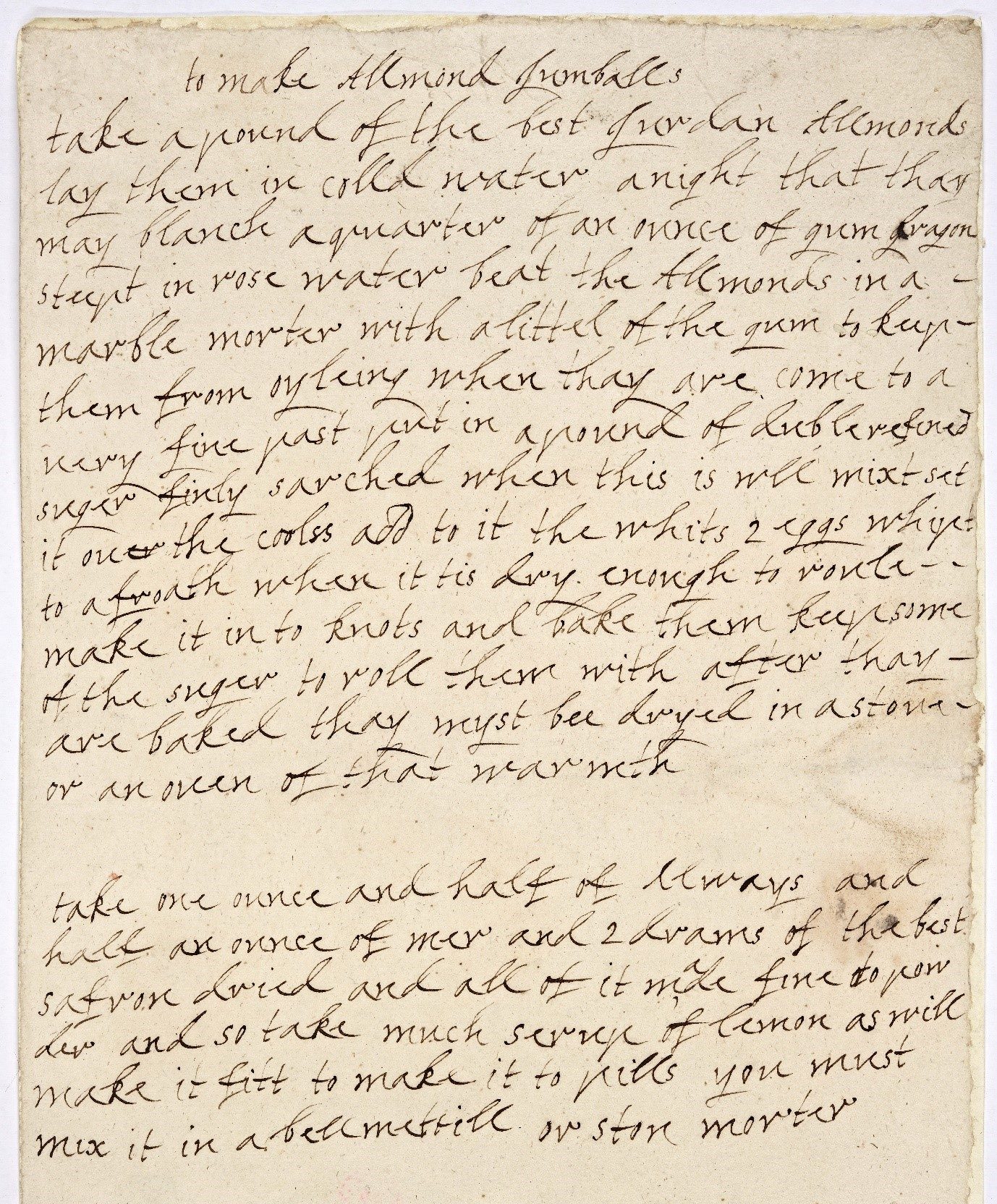 To make Almond Jumballs
Take a pound of the best Jurdan Allmonds
Lay them in colld water a night that thay
may blanch a quarter of an ounce of gum dragon
Steept in rose water beat the Allmonds in a –
Marble morter with a littel of the gum to keep-
them from oyleing when thay are come to a
very fine past put in a pound of duble refined
suger finly sarched when this is well mixt set
It over the coolss add to it the whits 2 eggs whip –
to a froath when it tis dry enough to roule- –
make it in to knots and bake them keep some
of the suger to roll them with after thay-
are baked thay myst bee dryed in a stove-
or an oven of that warmth
Notes:
Gum Dragon
Or Gum tragacanth is a viscous, odourless, tasteless, water-soluble mixture obtained from sap which is drained from the root of the plant and dried. It is used as an emulsifier or thickener. It is often used to strengthen sugar work.
Oyeling
(Verb) getting oily. Almonds, when crushed, may get oily. Rosewater or other liquids were sometimes added to prevent this happening.
Some ingredients may not be as readily to hand, so it is fine to adapt!
Either post your photos to the Facebook post we'll be doing, or email explorethepast@worcestershire.gov.uk. Copes of the booklet can be purchased once The Hive is reopen.
Why not also talk to relatives about their memories of food, and recipes they used in the past?