Online Resources: Archive Catalogue
This week's Online Resource we're highlighting is our online archive catalogue, providing details of some of our archives, held in The Hive. Although the physical archives are closed, as The Hive is shut, you can still search our catalogue to see if we have what you are looking for.
It covers items added over the past 20 years, which is around 15% of the 12 miles of archives we hold. Before then, back to our beginning in 1947, we catalogued on paper, with a paper slip index helping users find what they were looking for. Although it would be good to convert the old catalogue, and we have looked for ways to do this simply, we have prioritised cataloguing new items and making those available to maximise what is available. This means that you need to search both, and you can do this from our website at home.
The catalogue software is called CALM, and for a time we had an archivist with the post title, CALM Archivist, which stands out as job title go!  There is a link from the collections page of our website to our catalogue, next to other indexes.
You can search by keyword, making it more searchable than the paper slips, which were limited in how many headings we could index under. However not every item is individually listed. Archivists try to describe what is in a box, and do not have time to list every name and every details and all the pieces of paper in a box, otherwise we would get very little catalogued. It is always a balance between detail and how much can be catalogued.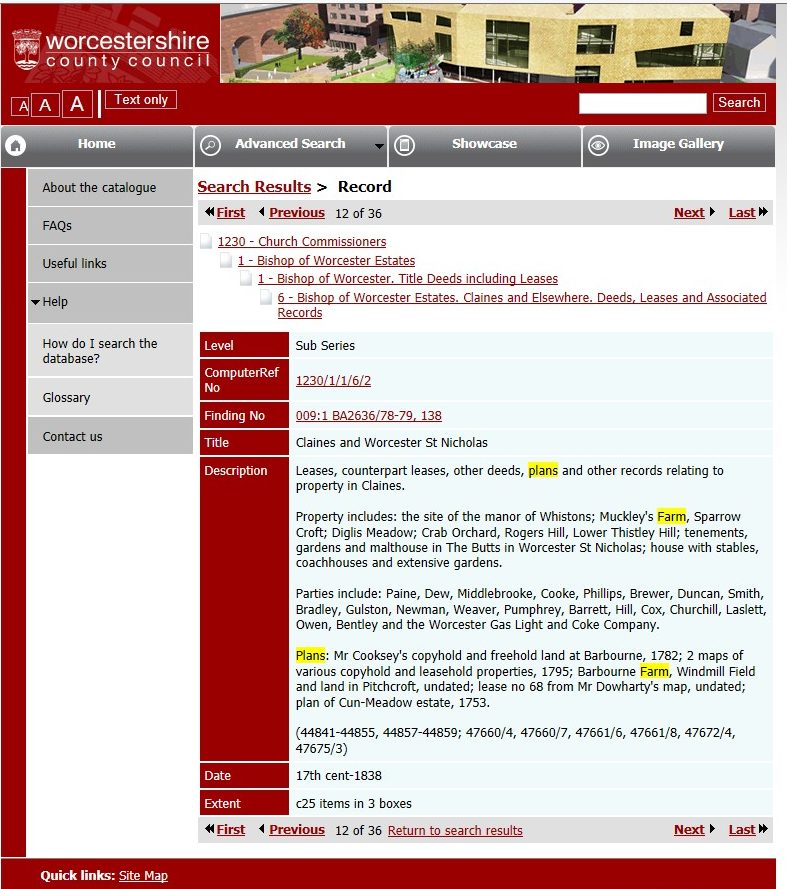 Since we've had to work at home we have been working a lot on our collections. We are unable to take the actual archives home, as they need to be kept safe in The Hive, but we can still do a lot of work on the catalogues and indexes so that more is available.
A lot of the work is going through collections recently catalogued, so that they are online. After being catalogued another member of staff then needs to proof read and check, as well an ensure any restrictions on access are noted. Some items may have closure periods, when they cannot be seen by the public for a set number of years due to personal information being included. This is important to do, as any mistake may make is hard for something to be found on the catalogue!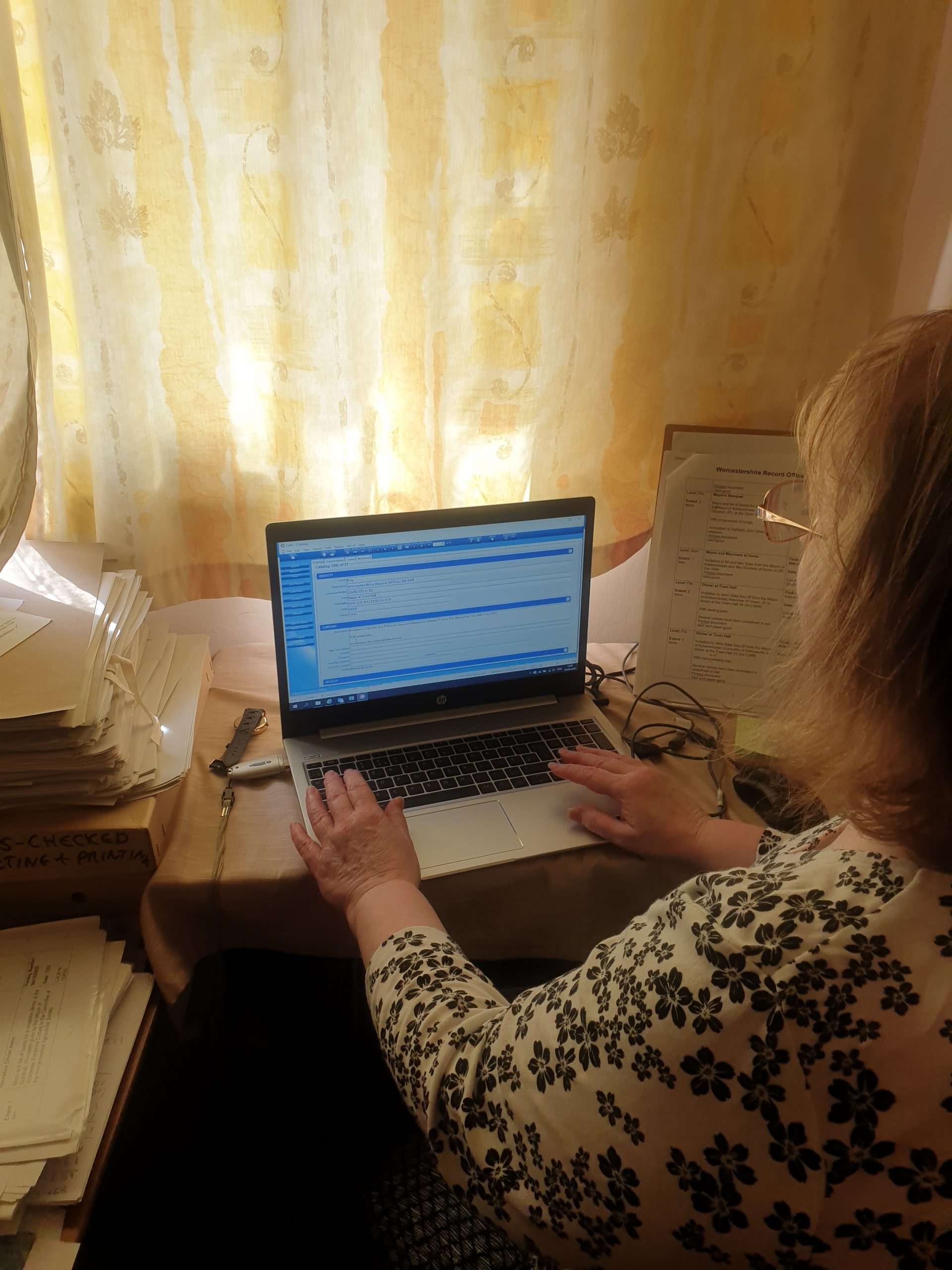 Examples of material made live on CALM catalogue during lockdown
Local authority records
HWCC Engineering and Planning Department material relating to highways matters late 20th cent
HWCC Property Dept files and plans relating to schools from the 1960s-80s
HWCC Environmental Services files relating to motorways 1960s-80s
Malvern Urban District and Malvern Hills District Council minutes 1961-2002
Wolverley and Cookley Parish Council records 1863-1989
Church
Parish registers and records of Malvern Christchurch 1872-1984
Parish records of Elmley Lovett 1990s
Feckenham parish records 1665-1988
Elmbridge parish register and records 1786-93
Family including diaries
Manorial records for Ashton under Hill with Grafton 1586-1841
Hastings family papers 1772-2005
Warman family papers 1844-1922
Diary of Rev Harmer of the Wyche, Malvern 1928-48
Diaries of Rev James of Rock and Heightington 1869-97
Recipe book of Annie Hall of Evesham 1866-1890s
Local societies
Housman Society archives 1841-2017 includes papers re admin of society, newsletters and journal, but also material re A E Housman and family members.
Kidderminster Inner Wheel Club mins c mid-late 20th
National Farmers Union Worcester branch desk diaries 1954-76
Kidderminster Ladies Regnal Circle 1963-2003
Malvern Choral Society mins 1919-24 Became the Malvern Festival Chorus so this includes the inaugural meeting
Worcester Camera Club papers 1985-2000
Local businesses
Photos of the Thomas family of Kempsey bakers early 20th cent
Appleby family of Bromsgrove ironmongers deeds 1802-61
Strong and Fisher leather merchants.  Correspondence with F Bryan Ltd of Worcester glove manufacturers 1940s
Sandilands nursery diaries 1952-79
W H Norton of Worcester confectioners 1933-64
DVDs/CDs
Several DVDs including reminisces from the traveller community, river tales, migrant stories, WW2 hospital at Wolverley camp, Cradley then and now heritage project
RO DVD collection re people places and events assoc with Worcestershire
MACE DVDs including Worcestershire on film project
Royal British Legion CD WW2 reminiscences
Miscellaneous and stray items
from a variety of sources such as other record offices, local libraries and individuals:
Worcester City postcards
Papers re Ripple School 19th -20th cent
Deeds re New Street/Cornmarket Worcester 1885-1909
Correspondence with Sir Aston Webb re design of new vicarage at Wick late 1887 with more modern research
Midland Railway Company agreements 1849-1922
Battle of Worcester memorial papers 1998-2001
Recollections of Belbroughton scythe works from someone who worked there mid-20th cent
Life story accounts relating to childhood and working life on Worcester and Luton in first half 20th cent
Three Choirs Festival programmes 1958-84
Paper re Aston Court, Knighton on Teme 18th-20th cent
Worcester Royal Grammar School photos mainly re visit of Queen Mother in 1961
Papers from estate of local historian Jack Haden 17th-20th cent
Jeffs memorabilia re Worcester Coop and Women's Guild 1980s-2018
Retroconversion
Although we are unable to retroconvert (add the old catalogue entries to the new) everything we have on the paper catalogue at the moment, which would be a huge job, we are doing this to a few collections. These are either because they are small collections which link to a new deposit we've just catalogued, so whilst looking at both it made sense to add the old one, or it is health related collection. As part of our health project funded by the Wellcome Trust we are cataloguing hospital, medical and chemist records, and transferring any in the old catalogue into the new to make them more accessible.
Examples of collections retro-converted to some degree:
Diocesan visitation papers late 20th cent
Kidderminster Library includes deeds, plans, minute books, newscuttings, programmes 18th-20th cent
Worcester City Library.  Includes, plans, deeds, minute, books, photo albums
Sandys family of Ombersley Court.  These include 18th and 19th century manorial court records, account books, letters
Droitwich United Charities records 19th and 20th cent
Heenan and Froude of Worcester records mainly 20th cent
Henwick (E) Townswomens Guild records 1960s-70s
So there are more and more collections added to the online catalogue, providing more sources for you to search through, and for you to see once we reopen.
Read about some of the other work be have been doing at home here.