Online records: Schools Database
School records in the archives can be a fascinating treasure trove. As well as official records, such as log books and attendance registers, there can also be scrapbooks, photos and even videos. One of our indexes on our website details the school deposits which we have, and can be searched at home ready for when we can reopen the archives.
People come looking for schools in the archives for various reasons:
Family History – can I find my ancestors, or about where they went to school?

School history – exhibitions and events for centenaries and other anniversaries

School resources – use the information for local history in the classroom

Local history – school are key parts of a local community

Reminiscence – looking back at your own school
What can you find?
Admissions Records – lists of all the children joining a school, proving basic details and when and why they left

Log Books – the books which the Headteacher would fill in. How much and what is written can vary, but they will usually discuss attendance (or reasons for absences), special events, visitors, and general details. We've looked back at log books in more details in a previous blog

Photos- either separate or in scrapbooks or albums

School Plans

Punishment books – who received punishments and why

Minutes and official letters of the Governing Body
Not every school will be represented, and where it is there may be gaps. Schools do not need to deposit with us, although we strongly recommend this for safekeeping and providing easier access for people.
Due to the Data Protection Act some records with personal details in can be 'closed' for up to 100 years.
School Records Database
As part of a project 15 years ago a database was created after extracting school records from our catalogue, along with photos and maps, as already featured. These are some of the most popular groups of records, so the databases allow access by entering the civil parish, or keyword.
For the most recent additions you need to search the online archive catalogue still.
You can access the database on Our Collections page. The either choose a civil parish or enter key words.
The number of results will come back, along with brief details for each of these, the name of the school, dates, and the BA reference number for if you wish to look at anything.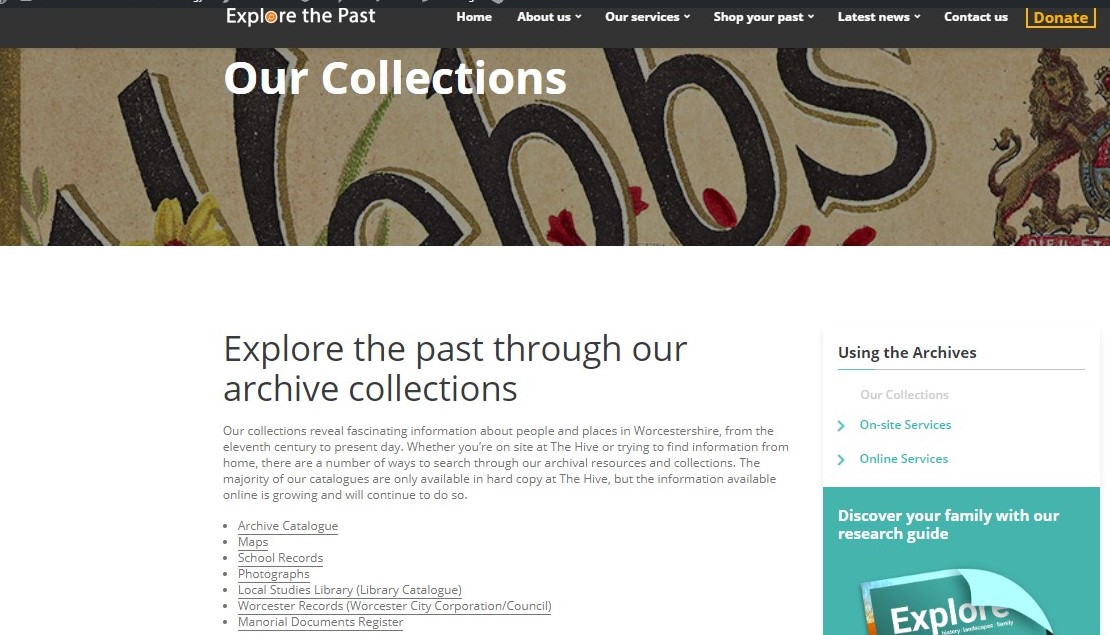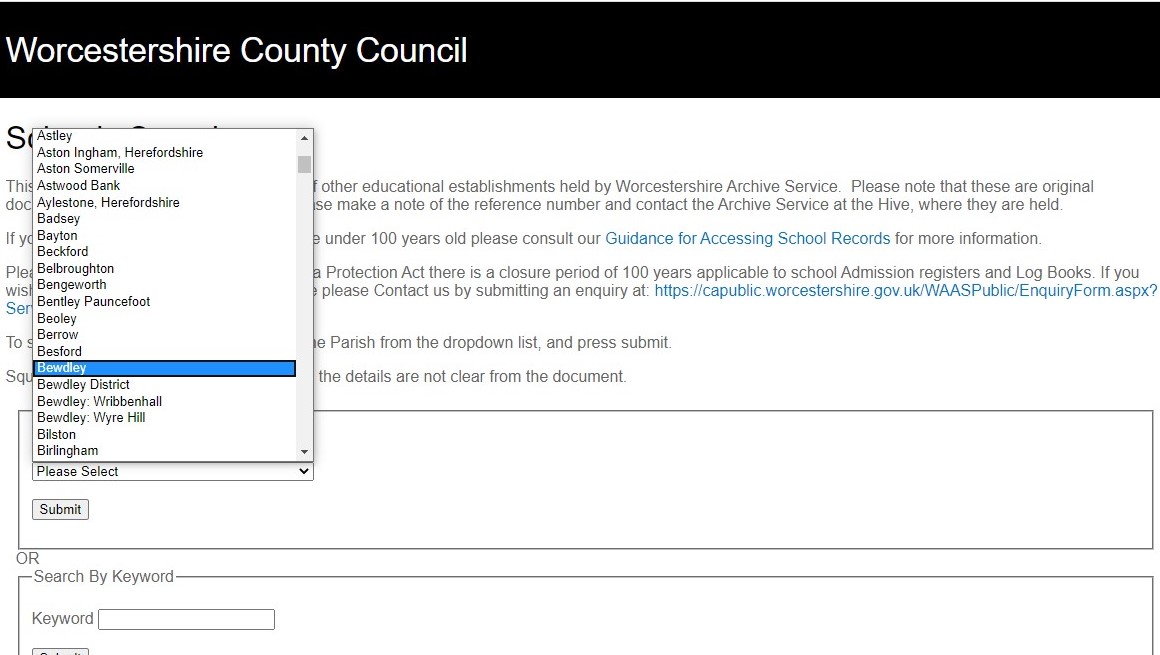 School Admissions Database 1870-1914
A few years ago we worked with Find My Past on a national project to digitise and make available school admission registers from around the country. Over 3 millions names are on this database, so a great resource for family historians. As has been mentioned we don't have all school records, so there are gaps, but there are a vast number of names, so it is well worth checking.
Usually just available in The Hive, Find My Past is now accessible at home whilst we are closed to the public. A password is needed, and if you email your library card number to explorethepast@worcestershire.gov.uk we will send out details.