VJ Day 75 Online Exhibition
On the 15th August we mark the 75th anniversary of VJ Day, Victory over Japan Day, when the Japanese forces surrendered to bring an end to the Second World War. We have brought together an online exhibition to commemorate the event, looking at Worcestershire's connections to the war in the Far East, and how Worcestershire people celebrated – and commemorate – the end of war.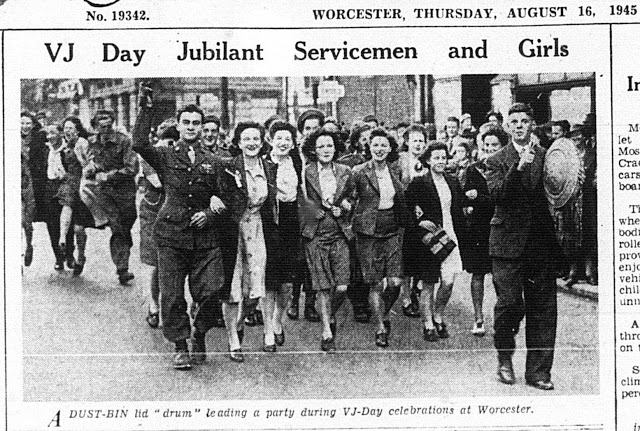 VJ Day is often seen as secondary to VE Day, with the Far Eastern conflict sometimes called The Forgotten War. The war in Europe was more present to people in Britain, who had suffered bombings and threats of invasion, and armed forces travelled between Britain and mainland Europe. The Far Eastern campaign was very different to the war in Europe. The Allied army was one of the most diverse ever assembled, from multiple countries, coping with diverse terrain and weather. Two Battalions of the Worcestershire Regiment served there, along with many local men who were part of different Regiments, or in the Royal Navy or RAF.
There had been plans for a physical exhibition and events, but the current restrictions put these on hold. So, we went online to tell the story, using newspaper clips, photos and memoirs and from the archives. The Mercian Regiment Museum and Worcester Cathedral, as well as several individuals whose fathers had served out there.
It includes oral history interviews which were carried out 20-25 years ago. The 50th anniversary of the end of the war prompted Worcestershire Record Office to organise collecting interviews with people about the war, covering the wide range of experiences. Around 200 interviews were carried out by volunteers and are kept in the archives to keep the stories alive.
We hope this virtual exhibition is able to explain more about the events 75 years ago.