Celebrating Worcestershire Pride 2020!
It's been a difficult year with so many significant social and community events cancelled. One important festival that has adapted this year is Worcestershire Pride. This year the celebrations are going virtual! In this blog we look back on records uncovered in the archives and we encourage deposits to represent our LGBT+ community for the benefit of future researchers.
As many of you know the 19th of this month would have been Worcestershire's 4th Pride festival, taking place in Worcester City! Although Covid-19 has unfortunately put a damper on this year's festival in the physical sense, it will not stop the celebrations completely. This year, the festival will be virtual! Worcester Pride will make links available on all their social media including Worcestershire Pride on Facebook . Check out the Worcestershire Pride website where there is a Pride Gallery showcasing previous years events. There is also lots of information and links to LGBT+ networks and support groups so it's worth checking it out!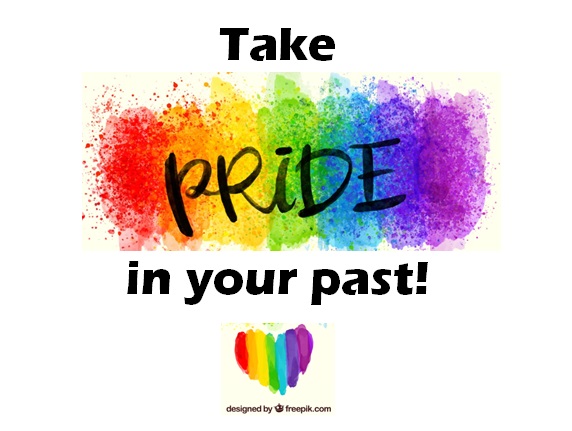 Supporting our LGBT+ Community
Archive staff are very keen to represent all communities of Worcestershire. If you work, visit, or contribute to Worcestershire please get in touch if you have records that represent the LGBT+ community. These might be diaries, records of group meetings or records detailing the organisation of events, to name a few examples. Perhaps you are an artist and have a personal collection of work? Rest assured we can take digital and non-digital records.
You may never have been in touch with us but don't let that put you off. We are a friendly as well as knowledgeable bunch. We are happy to answer questions and discuss new accessions. Just contact us at Archive Collections Enquiries
Did you know UK's LGBT history month is February each year? It would be great to have some new deposits that can potentially be show-cased next February! Perhaps you are already working on projects. We would love to hear from you! Visit https://lgbtplushistorymonth.co.uk/ for more information. Another great website celebrating LGBT in history is https://www.outingthepast.com.
We urge researchers with or without an interest in LGBT+ history to let search room desk staff know if you come across items during your research that have significance to LGBT+ researchers. Always let us know if you find something and don't assume we know it's there!
Using the Archives
For those who would like to research the record collections to uncover LGBT+ history you may find this The National Archives Guide helpful to read first. We previously mentioned this guide in a blog titled Exploring LGBT+ records in the archives . The blog also focused on records from around 1843, documenting Robert Smith who was employed and supported by the Berington family of Little Malvern Court. These records were uncovered by one of our regular researchers and document Robert Smith's charge and conviction of 'indecent conduct'.
Letter by Robert Smith whilst at Newgate prison. Held at reference 705:24/449 BA81
References:
Smith letters: 705:24/448-450 BA81
Letter from Newgate prison. Held at reference 705:24/449 BA81
Appointment to act for William Berington: 705:24/186 BA81
Microfilms of Berrows Worcester Journal: 20thApril 1843. 11th May 1843. 22nd June 1843
Pigot's Directory of Worcestershire. 1837. W900.1837
Foley Scrapbook: b899:31 BA3762 8a/vol. 3 pg. 79
Home Office Registers of Criminal Petitions available on Findmypast.co.uk: TNA/CCC/HO19/010/00178
Home Office Criminal Petition. Available on Findmypast.co.uk :TNA/CCC/HO18/122/00616
Perhaps you would like to visit us and view records held at WAAS about Robert Smith? We are now open Tuesday-Thursday, visit our re-opening news page for all the information you need. It's important to quote the references of above items. Unfortunately Microfilms and directories are not currently available.
We wish everyone celebrating Pride a fantastic time and we hope you visit us soon!