A Real Ghost Story
Halloween – a good time for ghost stories but a chance encounter at the Hive showed that one such story was true!
Generations of Bishampton children have been scared/delighted by the story of Old Buckle, the Headless Horseman, who roamed the road between Throckmorton and Bishampton.  A chance encounter at the Hive shone light onto a ghostly tale and proved that it was far more than a work of fiction.
A researcher at the Hive was looking for the will of a relative, John Frederick Buckle, a tenant farmer from Throckmorton.  He was delighted to hear the ghost story from a member of staff and the true story of John Buckle began to unfold. 
According to an inquest, reported in the Berrows Journal on 25th January 1879, John Buckle went to Alcester to pay his rent and whilst there he arranged to meet a fellow business man, who lived in Birmingham, in a local hostelry.  The business man was delayed so John had to spend the day at the inn, not leaving until 11:10pm.  He was well when he left the inn but at 12:15am, the victualler at the Bull's Head Inkberrow reported that he was awoken by the sound of a horse and cart careering up the drive next to his pub.  When he went to see what had happened he saw a cart and horse turned over lying on top of a man.  The road was narrow and strewn with loose stones.  The publican speculated that the driver had fallen asleep and the horse had automatically made for the stables at the back of the Bull.  The driver waking overturned the vehicle in trying to turn it around.  On examining the casualty the publican found that it was John Buckle and he was dead with "his head turned under his body."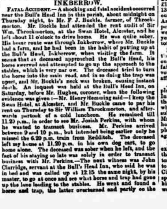 Hence the truth behind the story, but the question remains why would this story still be told some 100 years later?' Take care, should you be out in those parts and hear the sound of hooves behind you!