Pipe Roll Acquired
Although we weren't in The Hive for a couple of months our archives were still expanding. A new addition was a Pipe Roll, which contains a list of money collected on behalf of the Government in 1792.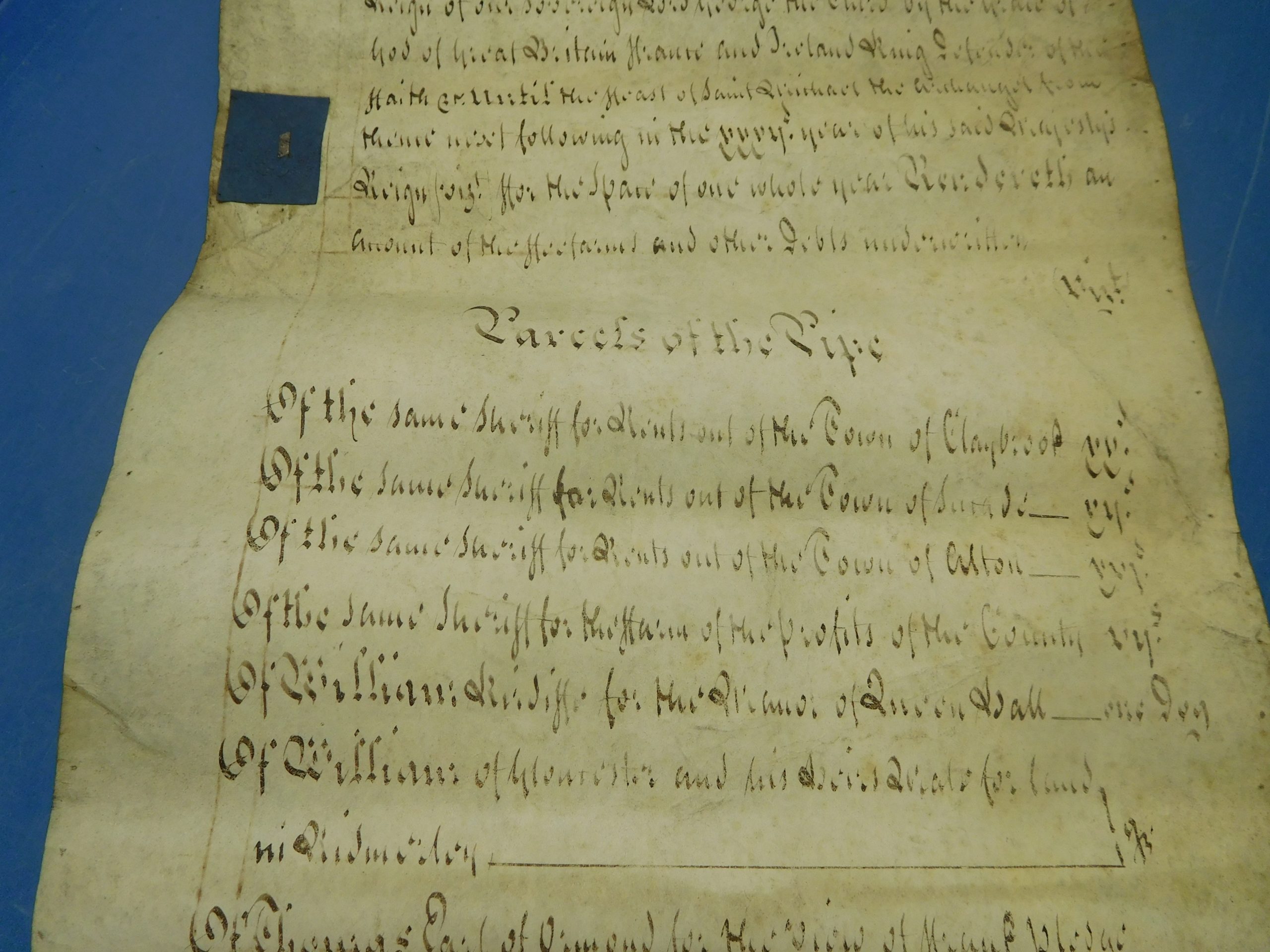 Pipe Rolls are dramatic documents, consisting of sheets sewn together so are very, very long, and when rolled up they look like pipes, hence the name! This one is long, but it's just short of our  47 feet long 13th century Lay Subsidy Roll! Pipe Rolls are the earliest and longest series of public records in England. Duplicate and sometimes triplicate copies were made by making exact copies on the same piece of parchment and cutting the parchment so that if necessary the two (or three) pieces could be match up later for verification. The early ones are full of information about the functions and resources of government – many archives are about recording financial transactions and decisions, so that people can see what happens to the money and that everything is above board.
The document records the money collected by the county to be paid to the Government. It is an annual charge, this one being presented by the then High Sherriff of Worcestershire, Fleetwood Parkhurst, in 1792. So this means numerous county residents are recorded. Fleetwood Parkhurst, and his wife Ann, lived at Ripple and he rebuilt Ripple Hall sometime between 1780 and 1790, dying in 1801. Their son, also called Fleetwood Parkhurst, was Rector at Epsom and then later Ripple.
By 1792 other taxes and financial measures were in place and in 1832 a new system of local taxation replaced them.
This one was in private hands and put up for sale earlier this year. We recently acquired it, and will be catalogued and made available for anyone wishing to view it to go through the names contained, or the financial information.
Our Archive Searchroom is only open in a limited way at the moment. See our Archive Reopening Blog for more details.
3 responses to "Pipe Roll Acquired"