Adding a New Layer: 20th Century Heritage in Worcestershire – Public Parks and Green Spaces
"The measure of any great civilisation is in its cities and a measure of a city's greatness is to be found in the quality of its public places, its parks and squares" (John Ruskin)
Over the past two years Worcestershire's Historic Environment Record has been working to identify, record and better understand the significance of 20th Century buildings and public places across the County. Many more await discovery and assessment!
Funded by Historic England, this project has also aimed to strengthen the public's awareness and appreciation of 'everyday' 20th Century heritage, its conservation, value and significance.
From County Small Holdings and Schools to Village Halls and National Chain Stores, this blog will – over the next couple of months – explore the diverse range and legacy of our 20th Century heritage and celebrate the extra layer of richness it brings to both our lives and landscapes.
Developing in the 19th Century, in response to increasing urbanisation and industrialism, public parks continue to provide a wide range of economic, social and environmental benefits.  Used and enjoyed by individuals of all ages and backgrounds they provide opportunities for exercise, play, and social interaction. They also provide space for public art and entertainment, including live music. Despite this, and all the benefits that having access to green space and nature has on our health and well-being, public parks continue to face enormous challenges.
Many public parks have significant historic interest; only a small percentage of them are nationally registered.  Two decades of Heritage Lottery Fund (HLF) investment – through their Urban Parks and Parks for People programmes – has safeguarded many nationally, regionally and locally significant parks and gardens across England.  Local Authorities, however, have no legal duty to maintain, or in fact provide, public parks and consequently many are facing a new spiral of decline, similar to that experienced in the 1980s and 1990s. The risk of privatisation and re-development has also intensified as Local Authorities face increasing pressure to sell both assets and land. 
Victorian public parks were founded on the principles of free access for the benefit of all people; most were funded by municipal and Local Authorities and some, like Brinton Park in Kidderminster, were funded by local philanthropists. As symbols of both nature and health their development was buoyed by legislation including the 1848 Public Health Act which supported 'public walks and means of exercise for the middle and humbler classes' (Clark, F. 1973. 31). The Victorians also believed that public parks were a means of counteracting 'debasing' past times such as drinking and fighting (Clark 1973, 36).
Although predominately mid-19th Century in date many public parks in Worcestershire were remodelled or extended during the first half of the 20th Century and incorporate buildings and structures of 20th Century date. The inter-war period – during which landscape architecture emerged as a profession in its own right – saw increasing emphasis on open space for free play and recreation, with a greater emphasis on children and families. Post-war parks, particularly those associated with large-scale renewal schemes and housing developments, continued the emphasis on provision for free play and families, with public art as a frequent focal point.
The majority of late 19th Century/20th Century parks supported a huge array of sporting and leisure activities and associated buildings including; a bandstand for live music, entertainment and debate; sporting activities including football, cricket, tennis, bowls, skittles, archery, quoits, climbing, marbles and skipping; ponds/pools for swimming, paddling and/or boating; recreational space for children, often incorporating see saws and swings; recreational space for the elderly; tea pavilions; drinking fountains and a lavatory block.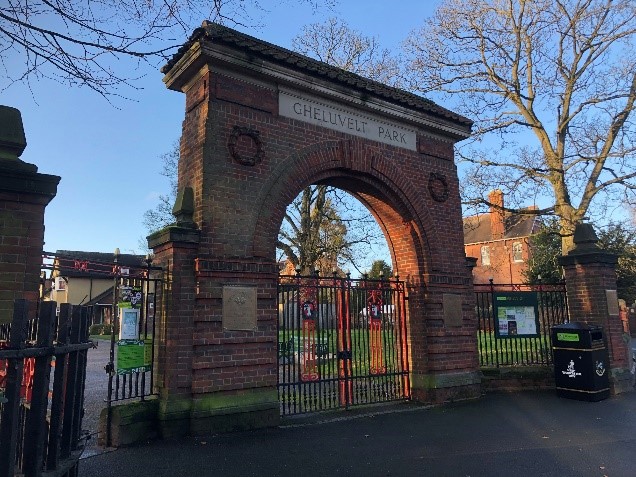 Gheluvelt Park, a memorial landscape named after the battle of Gheluvelt and dated 1919 to 1924, is nationally registered for its landscape design interest and incorporates a range of memorial homes for disabled sailors and soldiers.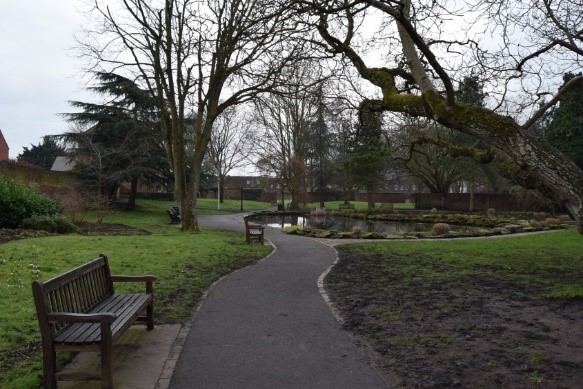 The Queen Elizabeth II Silver Jubilee Gardens in Bewdley is a small park and hidden gem in the centre of the town.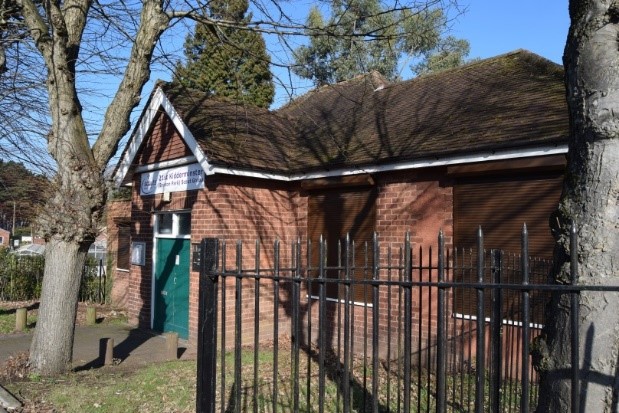 The Sons of Rest movement started in Birmingham in 1927 as a means of promoting leisure and social interaction for men over 60. Many public parks in Worcestershire have a Sons of Rest pavilion including Cripplegate Park in Worcester and Brinton Park in Kidderminster. The Sons of Rest pavilion in Brinton Park is now utilised as the HQ for the 21st Kidderminster and District Scout Group.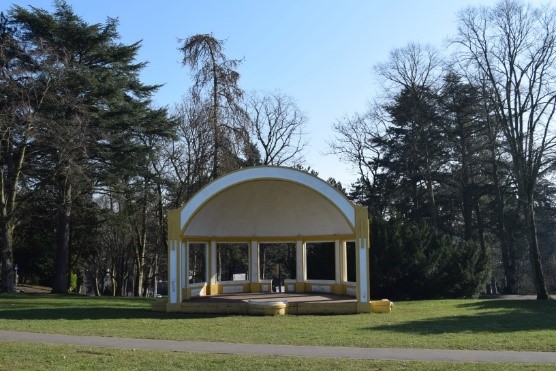 Bandstands became popular from the late 19th Century. They reflect changing attitudes to communal recreation and were often a focal point, offering not only live music and entertainment but also a space for public debate and campaigns.  The concrete bandstand in Brinton Park, Kidderminster was built in 1934 to a design by the former Kidderminster Borough Engineer Joseph Hawcroft.
References
Clark F 'Nineteenth Century Public Parks from 1830' in Garden History Vol 1, No. 3 (Summer 1973), pp31-41, The Garden History Society.

One response to "Adding a New Layer: 20th Century Heritage in Worcestershire – Public Parks and Green Spaces"