Nurse Stocks – International Nurses Day
For International Nurses Day we are looking in brief at the life of a local nurse Laura Stocks (1877-1973) who worked at the Hartlebury VAD Hospital during World War 1. She compiled scrapbooks of photographs, sketches, cartoons and messages of appreciation from the patients at Hartlebury Castle, which are now in the archives in The Hive, and provide an amazing insight into life there.
Who was Nurse Stocks?
Laura Ellen Stocks was the daughter of Frederick and Caroline Stocks née Moule.  She was born 21 October 1877 in Clapham.  Her father Frederick was an analytical chemist.
It is possible to piece together something of her early life by looking at the census returns on Ancestry. Laura appears aged 3 on the 1881 East Grinstead census with her parents and brother Fredrick living at Brook Cottage. By the time of the 1891 census she had moved to Worcestershire and was residing at the Boarding House for the High School for Girls in Britannia Square, Worcester. By1901 her father had retired and she was living with her parents at Sneads Green House in Elmley Lovett.  This was to be her home for much of her life. Her father died a few years later in 1909.
Outbreak of World War 1
It is not clear where Laura was at the time of the 1911 census, but by March 1914 she was sailing to South Africa on the SS Umzumbi.  We have a series of letters written by her to her mother in which she describes life on board ship and details the people she met, stayed and socialised with and the variety of places she visited.  She spent about 6 months in South Africa, returning in October 1914 on the Saxon in the company of a Miss Pitts, their return hampered by the outbreak of what Laura referred to as 'the European War'.
Hartlebury VAD Hospital
The next time we meet Laura she is at Hartlebury Castle as a VAD nurse.  According to the Red Cross database of World War 1 volunteers she was there from 17 March 1915 to 1 April 1919.  Hartlebury Castle was used during World War 1 as a Red Cross Voluntary Aid Detachment (VAD) Hospital for the period 1915-1919.  Such hospitals were more relaxed than military hospitals and gave wounded soldiers time to convalesce and recover.
While there Nurse Stocks compiled scrapbooks of photographs, sketches, cartoons and messages of appreciation from the patients at Hartlebury Castle. The scrapbooks deposited at the Hive illustrate something of the treatment and nursing care offered by the staff, the entertainment and days out the patients were able to enjoy, as well as the comfort and kindness offered by the nurses to their patients.  Many comments are addressed to Nurse Stocks by name.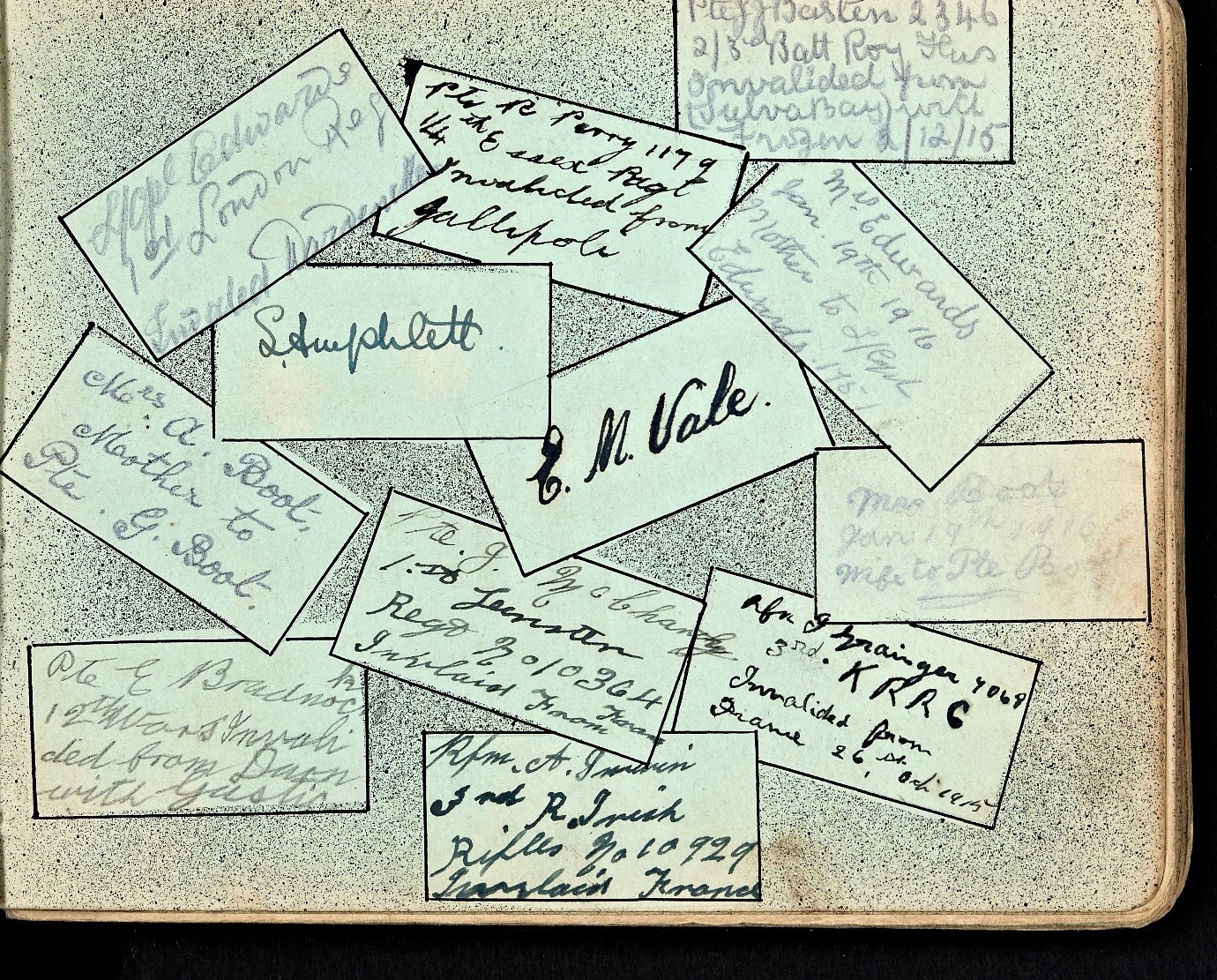 Later life
Less is revealed by our archives about Laura in later life.  Her mother died in 1925 and she continued to live at Sneads Green House certainly till at least the late 1950s.  Ships passenger lists on Ancestry indicate she took the opportunity to travel during the late 1920s and 1930s, returning to South Africa, visiting her brother in Canada and travelling to the United States.
There are few clues about what she did during World War II, but the 1939 Register offers a hint.  Against the entry for Laura is a note 'Commandant of Worces 8 VAD (Red+)' so it seems as if she returned to her VAD work.
In April 1945 Laura married a William Blackshaw.  According to a copy of the marriage certificate amongst some family archives held by us William was a widower and congregational minister from Surrey.  The documents we hold, however, offer no clues as to how they met.  The marriage was short, just 8 years, with William dying aged 87 in 1953.  Laura herself lived on for 20 more years dying in 1973 at the ripe old age of 95 and spending her latter days at the Ravenscourt Nursing Home in Droitwich.
Further Information
For more information about Hartlebury Castle VAD Hospital and VADs generally see
Douglas H Smith's Cheer Boys It's Hartlebury! which tells the story of the men and nurses of Hartlebury VAD Hospital
VAD Hospital Trail Leaflet (Worcestershire World War 100 project)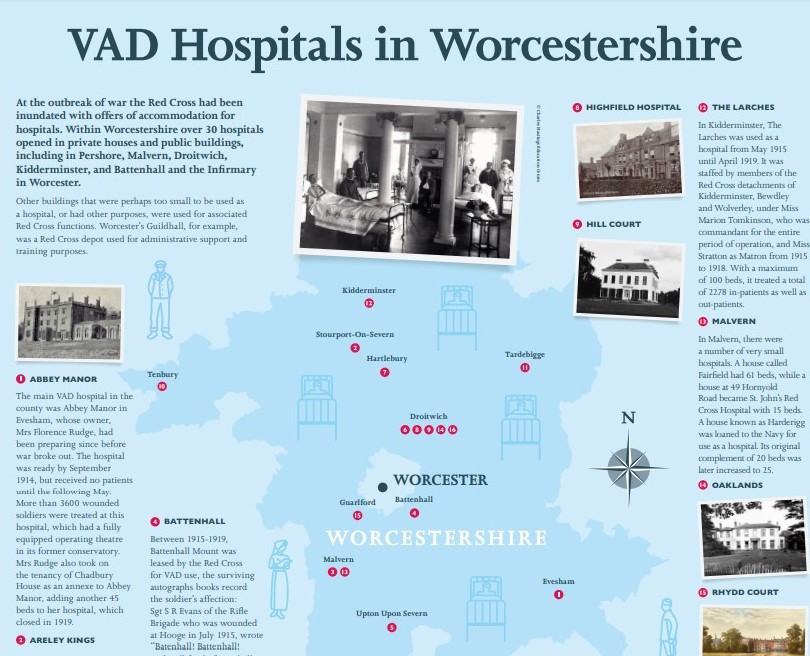 VAD – Hartlebury Castle where you can scroll through digitised versions of one of the scrapbooks
First World War | British Red Cross for information on individual VAD personnel in World War I and the type of work they did during the war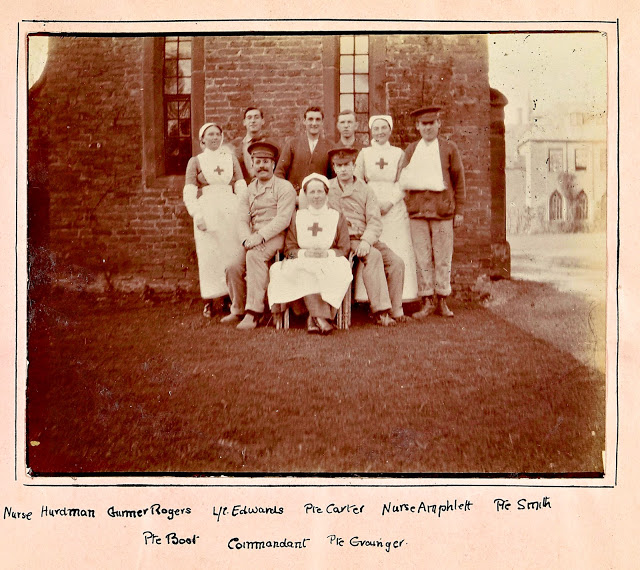 Read about Private Boot, who features in the scrapbooks, in an earlier blog. A volunteer, Rosie, helped us go through the scrapbooks
One response to "Nurse Stocks – International Nurses Day"