Remembrance Day – Six Solider Sons of Mr & Mrs Grocott
As it is Remembrance Day today, we thought we would share a useful resource for researching local soldiers. The Berrows' Photo Supplement is packed with information and photographs of local soldiers who fought in the First World War.  Our website has an index to these photographs which can help when searching for individuals, and the photographs can be viewed on CD-Rom in our self-service area on level 2 of the Hive.
The indexes are here:
Berrow's Pictorial Supplement 1914-1915 Index
Berrow's Pictorial Supplement 1916-1918 Index
We did a little research using this resource ourselves.  On 6th November 1915 our index shows an article on the 'Six soldier sons of Mr & Mrs J Grocott of New Street Upton-on-Severn'. This sparked our curiosity and we found these pictures in the pictorial supplement of the six Grocott brothers who served with various regiments during the First World War.

Sadly, two of the brothers did not survive the war. One of these, Richard, while serving and is commemorated locally on the St Peter and St Paul's Church in Upton on Severn and on the Upton on Severn Memorial Hall. The other brothers returned after war service and lived full lives along with their sisters. These are their stories.
1871 census: Crown Copyright for census' published via ancestry.co.uk
The father of these brave sons was Hamlet James Grocott (1851-1931), a wicker basket maker from Staffordshire who apprenticed and later worked in Upton. He married Emily Shepherd a dressmaker in 1872.  Hamlet and Emily had six daughters and six sons. These were Emily Elizabeth (known as Elizabeth) (bap 7/9/1873), Isabella (born 1875), William (born 1878), Thomas (born 1880), Frederick (born 1882), Margaret (born 1885), Richard (born 1887), Hamlet James (also known as James Hamlet) (1889), Emily Clara (1892-1896) John (born 1895), Caroline Annie (born 1899), Clara Annie (born 1903).
Daughters Emily Elizabeth and Margaret moved in together in Upton during Elizabeth's second marriage to Richard Green. Margaret, listed as a domestic servant, perhaps helped her big sister with the household and with Elizabeth's children. Elizabeth had first married George Matty in Upton and they had several children before he died. Elizabeth had been a domestic servant too before marriage. By 1901 Elizabeth was married to Richard Green, a bricklayer and lived with him next door to his family in Parkers Court, Tewkesbury along with some of the children from her first marriage Dorothy, Albert and William Matty.
The second oldest child Isabella married Charles Jeynes in 1900 in Upton and they moved to Great Malvern where they had several children and Charles worked first as a tin smith then as a municipal gas fitter. During the war Isabella's husband served with the 1st Worcester and Warwick Volunteer Artillery and was promoted to Sergeant before he sadly died in 1917.
Emily Clara sadly passed away while still a child, and the youngest two daughters Caroline and Clara shared the same middle name of Annie. These two were only young on the 1911 census and still at school. Caroline later married George Hope in Upton and by 1939 they lived at Cottage Row, Upton with a child, where George was a painter decorator. Clara proved more difficult to trace after 1911 but we did not find a death record so we assume she married.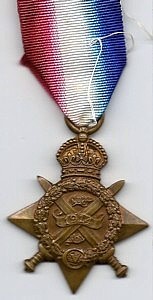 Army Medal Office. WWI Medal Index Cards. In the care of The Western Front Association website.
The eldest two sons, William and Thomas, were both blacksmiths. They both moved to Aston in Birmingham and married the Keasy sisters, Clara and Elsie, from Wilmcote in Warwickshire. William was an agricultural labourer on the 1891 census, before he moved to Birmingham as a Farrier and married Clara Emily Keasy. His probate shows he was a blacksmith fitter at Belvedere place, Great Francis Street, Birmingham. William's army pension names his children Edward, Clara, Alfred and Linda. He was 36 by 1914 when war began and he joined the 67th Battery of the Royal Field Artillery as a Farrier Sergeant in August that year with the 3rd divisional ammunition column. This regiment left for France in December 1914, and were situated between Aire and Arques. They saw action in 1915 at St Eloi and in the second battle of Ypres. William was discharged in February 1915, probably due to injuries, because he died in Birmingham in July 1916. He was posthumously awarded the 1914 Star for service in France and Belgium.
Thomas Hamlet (also known as Hamlet) was a blacksmith striker in Aston, Birmingham in 1901 when he lived as a boarder alongside 2 other men from Upton. Thomas married Elsie Keasy in 1904 and by the 1911 census they had a daughter Hilda. Thomas worked as a blacksmith making builders ironwork, and his family lived at Scholefield Street, Birmingham. During the war Thomas joined the Army Service Corps as a private and was awarded the Victory, British and Star medals for his service. The Absent Voter list for Great Brook Street, Duddeston, Birmingham lists him as "SC. 19th Div., M.T. Coy., M.T.A." (Motor Transport Company, Mechanical Transport Depot). When he returned from war he continued to work as a blacksmith. By 1939 Thomas and Elsie lived at Gopsal Street, Birmingham, where he was a blacksmith and she was a cardboard worker.
John had been an ironmonger's errand boy in Upton on the 1911 census and eventually moved to Aston like his older brothers. In 1915 at just 20 he joined the Worcestershire Yeomanry (Queen's own Worcestershire Hussars), a cavalry regiment of the British Army, as a private. He was awarded the Victory, British and Star medals and was in Egypt between 1915 and 1919 with the 1/1st Worcestershire Yeomanry. In 1919 John married Lilian (or Lilias) Clark-Wilson in Aston, Birmingham. His address on the marriage record was given as Wainwright Street and they both still lived there in 1939 when he was listed as a munitions labourer and Lilias was shown to be a ball-bearing viewer. By 1951 they had returned to Upton where they lived on New Street.

1911 Census: Crown Copyright 
James and Frederick moved to Wales where they worked as miners before the war. By 1911 Frederick lived in Farm Road Pontlottyn, Glamorgan, where he was a collier married to Sarah Jane and they had two daughters. He had previously been a general labourer in Upton. Fred and his brother Richard both joined the 4th Worcester Regiment as soldiers during the First World War, and were both serving as privates in the Dardanelles. It was Fred who contacted his parents when his brother was injured. Frederick later served with the 9th Worcestershire Regiment, and was awarded the British War Medal. He was discharged in 1919 with a disability, returning home to Wales.

1939 Register: Crown Copyright
Frederick's little brother James lived with him in 1911, also working as a collier. James had moved to Wales first, being listed in 1901 as a 'coal miner hewer' in Aberdare. James joined the Worcestershire Regiment in April 1915. He fought in France and was awarded the Victory, British and Star medals, as a private for the 1/8th battalion. James survived the war and returned to the UK, moving the Birmingham where he married Emily and they had several children. He worked as a builders labourer and lived at Moor Park Road, Birmingham.

1911 Census: Crown Copyright 
Richard was a general labourer on the 1911 census when he lived in New Street, Upton with his wife Selina and their children. They had married in 1908. Selina who was twelve years older than Richard had been married before and his pension records show he was the step-father of Lucy Lane (also William and Sylvia Lane according to the census), and father to Dorothy Isabella, Albert Edward, and Elsie Grocott. Richard was a Private with the 4th Battalion Worcestershire Regiment. The Upton News reported that he was killed on the 15th September 1915 (aged 31). He had been trench digging at night and was killed instantly during the army's eight- month campaign in Gallipoli. Richard was buried at Azmak Cemetery, Suvla, Turkey, where 1,074 First World War servicemen are buried or commemorated. Richard was awarded the British War medal posthumously and he is memorialised at St Peter and St Paul's Church Upton on Severn and on Upton on Severn Memorial Hall.
The pictures below are of the three memorial sites in Upton upon Severn, from photographs taken in the 1960s by H.D. Small.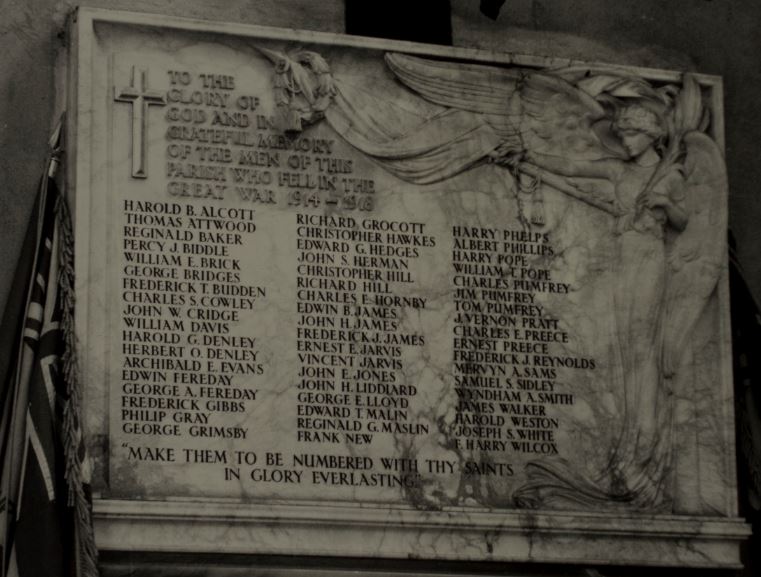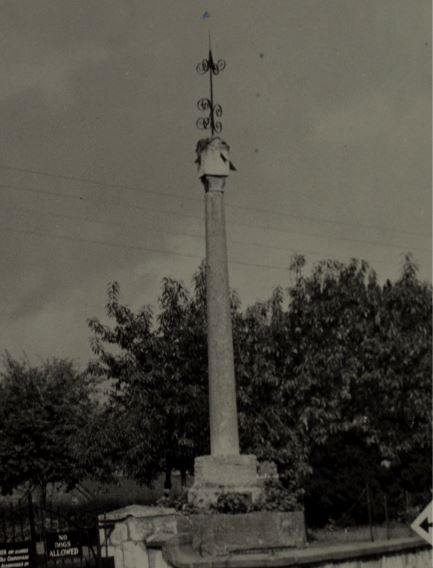 With thanks to:
Worcestershire Regiment – Long trail Website
Worcestershire Regiment Website
www.ww1cemeteries.com/azmak-cemetery.html
WWI Photos Website – Worcestershire regiment