Welcome to the Darkroom
Introducing the new Senior Archival Photographer for WAAS here at The Hive, Steven Wood-Matthews.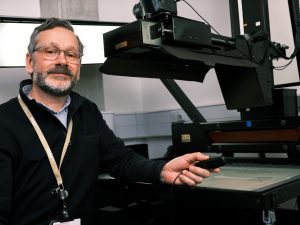 Hello, my name is Steven Wood-Matthews, and I am the new Senior Archival Photographer here at The Hive.
It is my job to digitise items from our collection for our service users and for external clients be that locally, nationally, or even internationally.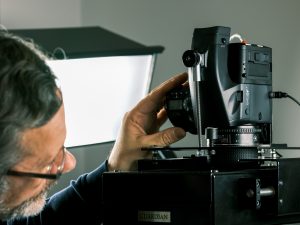 This puts me in a wonderful position to view, handle and photograph many different precious and interesting items. A typical day might see me photograph anything from a medieval manuscript to historic maps and plans or even old photographs of Worcester.
I am totally in my element here, using state of the art Phase One digital medium format cameras, to produce stunning high quality archival images. As a photographer, it is a real joy to work with this equipment and the collections here at The Hive.
Prior to working at The Hive, my career as a professional photographer was in the NHS as a Medical Photographer. This involved taking clinical photographs of patients to help with diagnosis and treatment.
How does hospital photography relate to archival photography you may ask? Well, the similarity is the process of imaging delicate subject material with a sensitive approach and attention to detail. Also, with archiving the digital images for preservation and research, making the fundamental process very much the same. So it was a perfect fit!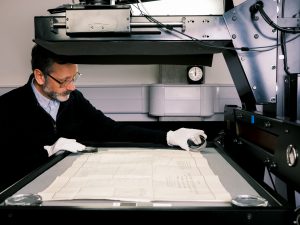 I am very excited to be working here at The Hive alongside all the other teams and I look forward to many interesting projects.
Please take a look at the services we provide and if you would like any further information about digitisation please do get in touch and I will be happy to help.
Thank you
Steven.
Here at The Hive, Worcestershire Archives and Archaeology service has a wide collection of local documents including wills, parish records, 1st edition books, Maps, Photos and much more going back hundreds of years. Most of which you can come and handle in person for free or you can utilize Steven and the digitization service to buy a digital high resolution copy, subject to copyright and permissions.
You can reach the digitisation team here – Digitisation – Worcestershire Archive & Archaeology Service (explorethepast.co.uk)
One response to "Welcome to the Darkroom"