Archives 75 – Dr Lisa Snook, User Services Manager 2012-19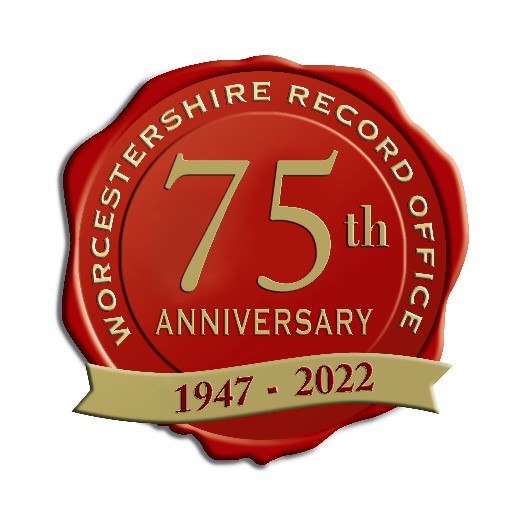 As we continue our look back of 75 years of Worcestershire Record Office, we arrived in The Hive with Victoria Bryant's blog last week. With the creation of Worcestershire Archive & Archaeology Service the roles of County Archivist were shared between Victoria as head of service, with Dr Lisa Snook and Dr Adrian Gregson leading on professional archive issues. Lisa looks back on her 17 years here.
It's been almost 3 years since I left Worcestershire Archive and Archaeology Service for a role back in south Wales, and I cherish my memories of my 17 years with the team. My career started in 2003 as a very inexperienced Archivist straight from my training course and it's not an overstatement to suggest that the service, the team and our customers at Worcestershire shaped me as an Archivist. I would not be where I am now without the opportunities, experiences gained and support received.
In 2003, though, this was all in the future. I had arrived, from south Wales via the University of Liverpool archive course, to a county I had never even visited before. My role as Archivist (User Services and Outreach) at the County Hall Branch gave plenty of opportunity for me to learn about the collections, the history and the geography of the county – and it was a very steep learning curve! I loved it though, because I worked with a great team and started to get to know our regular researchers and enjoyed the sense of community between them and the staff.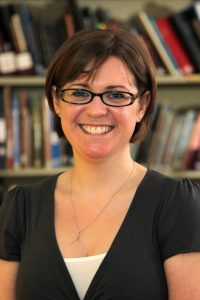 Exciting opportunities lay ahead with a secondment as Project Officer and Archive Manager and later as User Services Manager. The rest of my time at Worcestershire was spent preparing and planning for the move to The Hive and embedding the front-line service once we got there. I spent years working with colleagues in Archaeology, the library services at the County and the University, the Hub, architects, designers and facilities managers who were generous with their support and with their knowledge. It was a really busy, but immensely satisfying, few years focussing on designing the archive spaces, feeding into plans for the whole building and planning the move. As always, the staff rose to the challenge and provided me with information, feedback, suggestions and support.
This was a career-defining experience for me and I enjoyed embedding a totally different type of service in The Hive, working with colleagues throughout the building, maintaining relationships with existing customers and volunteers as well as developing new ones. Worcestershire Archives enjoyed – and still enjoys – a reputation for innovation and forward thinking, excellent services and state of the art facilities and it was amazing to be part of it. The years were challenging due to financial constraints, and difficult decisions had to be made, but I'm so proud of what the team achieved. Worcestershire being one of the first three local authority archive services to become an Accredited Archive Service, and becoming Record Keeping Service of the Year 2017 were particular highlights.
When I think of my time in Worcestershire, though, I think of the many fantastic people I worked with and the customers who visited. I was reminded of this recently when attending the Archives 75 event at The Hive, when so many former staff, existing staff and Friends of Worcestershire Archives came together to celebrate. One former colleague made reference to the 'Worcestershire Archives Family' and I count myself very lucky to be part of this. There are far too many people to mention and thank from my years in Worcestershire – but you know who are! Thank you.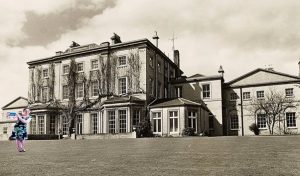 'Where's Lisa?' We had a feature on social media for a while where we shared photos of Lisa (holding a World Class Worcestershire card) superimposed on old photos and asking people to identify where she was. It was popular, with lots of guesses, and she'd sometimes get people message her asking her where she was, confusing her until she realised they meant in the photo! This one is of her outside Hindlip Hall.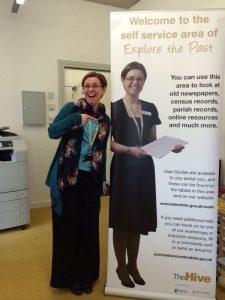 For a time we had this banner in the self service area, guiding people for when archive desk wasn't staffed. As User Services Manager Lisa was the smiling person who was virtually welcoming people.