Bishop's Transcripts Go Live!
Since Friday 1st July our collection of Bishop's Transcripts (BTs) have been online and searchable on the Ancestry Website. You can now search the 2.8 million names for baptism, marriages and burials.
These records, which are duplicate copies of the parish registers, are kept here within the strongrooms of The Hive. The way that they were organised when they were originally created and stored means that they have never been easy to search, so digitising and indexing them makes them far easier to use.
"We're thrilled to be working with Ancestry to make this important, historic collection available online and fully searchable for the first time. The Worcestershire Bishop's Transcripts will allow Worcestershire locals, as well as those with ties to the region, to delve into the significant moments of their ancestors' lives."

Dr Adrian Gregson, County & Diocesan Archivist
Ancestry is one of the leading family history websites, with over 30 billion records on there. We already have Worcestershire electoral registers on Ancestry, and through this partnership we can continue to offer free access within The Hive and Worcestershire Libraries.

Over the past 3 years Agnese has been photographing the documents here in The Hive. Although we have our own digitisation team, the size of this job would have meant we wouldn't have been able to do much else, so it has been great to have Agnese come to film.
To use the Bishop's Transcripts log on to public computers or wifi either here or in Worcestershire Libraries. You can either search the whole of the sources on Ancestry, select the specific source from their 'what's new' list or go to their Birth, Marriage and Death section.
What are Bishop's transcripts?
Parish registers began being kept from 1538, although early coverage could be patchy with variable take up and survival. In 1597 each parish had to send copies from the previous year to the bishop's diocesan registry, providing a duplicate copy of the information. This was sent within a month of Easter each year. In the early 20th century the Diocese of Worcester's were kept in St Michael's, just by Worcester Cathedral, before we were appointed the Diocesan Record Office and they were stored in St Helen's from 1956-2000. They are now here in The Hive, in the purpose built strongrooms.
An advantage of BTs is that if the original is missing or illegible it provides another copy which may be easier to read. On the other hand, as a copy there may be mistakes when they were copied.
They cover a Diocese, which is different to a county. The Diocese of Worcester covered parts of Herefordshire, Gloucestershire and Warwickshire in the past – for instance Stratford was in Worcester Diocese, and is why we have the marriage bond for William Shakespeare.  Parish registers have gone to the current appropriate Record Office, but BTs have been kept here as a whole.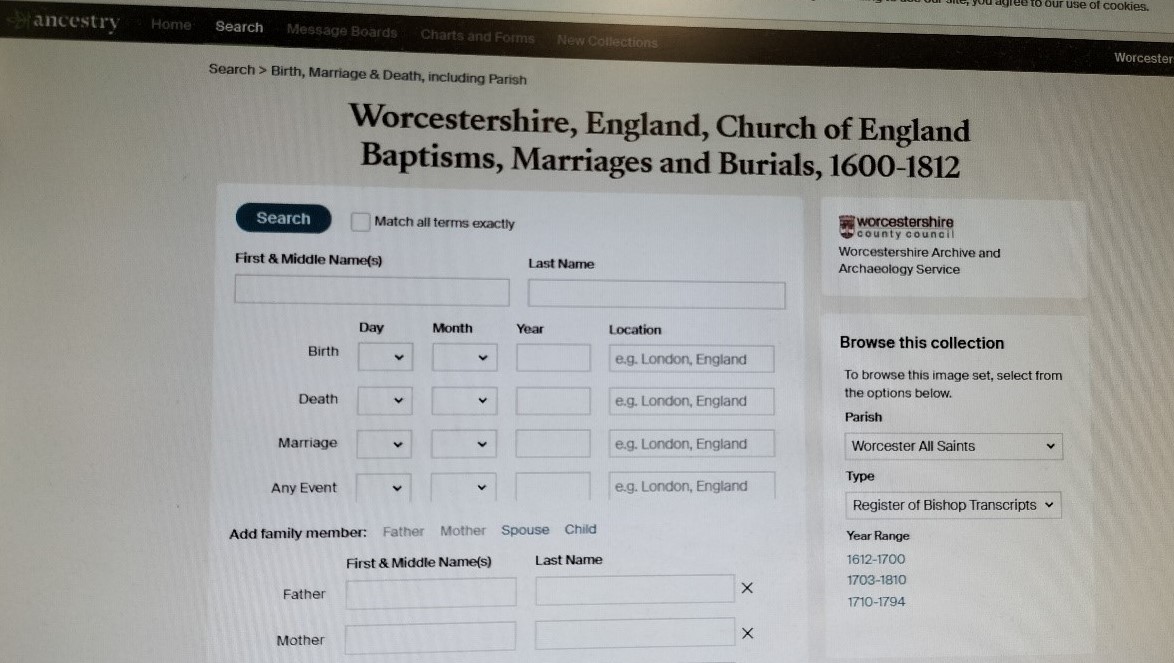 Why are these digitised before parish registers?
Like most documents in the archives, we don't own them, so need permission to use them. For Bishop's Transcripts we only needed one permission, which was given, whilst for parish registers we need it from each parish, which takes time. So it is quicker to do BTs first.
BTs are not easy to use, having to use a two stage process to find the right microfilm and section, and a parish is split up across numerous films. Whereas parishes are generally in date order and far easier to search runs. So there is an even bigger benefit of digitising and indexing them.
Parish registers are being worked on, being digitised whilst permissions are sought, and will be added in due course.
How were they indexed?
The records have been indexed by Ancestry's trusted and experienced indexing partners, who have transcribed names, event types, dates and places, making the collections fully searchable for the first time. Transcribing is not an easy task, with issues of handwriting, abbreviations and legibility.
It is a work in progress, and they are being available as soon as possible.
What do I do if there is a mistake?
As has been mentioned they are a work in progress, but the aim was to get them out quickly, and some tidying up is taking place. If you wish to make a correction to an indexed entry you can do so by selecting the index in the image viewer on Ancestry and adding your own transcription, which will then be available – along with the original transcription – for all users to search.
What's next to be worked on?
Parish registers are being digitised at the moment. We are currently discussing with Ancestry what other records could be after that, which may include militia lists and calendars of prisoners.
2 responses to "Bishop's Transcripts Go Live!"