We are the ARA Record-Keeping Service of the Year, 2017
We are thrilled to announce that we have been voted 2017 Record-Keeping Service of the Year!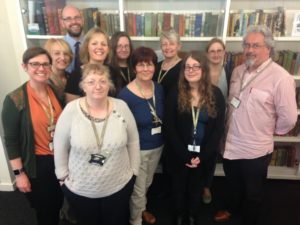 Part of the Worcestershire Archive Service team
This award is part of the Archives and Records Association (ARA) Excellence Awards and aims to recognise the achievements of services across the archive sector.
The award is a testament to the hard work and dedication of the team, who are committed to ensuring that all our customers receive a good experience of our service.
The winner was determined by the votes of customers of archives as well as archive professionals, so the award is particularly meaningful.
In awarding this recognition John Chambers, ARA's Chief Executive Officer, said:
"Worcestershire Archive and Archaeology Service was the clear winner of this year's Record-keeping Service of the Year award. It is not alone, of course, in having committed, professional staff in the local government sector that are determined to maintain a quality service to the wider community in the county despite acute financial pressures. But its range and depth of activities and success in placing itself at the heart of the culture life of Worcestershire are just two reasons that make the Service special. I also pay tribute to the runners-up: Suffolk Record Office, Aviva plc Archives, and Bishopsgate Institute Special Collections and Archives, all of whom would have been deserved winners in their own right."
We will be presented with our award at an event and ceremony later in the year, by the ARA's President Dr Alexandrina Buchanan. Information about the event to come – watch this space!
Thank you to everyone who voted for us.