Kays at Christmas, 1973
Christmas 1973 was the Christmas of Merry Christmas Everybody by Slade, and Wizzard's I Wish It Could Be Christmas Everyday, with Slade taking the No.1 spot. Other festive records were Gaudete by Steeleye Span and Step Into Christmas by Elton John at 26.
But what were people buying? After visiting the Kays catalogues of the early 1980s last year we're going 10 years earlier. Our blog post struck a chord as lots of people told us how they pored over the catalogues in the run up to Christmas, with 900 pages of toys, games, accessories, clothes, books, dolls, musical instruments, sports equipment and cutting edge technology to choose from. In pre internet days for those in rural areas this was how they chose presents as it was harder to get into towns.
Kays was a Worcester firm so lots of local people either worked there or had connections. The Worcester roots often meant a picture of the city on their cover too.
Within the archives we have a number of catalogues which have been deposited with us over the years. After deciding on 1973 due to those famous festive songs we went to get that one for our Digitisation team to photograph. We first of all showed the catalogues to some of our colleagues who loved reminiscing about the toys and remembering which of these they could recall or even had as presents.
( Note – when looking at prices £1 then is worth around £8 today.)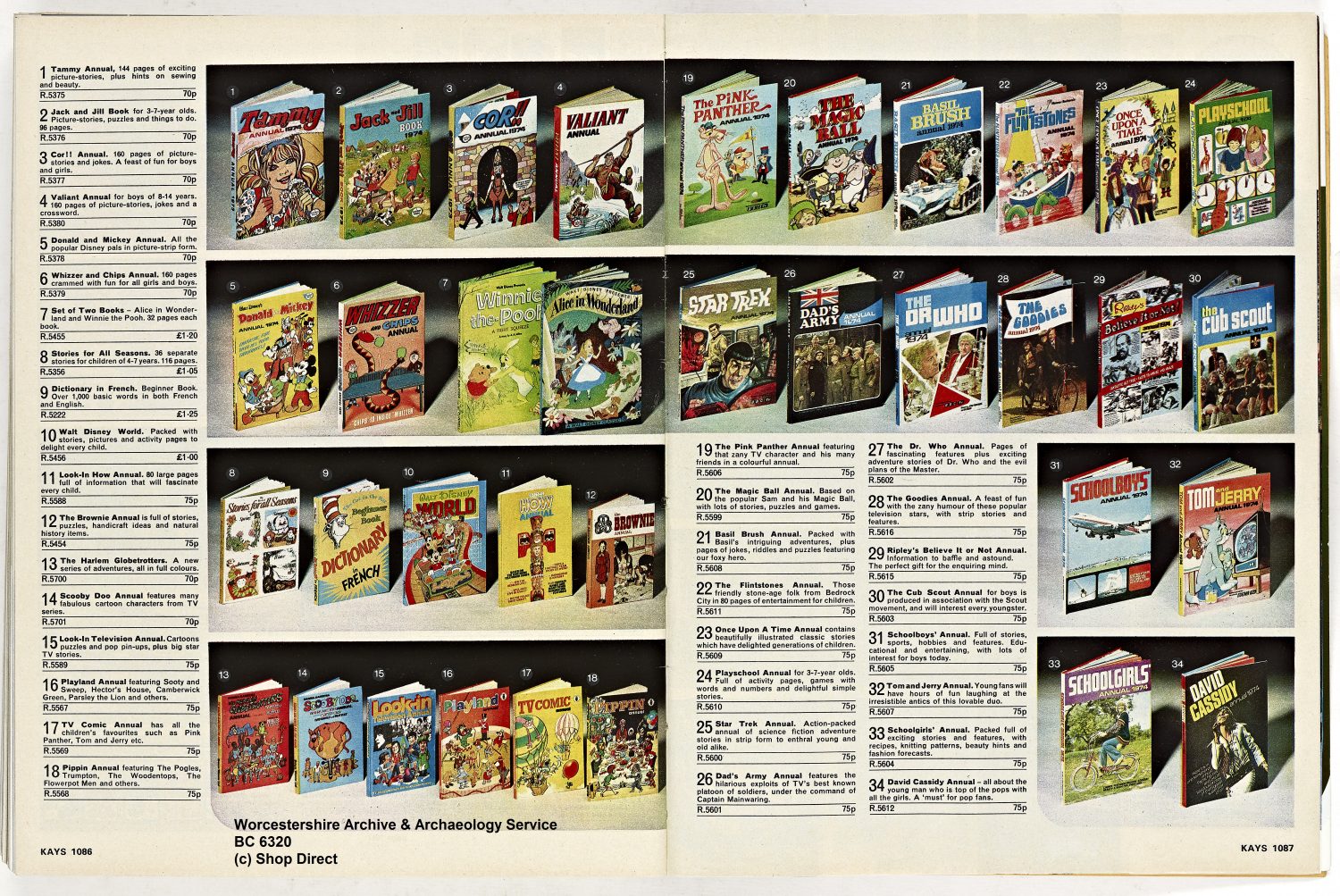 Annuals are always popular at Christmas. Our Outreach Manager has the Dr Who annual featured, bought many years later probably for a pound or two, but checking ebay it's now worth about £25. Basil Brush, Dad's Army, Star Trek, Look In, Goodies and Flintstones all had their own annuals too. Does anyone still have one of these?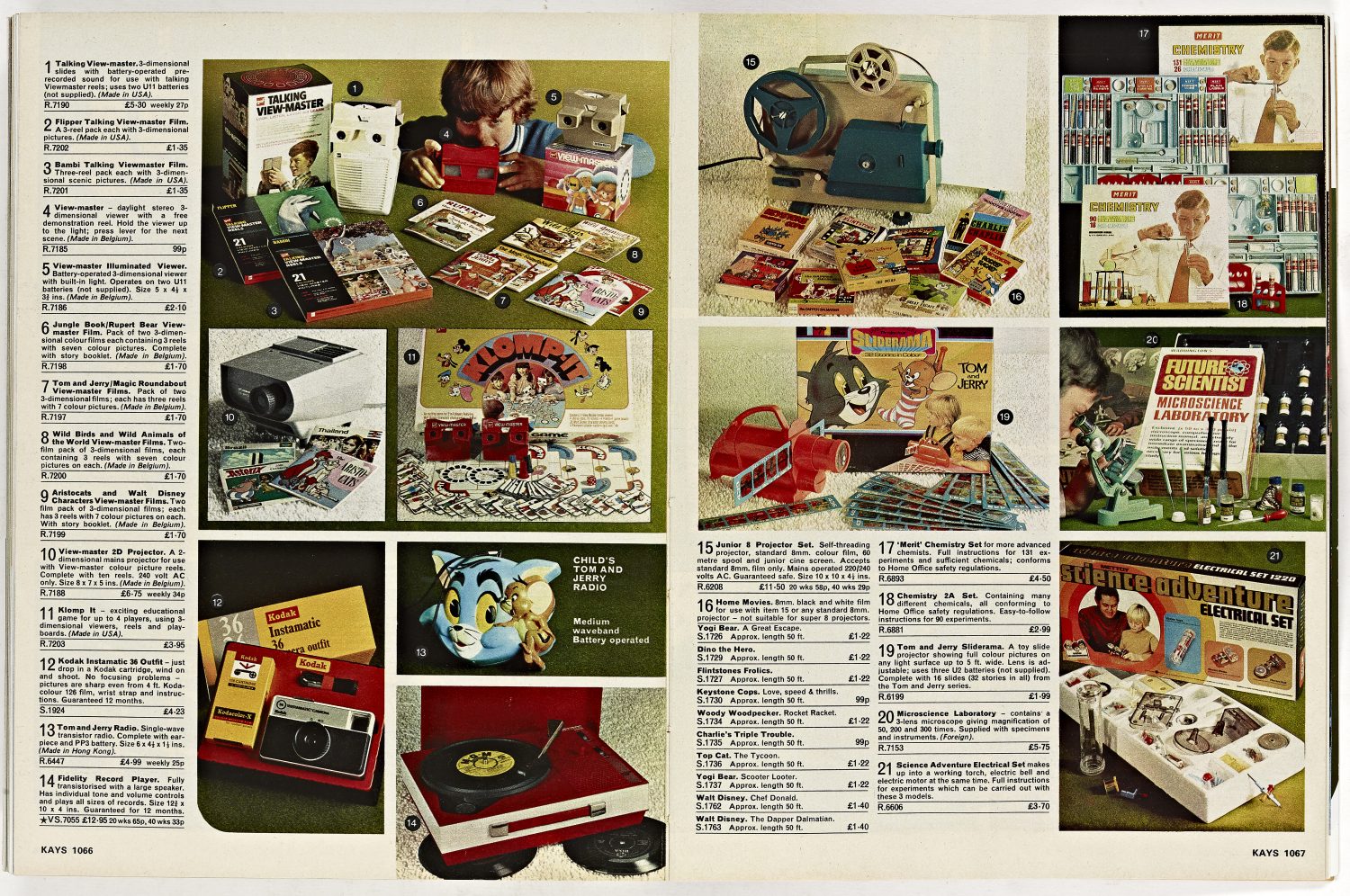 View masters were very popular (for those too young to know, it had discs with double images, and by looking through the View master you could see pictures in 3D. You then bought different stories to go in it). We like those chemistry kits too. Did you have one? These are the days when boys would seemingly be expected to put on a shirt and tie to undertake experiments at home!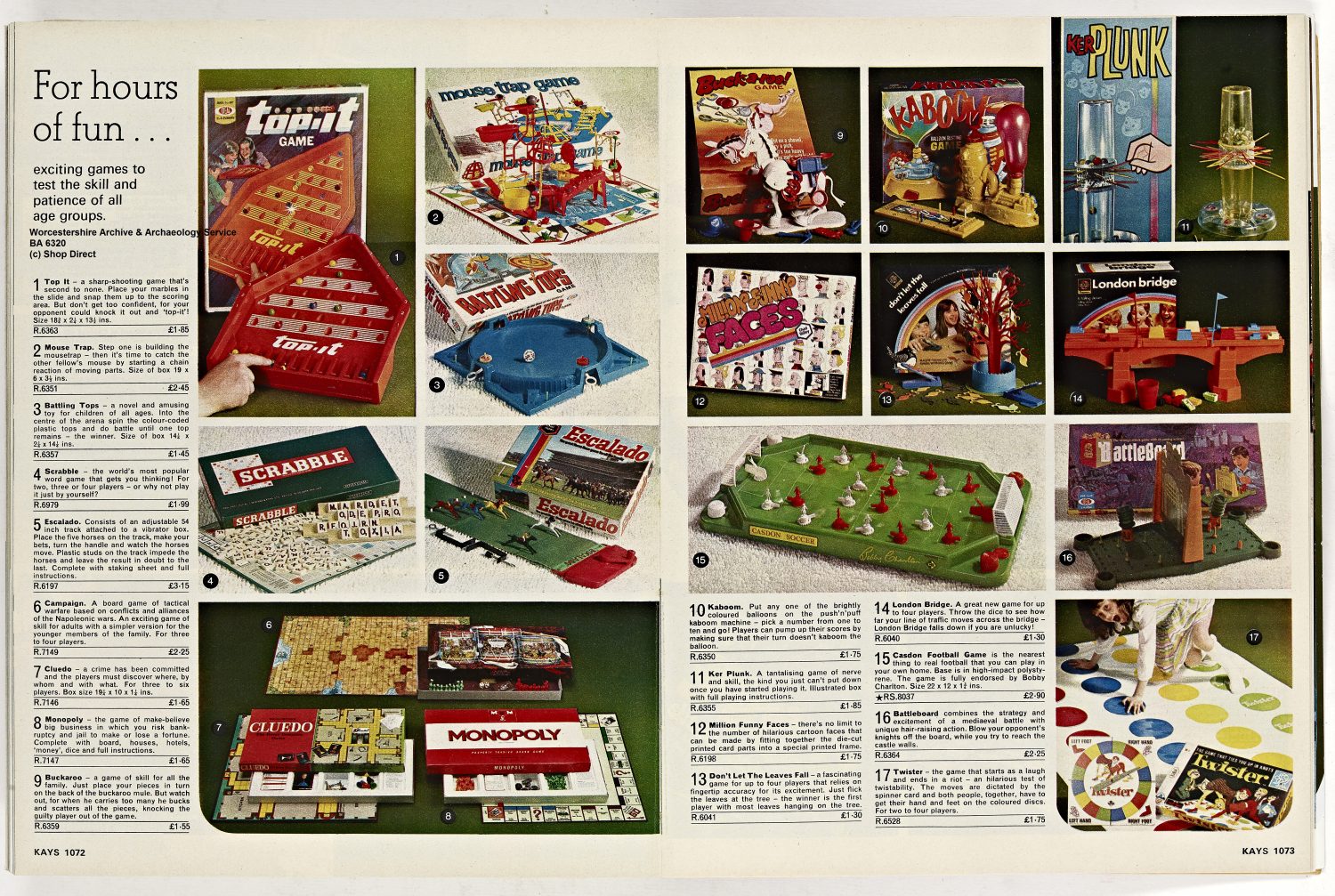 Many of these games are still with us, even if the boxes have changed. Mousetrap, cluedo, monopoly and twister are still bought and played. The Casden football game has been rebranded numerous times. Here is the Bobby Charlton Soccer game, whilst in the early 1980s it was the Official England Football Game (with photo of the England players playing it – our outreach manager had that version), and later rebranded again with the newest football stars of the day.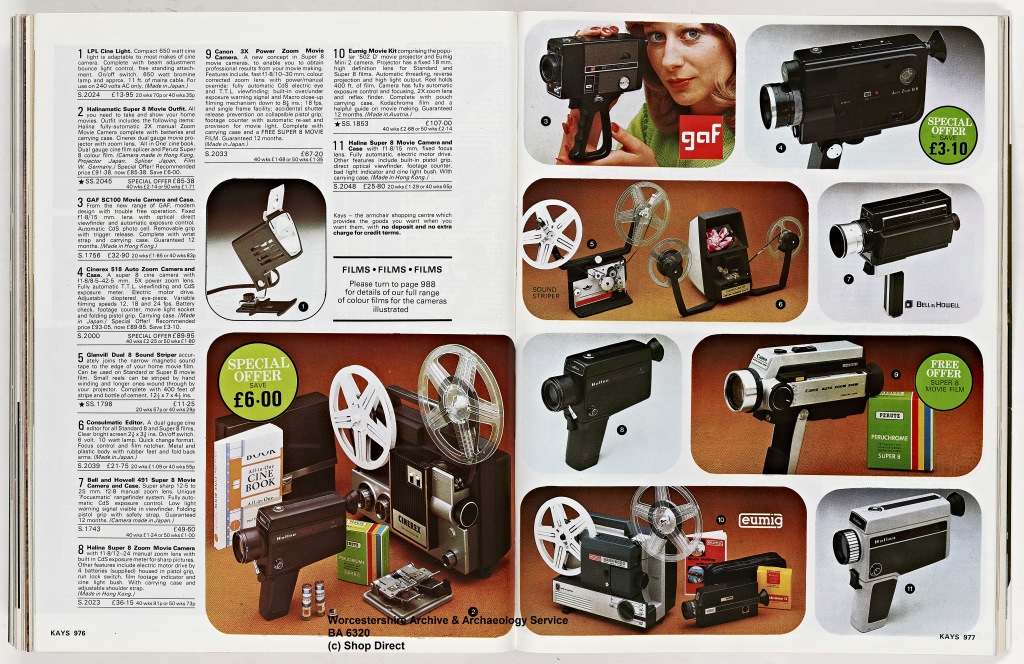 Cutting edge technology was also on display with cine and Super 8 cameras, predecessors of video cameras. A few people said their Dads had them. Film was very expensive so you had to be sparing with what you shot.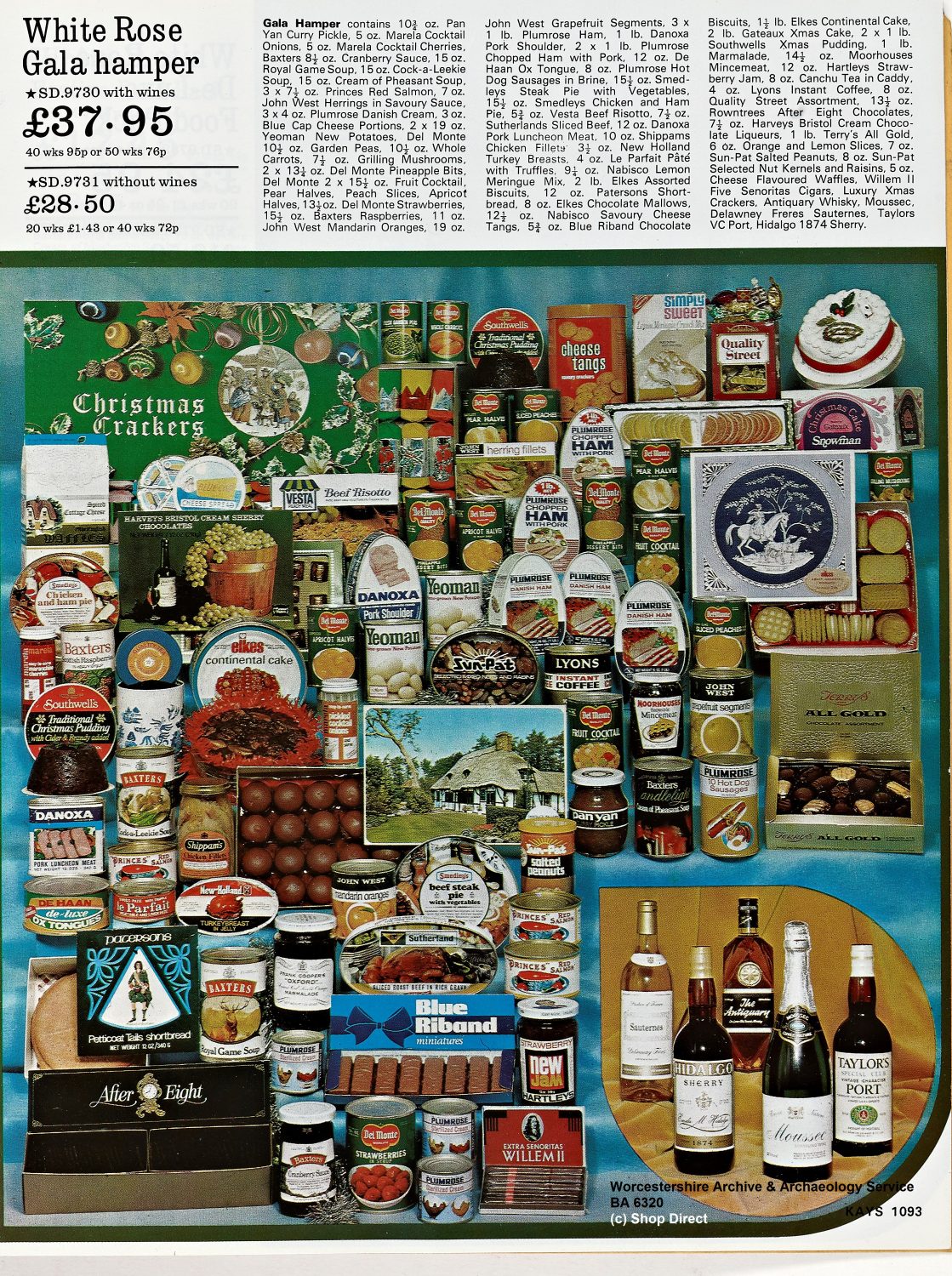 A different memory quite a few people have is ordering hampers for the Christmas period. To help with Christmas food shopping people would order a food hamper, which could be with or without alcohol! There was an option to pay weekly over a period of time to help spread costs. It was quite a mix what you got, including quite a bit of tinned meat. Not sure if everyone would have used the ox tongue.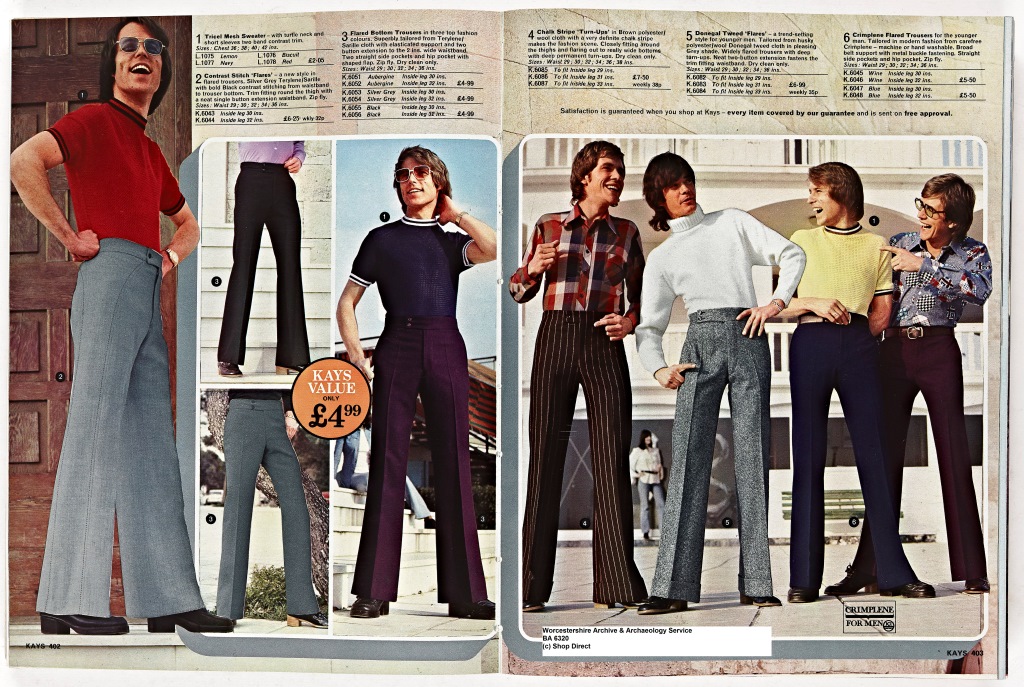 Although we were focusing on Christmas presents we also got distracted by the clothes of course, with some fantastic 1970s fashion such as these shirts and trousers! Hard to imagine companies proudly saying ICI had been involved in creating clothes today.
 Thank you to Shop Direct for allowing us to share these images. Thank you too to our digitization team for photographing these pages.
Please let us know any memories of 1973 Christmas or of Kays at Christmas!
One response to "Kays at Christmas, 1973"