Where did cattle come from in Roman Worcester?
An article has just been published which sheds light on the regions from which cattle were brought to Worcester in Roman times. The results, using evidence from bones excavated on the site of The Hive, are in the latest edition of the Journal of Archaeological Science and show how with scientific advances new discoveries can be made.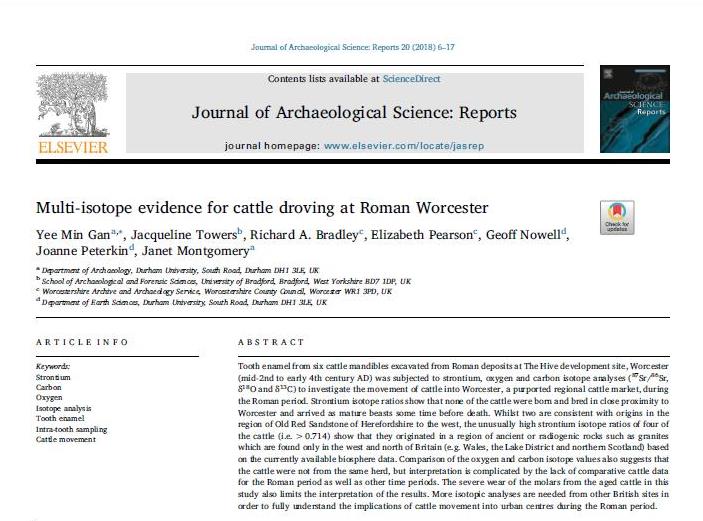 During the excavations, before the construction of The Hive, cattle bones were found in the Roman occupation layers. This was expected, as when we had excavated other Roman sites in Worcester, such as Deansway (under present day Crowngate), we also found a high proportion of cattle bones. This, and other evidence, suggested that Worcester was used as a central collection point for cattle, before presumably being sent to other towns and forts. Beef was an important part of the Roman diet.
As we had a number of cattle teeth we thought we would send them for analysis to see if we could work out how far the cattle had travelled. Tooth enamel is built up over time and locks in strontium and oxygen isotopes from the water they ingested whilst growing up. It is a test which has been carried out a number of times seen on TV archaeology programmes and can provide fascinating results. One example is the Amesbury Archer, a Bronze Age burial near Stonehenge, which showed that the man had grown up in the Alps region.
Six teeth from different parts of The Hive were sent to Durham University for analysis. The results were that none of the cattle had originally come from near Worcester but had been brought in from further afield, and all the cattle were over 30 months of age. The geological signature is wide ranging from Wales and Herefordshire up to the Lake District and Southern Scotland. Logic says the latter areas are highly unlikely to be the origin of the cattle, so it is probable that the cattle came along droveways from Wales. The Malvern Hills also share that signature, but they would have struggled grazing that many cattle on the steep terrain. This implies that there was considerable organisation in sourcing cattle and ensuring that farmers brought them to Worcester, before being distributed to feed the population in the wider region.
Only a small number of samples were used, and isotope analysis is needed from other parts of the country to help tell the story. However the results from The Hive do back up the theory from earlier digs that Worcester may have been a regional cattle centre. This is particularly interesting given that for much of the last two centuries a cattle market stood just in front of where The Hive stands. It's interesting to note that they'd come from western Herefordshire or Wales, so not particularly close, so effort had to be made to transport them. We wonder what else we may discover in the future.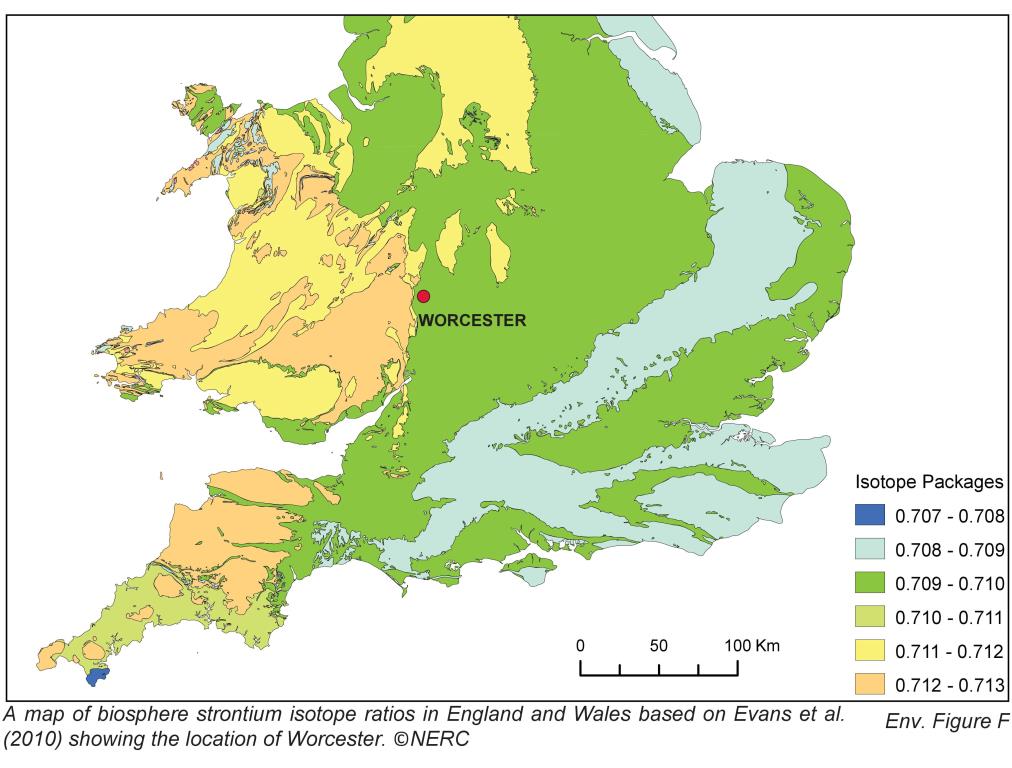 For those who want to read the full article the reference is
Yee Min Gan, Jacqueline Towers, Richard A. Bradley, Elizabeth Pearson, Geoff Nowell, Joanne Peterkin, Janet Montgomery, 2018, Multi-isotope evidence for cattle droving at Roman Worcester, Journal of Archaeological Science Reports 20 (2018) 6-17.
Liz Pearson
One response to "Where did cattle come from in Roman Worcester?"