Archive Card Launch
The new Archive Card reader's ticket has now been launched and we will be issuing them at WAAS from next week, so head online to www.archivescard.com for more information and to sign up for yours today before you visit.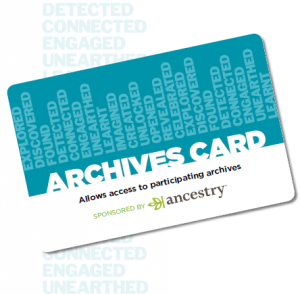 For the last few years a new reader's ticket scheme has been under development by the Archives and Records Association to replace the CARN ticket scheme (County Archive Research Network) which was launched 20 years ago. This new scheme is designed to be an online platform giving you access to your profile and keeping your data secure while giving archives a more connected system.
A list of participating archives and more information about the card can be found on the website. The scheme is open to a wider group of archive services so now includes some university archives. However, some members of the CARN ticket network have not joined the Archives Card so please do check in advance of visiting.
Unlike the CARN tickets you should apply for membership before you visit by going to the website and putting in an application.  Your account will need to have a passport style photo so that your card is valid, you can add your own photo when you apply but we can add one for you when you visit if you don't have one. You will have 3 months to visit a participating archive to complete your registration after you apply.
When you visit you will still need to provide two forms of ID to complete your registration so please see the list of the ID we can accept on the website by clicking on 'About' and 'How to get a Card'.
Please note you do need a valid email address to apply for an Archive Card. If you do not have an email address you can sign up for a free one at several places online www.gmail.com, www.outlook.live.com or www.mail.yahoo.com   for example.
Once you have your card it will be valid for 5 years. We will be following the same process when you visit so you will still hand the card to us when you arrive and keep it until you leave just like with the CARN tickets, we will just scan it at the same time we scan your library card to log your visit.
Your CARN tickets will still be valid and we will accept them here until they expire but the scheme will no longer be supported from the 31st March 2020. Therefore, we cannot guarantee that your card will be accepted anywhere else after the end of March. To continue to be able to access archive services across the country we would therefore advise that you sign up to the new Archives Card as soon as possible.
If you have any questions about the Archives Card please let us know or contact the Archives Card team directly at  aracommercial@archives.org.uk