Online Resources: WAAS on the Radio – One Tree Hill
This week's online resource is a bit different. Instead of an index or catalogue we thought we'd share a radio programme we feature on which is still online and available to listen or even download – Radio 4's Open Country programme on Whittington Tump.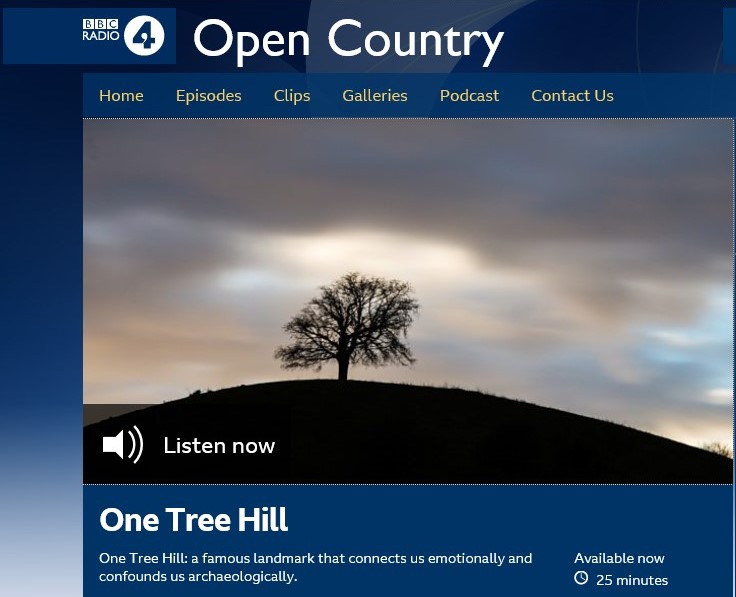 Last summer we were approached by Karen Gregor, producer of Open County on Radio 4. They were looking to do a programme about Crookbarrow Hill, also known as Whittington Tump, a distinctive cone shaped hill by junction 7 of the M5. Well known to many local, and a key landmark for local to look out for on the way back home. Although so well known, almost certainly man made and a scheduled ancient monument, with lots of legends and stories linked to it, what do we actually know? Karen wanted to know if someone could come on the programme to help discuss the amazing feature.
Adam Mindykowski, our Historic Environment and Landscape Adviser, volunteered to go along and help. So on a sunny day he joined Karen, and Wendy Carter & Harry Green of the Worcestershire Wildlife Trust. Henry Berkely, the landowner, was also there to contribute. They had a good discussion about what it could be, comparing it to other similar landscape features and looking at the limited evidence from previous investigations? Did they come to a conclusion? You'll have to listen!
The programme is also enhanced by contributions of locals about their memories of it, like the building of a beacon on the top in 1977 for the Silver Jubilee, and sledging down the hill in winter as children. There is some appropriate music to accompany it too, like Oysterband's One Green Hill.
Everyone we know who listened really enjoyed the programme as it brought all these aspects together and we were able to eavesdrop on the conversation between Adam and the other guests puzzling over possibilities of what it was. Unlike some TV and radio programmes it is online indefinitely, so have a listen if you've not already.