Adding a New Layer: 20th Century Heritage in Worcestershire – Commercial Buildings
From corner shops, large department stores and shopping centres to market halls and exchanges, public houses, hotels, restaurants, banks and office blocks, the scale, range and character of commercial buildings leaves an impressive legacy in the landscape.
Shops
From the mid-19th Century the commercial sector – stimulated by increased mobility and the development of more efficient communication networks and new technologies, such as electricity – used architecture to design vibrant thoroughfares that provided a flexible and enticing shopping experience for the rapidly expanding population of urban and suburban 'middle' class consumers. 'Shopping parades' – planned, uniform terraces of shops, normally with accommodation above, stood out against the higgledy-piggledy character of earlier commercial centres. The French concept of the department store, with its wide range of goods and services all set within opulent surroundings also revolutionised the shopping landscape from the late 19th Century, as did the development of the Co-operative Wholesale Society which supplied the rapidly expanding number of independent Co-operative stores in towns, cities and suburbs across England.
The rise of national chain stores—like W.H. Smith, Burtons, Marks and Spencer, Woolworths and Boots the Chemist—has also left an impressive legacy of commercial buildings on Britain's high streets. National chain stores generally maintained their brand identity with their own distinctive 'house style' architecture. A prime example was Woolworths. From their first store in Liverpool, which opened in 1909, the firm grew at a rapid rate, and in the late 1920s they were opening a new store every 18 days; reaching a peak of 988 stores in the UK. At first, they relied upon the architectural practice of North & Robin who designed their stores until c.1919.  By this time Woolworth's had established their own in-house architects' department, headed by William Priddle (1885-1932), who remained the firm's chief architect until his death. Priddle was succeeded by Bruce Campbell Donaldson (1896-1977) who led Woolworth's in a whole new architectural direction; down the path of popular Art Deco and Streamlined Modern architecture, with cinematic façades clad in faience and embellished with geometric ornamentation. Donaldson also developed a new standard front for smaller stores; cast in a tasteful Georgian mould which made Woolworth's more acceptable on the most traditional high streets[1].
Another brand with a prominent architectural style was Burton's the Tailors. Established by Yorkshire retail clothier Montague Burton in 1906, Burton sensed an opportunity in 1919 to offer demobilised soldiers a chance to own a new suit paid for on 'Tick' (or credit). From 1923 he began to acquire freehold sites to build his own custom designed stores, favouring prominent town centre corner sites. They were the work of Leeds-based architect Harry Wilson, who developed the Burton house style and in 1931 Wilson's practice became the firm's in-house architecture department. Wilson was replaced as chief architect by Nathaniel Martin in 1937, who continued his predecessor's Art Deco style. Whilst individual stores varied from red-brick with neo-Classical scroll headed columns to fully fledged Art Deco with glazed white faience tile, geometric patterns and stylised elephant heads, there are also many standard elements such as a wide polished black granite band above the shop windows for signage, metal vent grates bearing the company logo, billiard halls on the upper levels, window lights showing the locations of other Burton stores, and mosaic titles – sometimes including the company logo – in the doorways.
Banks
Banks retained their prominent position on Britain's high streets into the 20th Century, although there was little expansion of the total stock after WWII. Designed to present an image of security, respectability and permanence the Classical designs of the 19th Century gave way to neo-Classical and neo-Georgian designs, again reflecting wider trends. With the exception of the Midland Bank, the major houses did not have in-house architects, relying instead upon a brace of provincial practices, who, in the main, continued to echo the Classical styles so favoured for their 'veneer of permanence', though executed in modern materials.
Post-war Modernist planning led to the large-scale, and often controversial, re-generation of many town centres, much of it to facilitate the car. Post-war cities, towns, including New Towns, and their expanding suburbs were developed or re-developed to incorporate larger shopping precincts, with architecturally uniform rows of shops, restaurants and public facilities, often with canopies or overhangs to shelter shoppers, as well as car parking. The shopping parade was often at the centre of Post-war Local Authority estates, along with other service resources such as a community centre or library and communal green space. By the 1980s parades and precincts had been replaced in popularity by large scale, multi-functional and covered shopping centres, often with on-site, multi-storey parking. Many Post-war commercial buildings including shopping precincts and centres, and offices, incorporated public art, including concrete reliefs, murals and sculpture.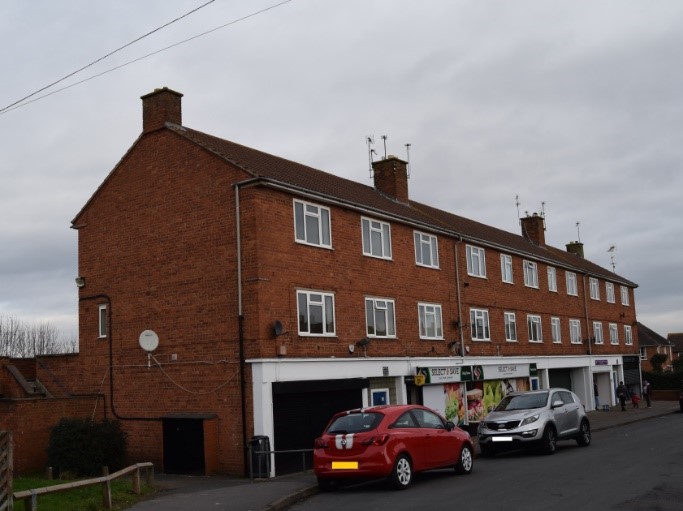 The shopping parade on Queens Road in Stourport on Severn is at the heart of a post-war estate and, like the houses around it, is characterised by its simple, brick design, with large front picture windows, flush exterior doors with glass bricks and shallow pitched roofs.
The Swan Centre shopping precinct in Kidderminster was built in 1968-70 as part of the re-development of Kidderminster town centre. Many mid-20th Century shopping centres no longer meet the expected standards demanded from consumers. Shops, which are too big and expensive for small, individual retailers but too small for the larger chain stores, are becoming increasingly vacant, unable to compete with out of town retail parks and internet shopping.
Commercial Offices
The commercial office block, as we recognise it today emerged in the mid-19th Century, but they are most conspicuously a development of the mid-20th Century. Built in increasing numbers following the cessation of Building Licensing at the end of 1954, a practice which restricted new building in favour of repairs to war-damaged buildings, they can be diverse in their approach to design. The development of information and communications technology has led to a precedence for more standardised, open plan, offices with flexible installations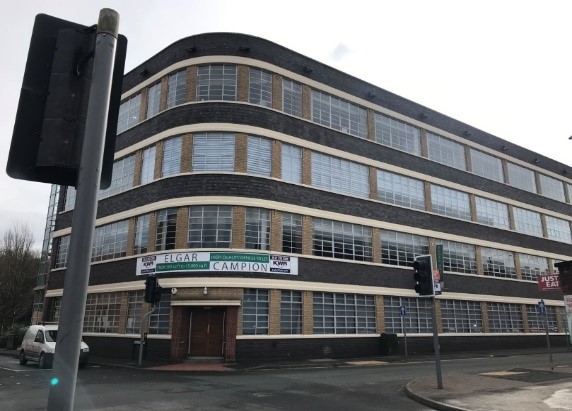 Elgar House in Kidderminster was designed by Birmingham architect C.F. Lawley Harrod in the mid-1930s as part of the expansion of Victoria Carpets. It is a notable example of Streamlined Modern design, exemplified by its use of horizontal orientation, rounded corners and use of glass.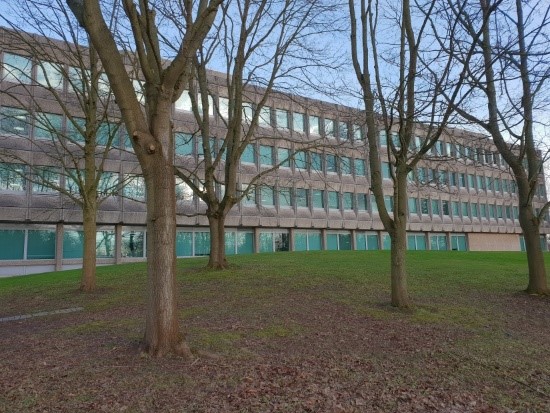 Halfords head office at Washford Industrial Estate, in Redditch, is concrete with a heavily glazed frontage facing a deep green verge.
Public Houses and Restaurants
Personal mobility, fostered by the increasing affordability and popularity of the motor car, gave rise to new forms of public house; particularly in the inter-war period. Known as 'roadhouses' these were often located on the newly constructed arterial roads and bypasses where land was plentiful. The ethos behind these was to provide 'improved' or 'reformed pubs' and roadhouses developed to serve the needs of 'respectable' drinkers. They were large family-oriented establishments, offering meals, refreshment and accommodation to motorists and parties travelling by charabanc. Larger roadhouses, generally in urban fringe or nearby rural areas, boasted such facilities as bowling greens, children's play areas, lidos and tennis courts. Their popularity ended with the outbreak of the Second World War when petrol rationing restricted recreational motoring, and the advent of post-war drink driving legislation prevented their full recovery. The Health Act (2006), which came into effect on 1 July 2007, made it illegal to smoke in all enclosed workplaces in England, and has led to a further decline in pub numbers.
Generally larger in scale than a 'traditional' public house and often with gardens, many roadhouses were built in neo-Georgian and Domestic Revival styles – including the so-called 'Brewers' Tudor' – but also include some notable examples of Modern architecture. Their outsides and insides were often from differing periods, offering heady brews of arched openings and doorways with leaded fanlights, swooshing ceiling mouldings and sweeping staircases – in many respects the pub equivalent of their contemporaries, the Super Cinema.
The West Midlands had two major breweries that were at the forefront of the roadhouse movement – Davenports and Mitchells & Butlers (M&B) – whose work can be seen in Worcestershire.
The post-World War II equivalent of the roadhouse was the Estate Pub. Together with shopping parades, a community centre and communal green space, these pubs were designed to engender social cohesion amongst new communities and were generally built in brick and/or concrete and designed to blend in with surrounding housing. Colloquially, and sometimes disparagingly, referred to as 'flat roofed pubs', outwardly they resembled an assemblage of 'boxes', single-storey all but for the manager's flat, which stood at first-storey level. In addition to bars and lounges they also had meeting and function rooms, some with stages, and provided a convivial home for numerous clubs and societies, as well as somewhere for local performing talent to develop. Their demise is due to many factors: including changes in patterns of leisure activity, the rise of supermarkets as a source of cheap alcohol, and the increasing real estate value of their sites – it's often more economically viable to build apartments on a pub site than to keep it going as a business, or even a community resource.
Increasing diversity throughout the course of the 20th Century is clearly recognisable in the commercial sector as new shops and restaurants opened to cater for changing consumer practices, demands and eating habits. Pre-1970s restaurants and bars often displayed strong American influences in their signage and layout. From the late 1950s there was also a dramatic rise in the number of Chinese and Indian restaurants.

[1] Building Our Past https://buildingourpast.com/2018/03/07/woolworths-architects/