Online Resources: Community Archaeology Guidance
Over the years we have worked with many local groups, and are keen to encourage and support communities to undertake their own research and projects. Our community excavations, such as those at the Commandery and The Hive, involved lots of volunteers, some of whom have gone on to take part in locally run projects. To help, we have several online archaeology guides covering site surveys, building recording and post-excavation work.
There is lots of great community-led archaeology happening across the country, but sometimes it can be difficult to know the best way to go about doing something new or all the steps to consider. These guides are intended to take you through all stages of the activities they cover, passing on expert advice and tips to ensure that information is recorded in the best way for sharing with others. The guidance documents were produced a few years ago by Rob Hedge and colleagues, with funding from the Council for British Archaeology and Historic England.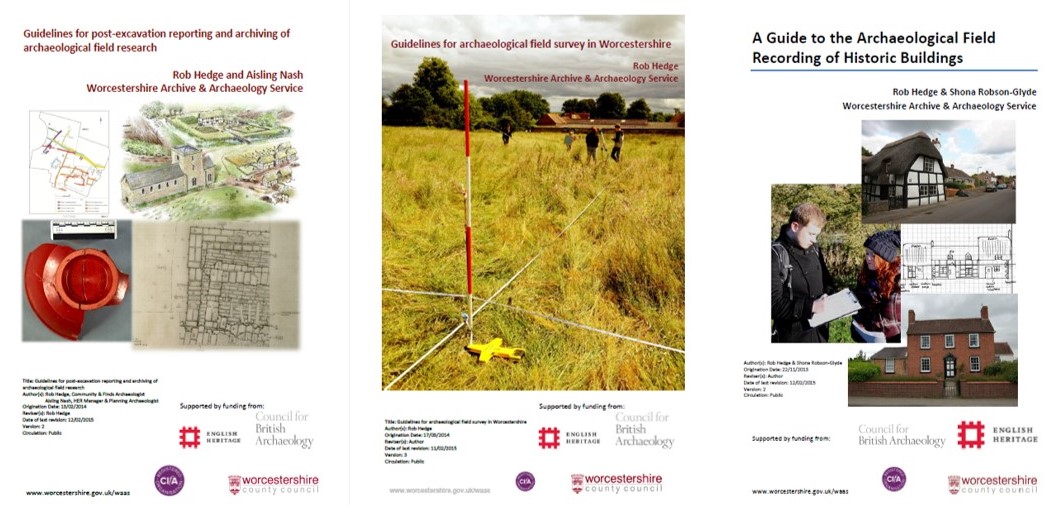 Archaeological Survey Guidance 
Field Survey is the process of visiting a site of known or suspected archaeological potential, making notes, taking photographs, measuring and drawing the archaeological features and disseminating the results. The guide takes you through the steps involved in carrying out a survey, including preparation, equipment and methodology.
It's important to record historic buildings so that their details are documented and history can be untangled, helping to tell the story of a local community. Buildings often form the most visually prominent part of the historic environment. This guide provides an overview of the techniques and equipment needed for carrying out basic visual recordings of historic buildings.
Carrying out an archaeological dig is just one part of a process. To bring a project to a successful conclusion, finds needs to be processed and stored, a report written up, and the project archived. It's important that these steps aren't overlooked, as without a report or archive information becomes lost and others cannot build on the project's research. This guide takes readers through the process of successfully finishing an archaeological project, which runs most smoothly when considered from the outset, and answers some frequently asked questions about archiving, dealing with finds and writing a report.
Please note that the costs included are not current so please check with museums or ourselves for current costs.