Historic Environment Record Desk Reopening
The Worcestershire Historic Environment Record (HER) Public Desk will be reopening from Thursday 3rd December. To allow for social distancing measures, the desk will be operating on an appointment only basis between 10:30 and 13:30 on Tuesdays and Thursdays.
The Worcestershire HER is the County's primary record for archaeological and historic environment information, holding over 83,000 records covering Monuments, Archaeological Events and Artefacts alongside source information and reference collections. The public desk of the HER welcomes all enquiries about the Historic Environment of Worcestershire, including questions about the history of your area, identification of earthworks seen on walks, further information on local heritage assets and providing reports for excavations that interest you. The desk is also open to commercial and private research customers.
If you would like to make an appointment to visit the HER public desk, please do so by visiting our online enquiry system: Enquiry System. Let us know the detail of your enquiry and we will arrange an appointment with you. We may also be able to send you some information digitally.
The HER is located on the Explore the Past floor, Level 2 of The Hive. Please see details of social distancing processes for visiting the Hive here: The Hive Website. The HER public desk has now been moved to the centre of the Archive Self-Service area, including secondary screens for customer viewing. You will be required to wear a facemask and respect 2m social distancing whilst visiting the HER Desk. A maximum of 45 minutes will be available per appointment and a maximum of 2 people (must be from the same bubble) per visit.
In line with government guidance, a track and trace system has been implemented at all public libraries across Worcestershire.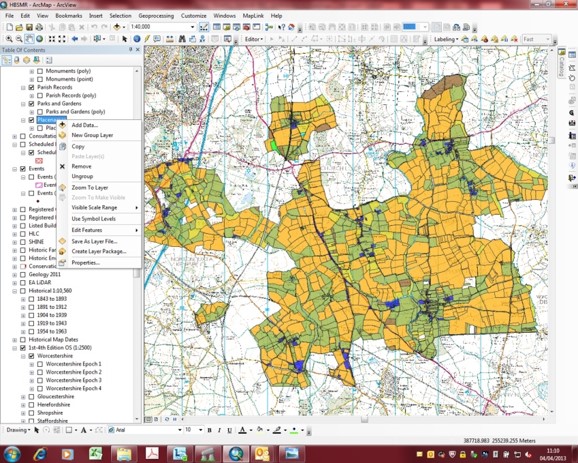 A reminder of the situation with our different teams:
Archives – the Archive Searchroom is open 3 days a week, for customer who have prebooked (including identifying all items they want to see) a week in advance.
Outreach – we are still working on different projects, although some are on hold. Many workshops, tours and talks are not running. Some school workshops can be delivered in schools, and for other loan boxes have been created and resources adapted. If you're looking into a local project we'd be happy to chat about  it and ways we could help.
Archaeology – our archaeologists have been working back on sites for several months. Our finds and illustration specialists have also been working. Please get in touch if you would like us to provide a quote or to discuss a potential job: Worcestershirearchaeology@worcestershire.gov.uk