Archive & HER Desk Reopening
UPDATE 26th March 2021
The Original Archives and Historic Environment Record Desk will reopen to visitors from April 13th.  As previously, bookings for original archives will be limited to one person per booking and one booking per week, made a week in advance. Visits to the HER need to be 24 hours in advance.
For more details see our Reopening Blog.
 The self service area will remained closed for the present.
Our Archaeology Field Section continue to undertake archaeological site work.
You can still contact us with enquiries via our Contact Us page and download a free guide to our online resources here.
Original Post
With the announcement of Worcestershire being in Tier 2 from Wednesday 2nd December we are reopening the Historic Environment Record desk on Thursday 3rd December, and the Archive Searchroom on Tuesday 8th December.
In line with government guidance, a track and trace system has been implemented.
Historic Environment Record
The Worcestershire Historic Environment Record (HER) Public Desk will be reopening from Thursday 3rd December. To allow for social distancing measures, the desk will be operating on an appointment only basis between 10:30 and 13:30 on Tuesdays and Thursdays, and visits must be booked at least a day in advance.
The Worcestershire HER is the County's primary record for archaeological and historic environment information, holding over 83,000 records covering Monuments, Archaeological Events and Artefacts alongside source information and reference collections. The public desk of the HER welcomes all enquiries about the Historic Environment of Worcestershire, including questions about the history of your area, identification of earthworks seen on walks, further information on local heritage assets and providing reports for excavations that interest you. The desk is also open to commercial and private research customers.
If you would like to make an appointment to visit the HER public desk, please do so by visiting our online enquiry system: Enquiry System. Let us know the detail of your enquiry and we will arrange an appointment with you. We may also be able to send you some information digitally.
The HER is located on the Explore the Past floor, Level 2 of The Hive. Please see details of social distancing processes for visiting the Hive here: The Hive Website. The HER public desk has now been moved to the centre of the Archive Self-Service area, including secondary screens for customer viewing. You will be required to wear a facemask and respect 2m social distancing whilst visiting the HER Desk. A maximum of 45 minutes will be available per appointment and a maximum of 2 people (must be from the same bubble) per visit.
Archives
Our Archive Searchroom reopens Tuesday 8th December, using the same system as September and October. You need to book a week in advance, including specifying the documents you want to see.
We'll be opening Tuesday to Thursday, 10:30am-3:30pm, with five people able to visit each day, each of whom must book prior to visiting and pre-order documents. With new Government guidance we'll now be asking visitors to wear facemasks.
Archive staff are still answering enquiries using our online enquiry form, and our Conservator and Digitisation team are back in The Hive and working with safeguards in place.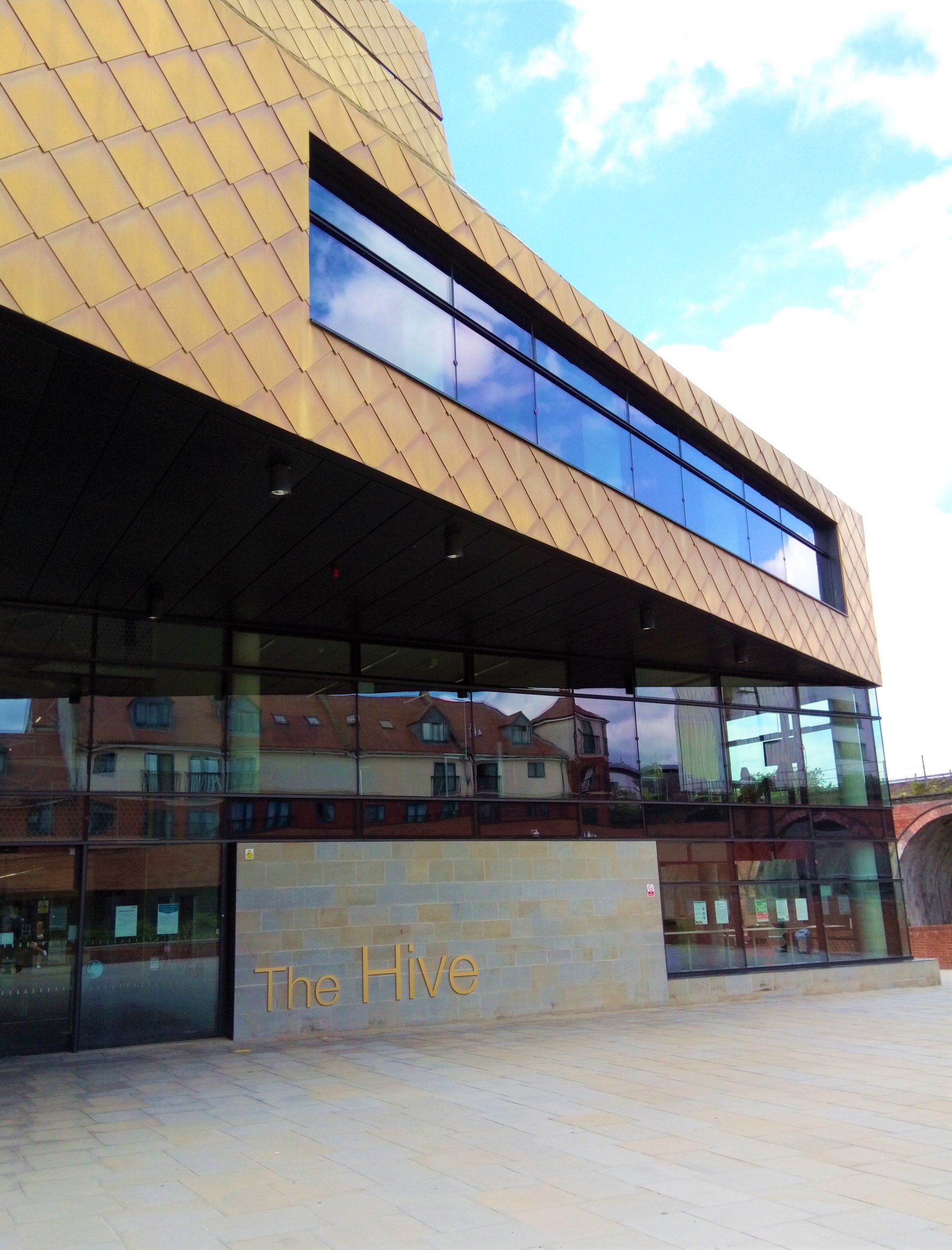 New Procedures
What you can expect when we re-open:
Opening hours will be Tuesday to Thursday from 10.30 a.m. to 3.30 p.m.

Space will be limited to 5 customers per day. Each customer will be able to only book one day per week to allow for as many customers as possible to visit.

Each booking is limited to one person only. If you are visiting with another person, they must make a separate booking.

Booking must be done through our online booking system at least one week in advance of your visit using the booking form. You may book up to 4 weeks in advance.
Please also use this system to pre-book your items in the additional requirements section. You will able to pre book up to 10 items per visit. If you need any assistance with reference numbers, please submit an enquiry form ahead of your booking and staff will be able to advise. Please be aware that we will not able to produce additional items on the day.

We will do our utmost to meet the requests for documents however there may be occasions when this is not possible, such as if the record is closed, uncatalogued or damaged. Submitting your booking in advance gives us the opportunity to check this.

If you do not have a valid readers ticket, please register for an Archives Card before you visit at archivescard.com

We will not be able to accommodate anyone without a booking and each booking will be on a first come first served basis.

The self-service area will remain closed until further notice and there will be no use of microform or CD resources at this time. Please get in touch if you would like to check something on your behalf.

You will be assigned a desk and a locker on arrival. Please ensure you wash your hands thoroughly before entering the searchroom.

If you have any specific access or mobility requirements, please let us know in advance.

Indexes and finding aids will be for staff use only. Please use online facilities where possible.
If you are unable to visit but have a request for us, please submit an enquiry.

In line with government guidance, a track and trace system has been implemented at all public libraries across Worcestershire.

ALL visitors to The Hive will now need to provide contact details to staff on arrival.
What to bring with you:
Archive Card, valid CARN Ticket or other ID showing name and address

Pencils

Notepad and/or laptop

Camera (no photocopying facilities will be available but digital copies can be ordered through the online enquiry system or during your visit). Photographic permit and digitisation charges can be found on our website.

No food or liquids (including hand sanitiser) will be allowed in the searchroom. Sanitiser stations are available throughout the building.
Visitor Charter:
With special measures in place for the foreseeable future, we would ask everyone planning a visit to Worcestershire Archive and Archaeology Service to help us ensure everyone's safety by committing to our new visitor charter. This charter is modelled on that produced by The National Archives.
The Hive:
Please also check The Hive website for general library and building specific arrangements.
Frequently Asked Questions about reopening