Find Of The Month – July 2021 – A lovely find from an isolated pit
A small, small-find.
You will have seen in previous Finds of The Month posts we have reported on Neolithic/early Bronze Age tools and pottery excavated from our some of quarry sites.  This post is about one of our archaeology team's smallest, intact small-finds – a beautiful biconical bead.
What we found.
Firstly, we found a pit. Although this is not unusual, the pit in question was seemingly isolated, away from other features on the site.
The pit was almost round, just over 2m in diameter and over 1m deep.  There was fired clay to the south west of the pit with some charcoal in the lower fills.
In the pit we found pottery sherds including those from a collared urn with a lovely example of a typical decoration made using a twisted cord pressed into the pot before firing.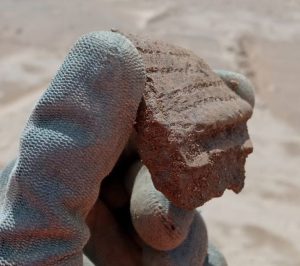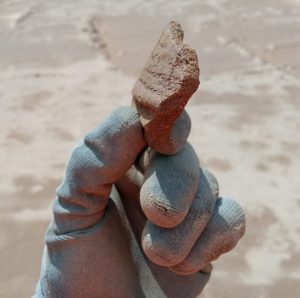 We found flint debitage (flakes associated with forming flint tools), and a type of flint tool known as a scraper.
The star of the show …
However, the star find made by our archaeologist was this lovely biconical (back-to-back cone shaped) bead.
In summary…
A seemingly isolated pit produced a small assemblage which hints at something more than a waste disposal pit. The collared urn sherds, flint debitage and scraper and the lovely bead are the type of finds often associated with early to middle Bronze Age funerary activity.  However, this pit didn't contain any bone so remains an enigma …. but an enigma which gave us this lovely bead.