Worcestershire Contributes to 800th Anniversary of Battle of Lincoln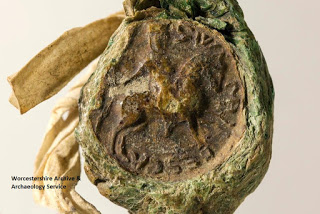 Worcestershire Archive & Archaeology Service is supporting a major exhibition coinciding with the 800th anniversary of the battle of Lincoln. A rare seal of William Marshal, regent of England and hero of the battle, has been lent for display.
The battle is often overlooked, but is probably one of the major battles on English soil. Prince Louis, son of the King of France, had been invited over by the rebel Barons who wanted King John replaced, and was declared King of England in London. After John's death many rebels switched sides and supported his son, 9 year old King Henry III. William Marshal, who had served the previous kings, was appointed Regent as he was considered one of the most important men in the land. Although Louis held the city he did not hold Lincoln Castle. Whilst they tried to capture the castle Marshal's army stormed the city and attacked the French army, which was routed. By September Louis had given up his claim to the English throne.
William Marshal is a fascinating character. In this region he owned Goodrich Castle in Herefordshire, and it was he who arranged King John's funeral in Worcester Cathedral. He rose up from being a son of a minor noble to serving four Kings – Henry II, Richard I, John and Henry III, being Regent to the latter. He is often overlooked, although in Russell Crowe's Robin Hood film he does appear as a minor character, played by William Hurt.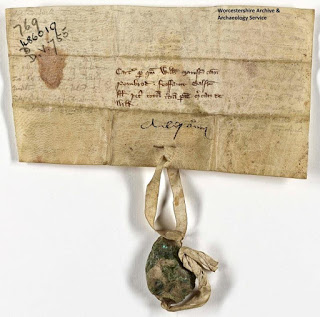 The document the seal is attached to is a charter from William Marshall, Earl of Pembroke, to Geoffrey son of Peter, Earl of Essex. It grants a third part of a Market at Aylesbury to him. At the bottom is William's seal with a depiction of him on horseback, a very rare example. This seal is the reason Lincoln have requested the document.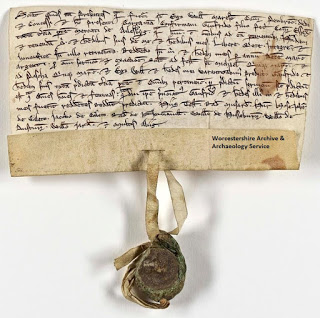 Why is a document about a Buckinghamshire market in Worcestershire?
Archive collections bring together the documents held by an organisation, family or estate, usually about the administrative history. Many of these cover more than one county. The Pakington family were a prominent family in Worcestershire, but they also owned land elsewhere in the country including Aylesbury, and through this it came into their possession. So this collection, like many others, contains documents about places further afield. The archive still belongs to the family, and the current Lord Hampton kindly gave permission for the document to be used.