Worcester Heritage in Minecraft
In May to July 2017 The Infirmary was awarded funding from Heritage Lottery Fund. They ran two programmes to engage young people with heritage from Worcestershire using Minecraft and LEGO, called Virtually Rebuilding Worcestershire's Lost Buildings.
One of the buildings they were looking at was Powick Asylum, and we helped the young people find out about this building by showing them maps and building plans and supplying them with digital copied to help recreate it. We are fortunate in having lots of detailed plans of the Asylum in the archives (as well as the medical records, some of which we showed the young people), which provided accurate measurements.
The first group were from the Green Fingers project and they spent three days on the project. They started by going behind the scenes here at The Hive to see where the building plans were stored and some of the other amazing documents here. Overhearing some of the children talk about The Titanic on the way down, we made sure to show them the letter we have from the ship before it sank.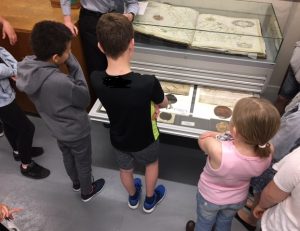 Expert support on Minecraft was provided by students studying Computer Games design at University of Worcester, and long serving volunteer Ken Crump provided his memories of working at Powick Hospital from the 1960's to when it closed in 1989. They also visited The Infirmary to get an idea of size for the wards and also visited the former site of the Hospital with Ken to find out where things were located.
Over the three days, those involved built their Minecraft version with those not interested in Minecraft using LEGO and plans to build the Chapel. After three days there was some great creativity, imagination and interpreted styles of the Hospital.
The second part of the project gave families the opportunity to get involved in sessions at The Infirmary in The Hive. During after school sessions they too learnt about Minecraft and recreated various Worcester buildings.
Everyone had a great time learning about Powick Asylum, other lost Worcestershire buildings and having a go at creating buildings with Minecraft. We were pleased to help out with this great project organised by The Infirmary.
You can find out more about The Infirmary here
2 responses to "Worcester Heritage in Minecraft"