Frederick Dancox – Worcester's Victoria Cross Winner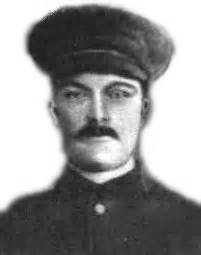 100 years ago (30 November 1917) Private Fred Dancox died in action, a month after performing the heroic action that won him the Victoria Cross and hours before he was due leave to England, to see his family and receive the medal.
Those eagerly waiting to greet Dancox at the railway station were puzzled when he didn't arrive. Eventually a rumour of his death reached Worcester from a conversation with Quartermaster Adams, who was with Dancox when he fell and had since returned home on leave.
Adams, who also served in the Worcestershire Regiment 4th Battalion, gave an account of the action in which Pte. Dancox fell. The Battalion had occupied the line for four days, before being relieved by another Division and given 48 hours' rest. Whilst resting, the Germans made another counter-attack. The batallion rushed out into the road, and seeing the enemy coming drove them back. In doing so they had to clear 250 yards of open ground before reaching trench cover. Dancox was struck on the head by shrapnel within five yards of the trench. He was lightly covered until the Chaplain and burial party could arrive. Pte. Fred Dancox was buried with military honours, along with several others from the battalion.
Military authorities confirmed Adams' news several days later, and the letter from his commanding officer was printed in Berrow's Worcester Journal.
Berrow's Worcester Journal, 22 December 1917
DOLDAY'S V.C.'S END.
Comrade Tells How Pte. Dancox Died
Pte. F. Dancox, V.C., whose glory was published to the world on November 27th…fell in action on November 30th, and his death is mourned not only by his mother and his wife and family, but by Dolday as a whole. AT the recognition accorded his wonderful deed of daring they felt (and rather naturally) a reflected glory. To-day that glory has left them, and they are sad because the romance has ended so differently from the public rejoicings which they had fondly anticipated. And the city outside Dolday, which rejoiced as one man when it learned that a citizen had been so signally honoured, will be stirred to emotion at the sad end of Dolday's epic. Not that the dread news comes altogether as a surprise, for it has been persistently rumoured about the city for more than a fortnight. Hardly had they become accustomed to the extraordinary amount of interest which the V.C.'s doughty deed had evoked when the first whispers of those rumours reached them. The first were that he was at a base hospital, then at Rouen, and then that he had been killed. The evidence which reached Mrs. Dancox on Monday as to her husband's reported burial was almost conclusive, but she still hoped on (as thousands of others have done in similar circumstances) until Monday morning, when the Colonel's letter shattered finally any flickering ray of hope still remaining.
The Colonel's Letter
The following is a copy of the letter which Mrs Dancox received: –
The Worcestershire Regiment
                                                                                    B.E.F.
                                                                        14th December 1917
Dear Mrs. Dancox – I write these few lines to express to you the deepest sympathy as usual in your great loss. Needless to say, your husband is a very great icon to the Regiment – no words of mine are necessary to remind you of his valour – the V.C. he so well earned speaks for itself.
He was killed during a counter attack we had to make on Nov 30th, when the Germans attacked in force near Cambrai. He had been granted 14 days' leave, and would have left the Battalion that night, but we were called upon to fight, and of course he was there and did his full share to the end. You may indeed feel proud – we are all proud of him – and his name will go down in history as one of the bravest of the brave. – Yours very truly,
O. Senhouse Clarke, Lt. Col.
Commanding –the Worcerstershire Regt.
Ellen Dancox collected the VC on her husband's behalf. A public fund was set up for the Dancox family, with an initial donation from the City Council of £50. The Mayor and Town Clerk were among the trustees. In February 1918 the General Purposes Committee minuted that 'subscriptions were not coming in very satisfactorily', but eventually a total of £451 was subscribed (which, in 2007, would have had the purchasing power of £15,750).  The Dancox family moved from Dolday to Bull Entry, a side road off the High Street that today has HMV at the end.
General Purposes Committee Minutes, p.350
7 Dec. 1917
Private Dancox, V.C.
The Mayor referred to the account of the Victoria Cross to Private Dancox of Dolday, and suggested that some public recognition should be made of the honour conferred upon a Citizen.
The Committee considered that the Public should be asked to subscribe to a fund for the benefit of Private Dancox, his wife and family; and the Mayor was asked to invite contributions.
It was moved by Mr Harrison, seconded by Mr Berry and resolved nem. con:-
That the Council be recommended to vote a sum of £50 as a contribution towards the fund, and to authorise this Committee to approve the conditions on which the money shall be applied for the benefit of Private Dancox his wife and [family.]
General Purposes Committee Minutes, p.384
5 April 1918
Private Dancox, V.C.
Referring to the Minute of the 1st February, Mr Aubrey reported that the total amount subscribed was £451-15-3, and expenses, viz printing, advertising &c were £9-15-5, leaving £441-19-10; of which £25-17-4 had already been spent in buying furniture &c for Mrs Dancox, thus reducing the funds to £416-2-6, of which £400 had been invested in War Stock in the names of the Mayor, Ald. Cook, Mr Aubrey, and the Town Clerk.
It was moved by Mr Fairbairn, seconded by Ald. Gray, resolved nem. con:-
That the Council be recommended to appoint the Mayor, Ald Cook, Mr Aubrey and the Town Clerk, as Trustees of the Private Dancox V.C. fund.
 
The City Council bought the medal from the family a few years later. In 1923 it was framed and displayed in the Guildhall for a brief period before being loaned to the Regimental Museum. During the Prince of Wales (later King Edward VIII) visit to Worcester in October 1932, Ellen Dancox was chosen to present the Prince with the poppy wreath he laid at Cathedral War Memorial.
Early Life
Private Fred Dancox was the middle of three sons born to Louisa (nee Chance) and William Dancocks, a labourer, who had married in July 1875. His birth certificate reveals his full name as Frederick John Dancocks, born on 19th March 1878 at Crown Lane, Claines. The army recorded his surname as Dancox, one of two spellings used, so this is usually how he is referred to.
A baptismal entry from St Stephen's church register, dated 23rd November 1878, doesn't give the baby's name, but lists the parents' surname as Dancox, living in Crown Lane, and the father as a labourer. It is registered as a private baptism, which were usually performed at the parents' home. Private baptisms can be performed in an emergency if the baby is sickly and might die before a church service could be arranged. Perhaps this explains the blank spaces: Frederick was hurriedly baptised and the entry written up later. We are sure this is Frederick's baptism, because both of his brothers are named in the same register, William Thomas in February 1876 and Henry George in January 1881, and these are the only three Dancocks listed.
William Dancocks senior died aged 39 in May 1880, when Louisa was pregnant with their youngest son Henry. She married labourer William Whittle three years later. The 1891 and 1901 censuses shows Frederick living with his mother, step-father, two brothers, two step-brothers (from Whittle's previous marriage) and several younger half-siblings at 55 St George's Lane and latterly at number 59 Hylton Road, both in Worcester city. It is probable that the Dancocks brothers were educated at St Stephen's School (now Northwick).
According to censuses and contemporary newspaper reports, after leaving school Frederick worked as a hay-trusser, until he volunteered for the Army in 1915. Perhaps prompted by his decision to go to war, Frederick married Ellen Pritchard on 8th March 1915 in Norton juxta Kempsey Parish Church. Ellen was living at 28 Dolday in Worcester, but Frederick was already a soldier based in Norton Barracks. Their eldest child Frederic[k] had been born in 1902, and was followed by Florence (born 1906), Harry (born 1909) and Nellie (Ellen, born 1913).  The youngest child, George, was baptised in All Saints Church in July 1915 but tragically died the following summer aged just one year old.
Victoria Cross
Private Dancox had served in France for just under a year when he was awarded the Victoria Cross, having previously fought in Gallipoli. On 9th October 1917, during the 3rd Battle of Ypres (Passchendaele), the 4th battalion of the Worcestershire Regiment was coming under heavy fire from a German machine-gun point and were unable to advance. Dancox was one of ten men appointed as 'moppers-up', but he became separated from them during the course of the battle. The Supplement to the London Gazette, dated 26th November 1917, describes how Dancox moved from shellhole to shellhole, approaching the rear of the German blockhouse, a concrete structure designed to protect the machine gun point from heavy artillery. The forty or so soldiers inside surrendered when Dancox threatened them with a grenade. Once the prisoners were taken to the British line, he returned to the blockhouse and dismantled the machine gun. His actions, demonstrating 'most conspicuous bravery and dedication to duty in attack', earned him Britain's highest military decoration for valour in the face of the enemy that can be awarded to British and Commonwealth forces. Dancox was granted a fortnight's leave at the end of November to collect the award from the King. Worcester prepared to celebrate the homecoming of the local hero in style: bunting was put up and alongside the Dancox family waited civic dignitaries, reporters, and hundreds of local people. He did not arrive.
War Memorial Mystery
Private Dancox is recorded on a number of war memorials in the city, including the All Saints Worcester war memorial that commemorates all those from Dancox's home parish. However, on this memorial he is listed as Frank Dancox VC, not Fred. Nowhere else is he called Frank and no one we have spoken to can explain it. It could just be a mistake, but throughout the minutes and correspondence of the All Saints war memorial committee he is first name is always given as Frank. Many would have seen the letters asking for donations to the Dancox family fund and the memorial was overseen by a former officer of the Worcestershire Regiment. Surely someone who knew him from Dolday or the Worcestershire Regiment would have pointed this out if it was a mistake? Given the changes in surname over his life (Dancock & Wittle), maybe a mystery about his first name is appropriate.