Kays at Christmas, 1990
Going through the Christmas catalogues was one the great traditions of Christmas for children, writing up a long Christmas list whilst going through it. For many that catalogue would be Kays, especially here in Worcester where it was based. The company employed many people locally, as well as many people being local agents.
Over the past couple of years we've shared a few pages from the Kays catalogues in our archives for 1973 and 1980. This year we've gone for 1990. This was the year Cliff Richard was at No.1 with Saviour's Day, beating Vanilla Ice's Ice Ice Baby and The Farm with All Together Now.
Annuals are always a good place to begin, as they indicate what was popular. Some are perennial favourites, such as Shoot! Or Whizzer and Chips, whilst others are very specific to a period or year, such as Jason Donovan, Ed the Duck, New Kids on the Block and Home and Away. We were a little surprised at a Coronation Street annual – not sure many children would want one of those these days.
The must have toys included Teenage Mutant Hero Turtles (not Ninja in this period), whose mania was in full flow. Batman and Ghostbusters were also very popular.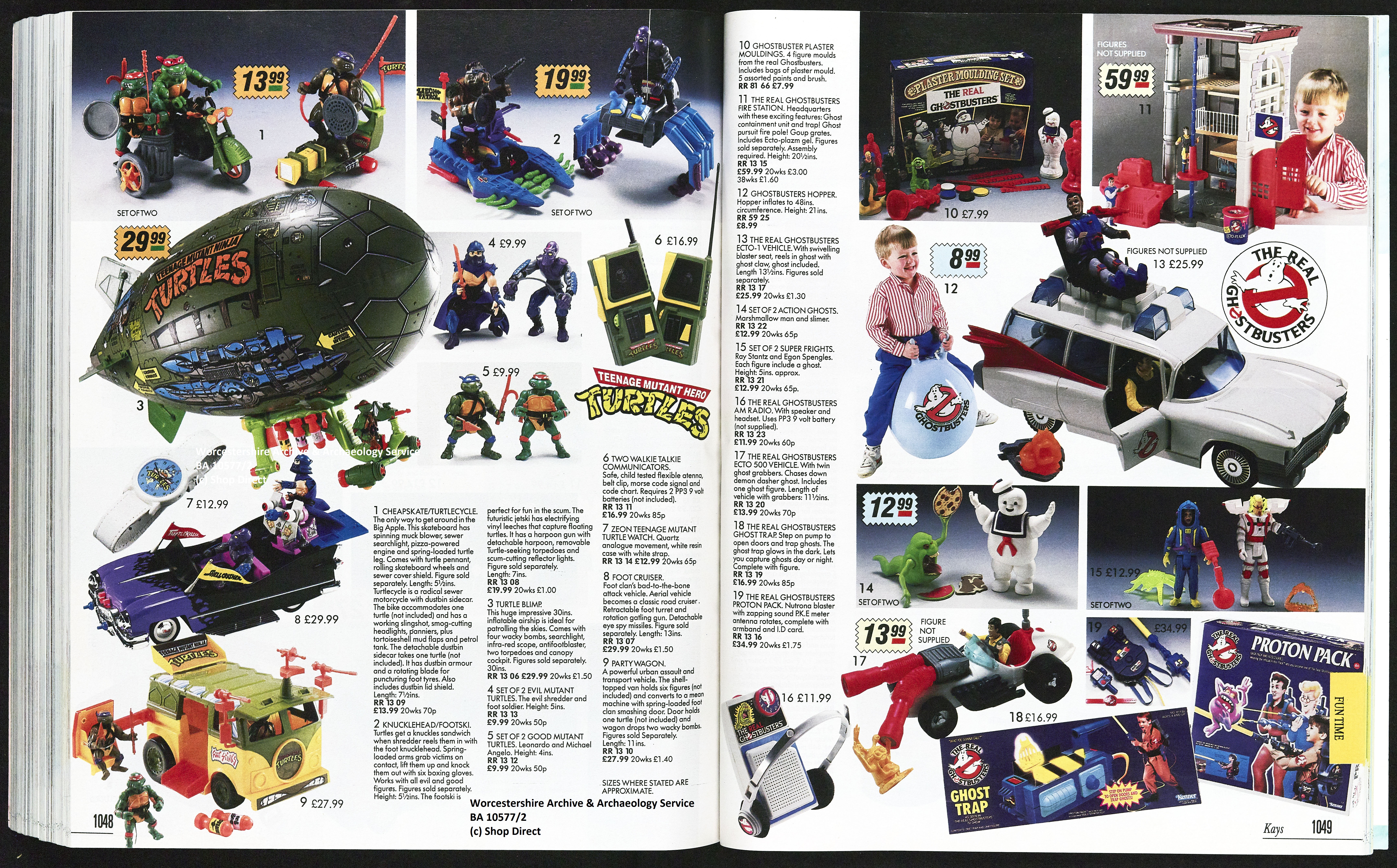 Sindy and Barbie were still popular in 1990, as they had been in 1973 and 1980, with a range of different dolls and accessories.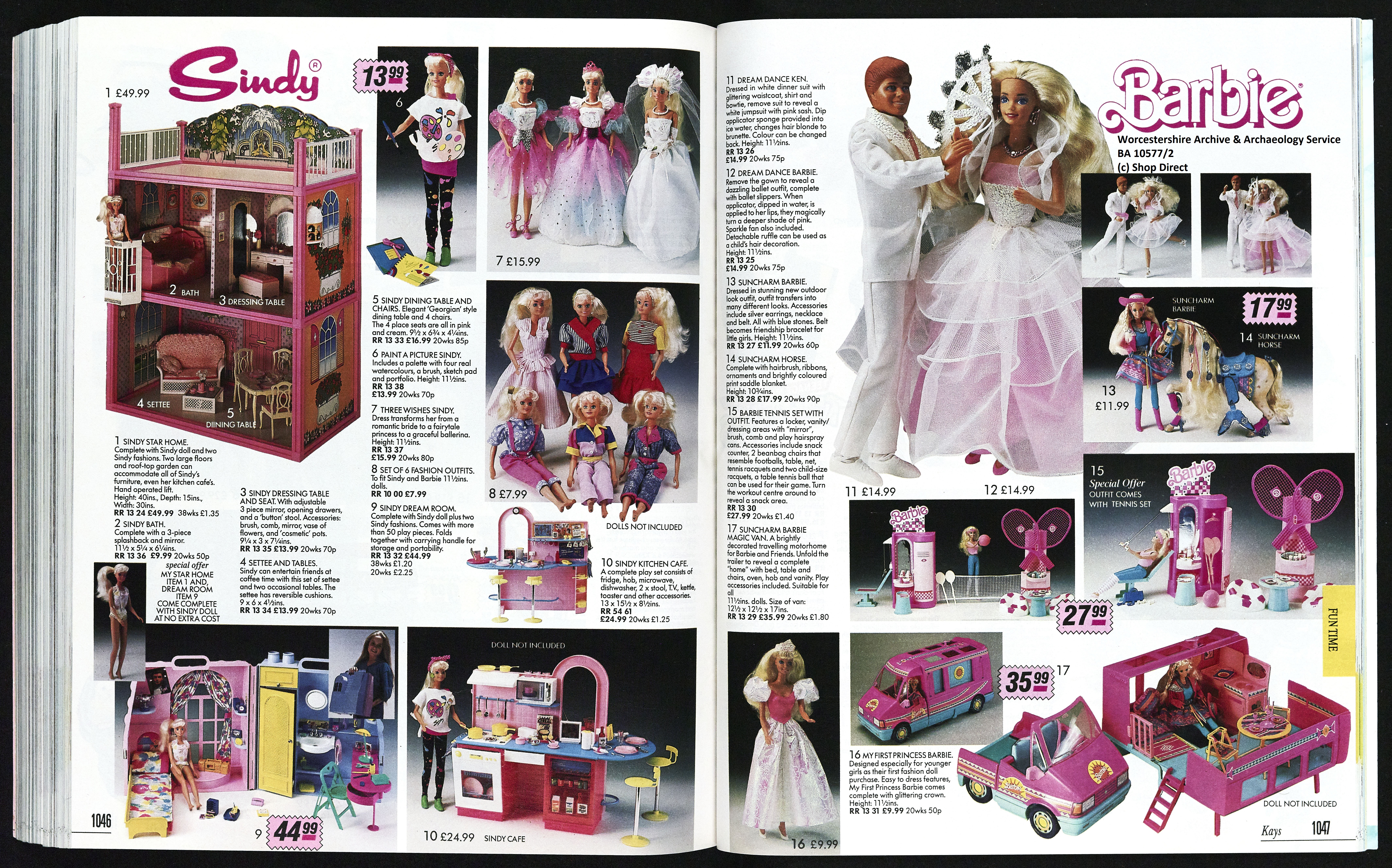 Many of the games were again old favourites, like the annuals, and Connect 4, Monopoly, Cluedo, Guess Who and Kerplunk were on sale in new boxes. Spin offs from TV such as Blockbusters and Telly Addicts were unsurprising as they lent themselves to playing at home, although we were not sure how they turned Home and Away into a game! A few fantasy style games were around too with Trapdoor and Treasure, the Key to the Kingdom and Hero Quest.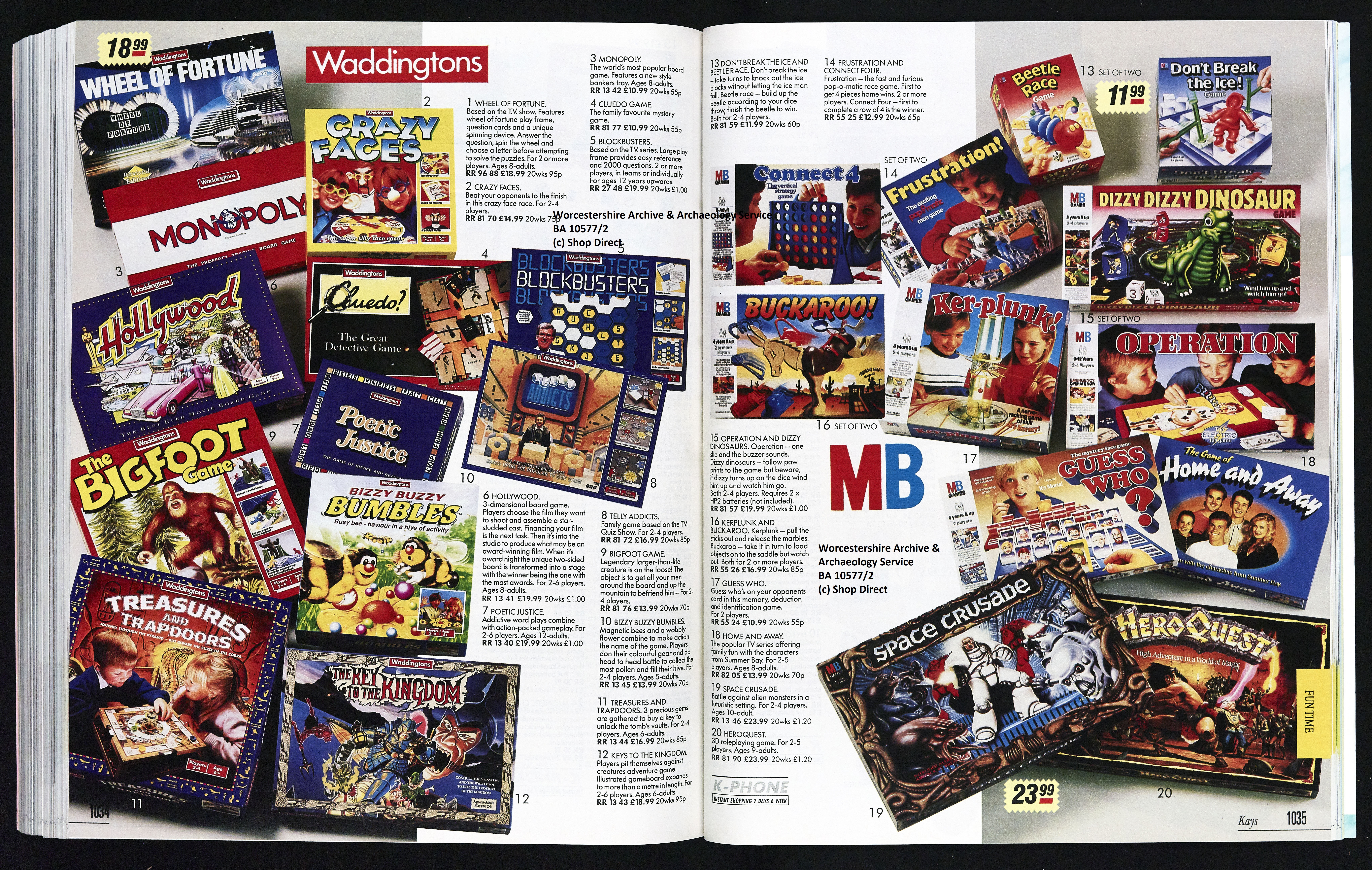 If you were into your electronic games then Atari was for you, although we also have an early Sega console. One of our colleagues thinks she has one of these at home still somewhere.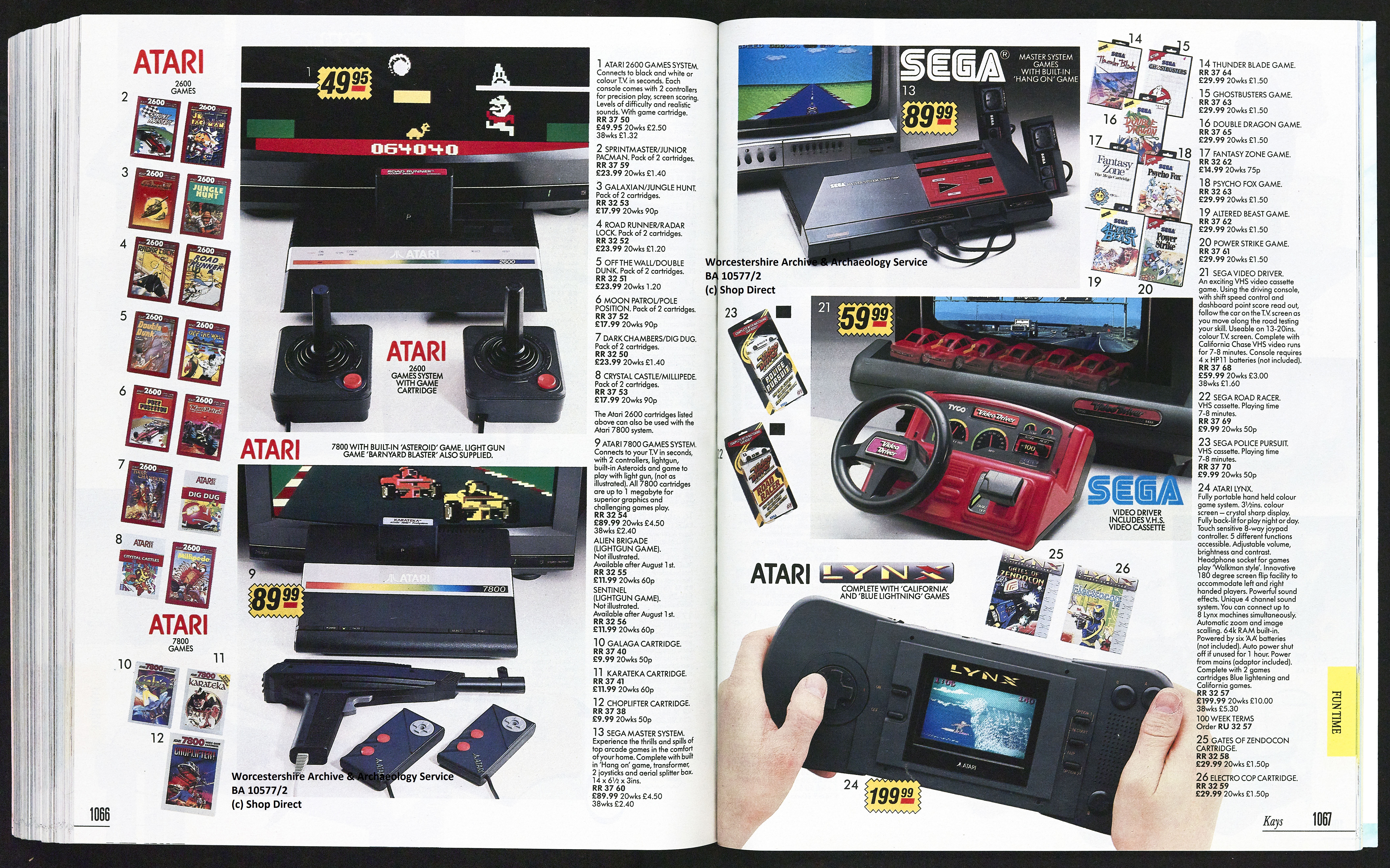 Electronic devices are one way of seeing the changes which have taken place. Under the section 'State of the Art' we see several cutting edge devices including a double decker video recorder, a TV/cassette/clock radio, and an early portable CD player (we recall that early ones were difficult to use as they jumped if jolted so took a while to catch on). On a page we didn't copy there is also a language translator, which has 5 languages. Sadly it doesn't say which ones though!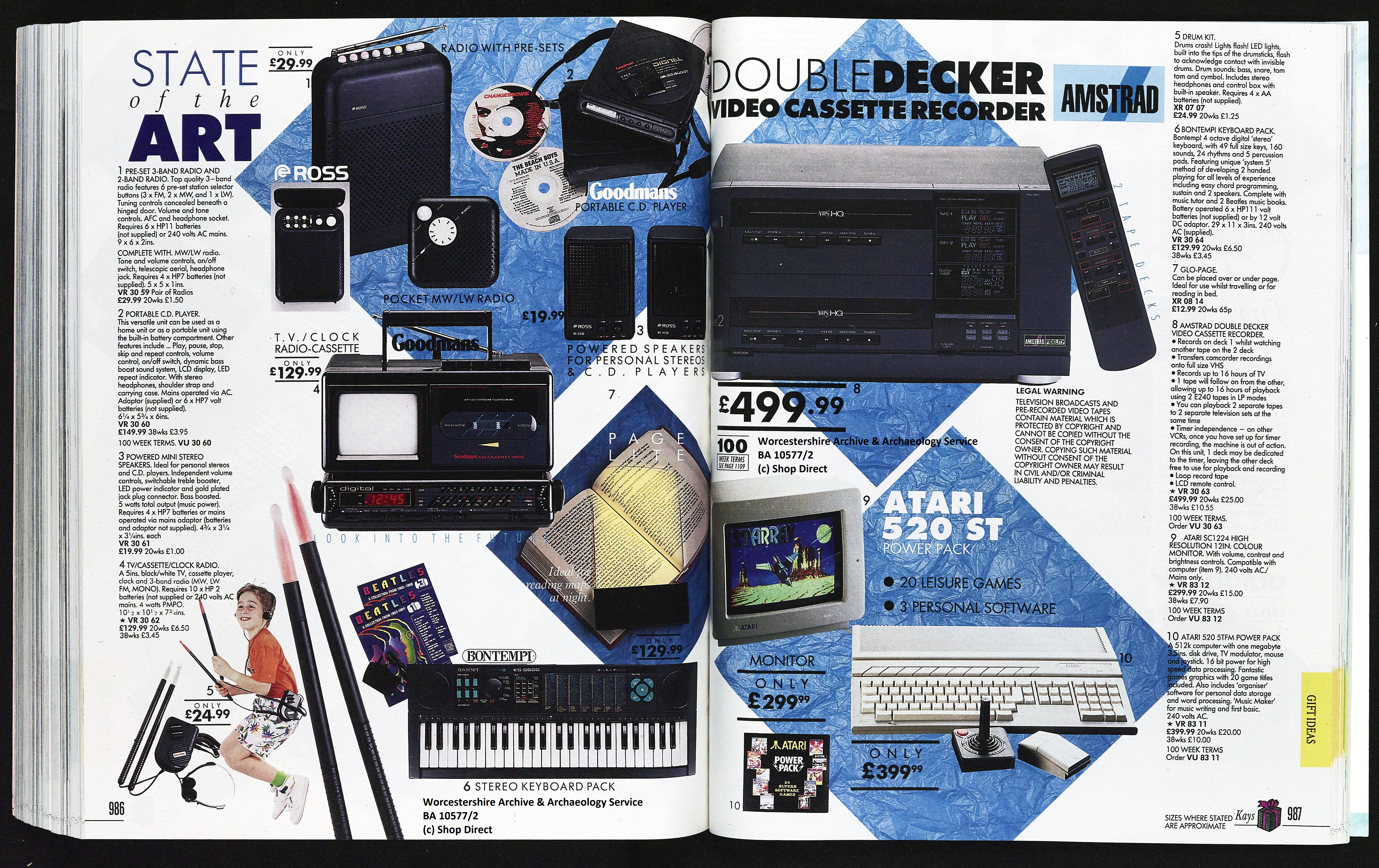 The last couple of times we shared Kays catalogue we included the food hampers you could buy, and which some people used as a way of spreading the cost of Christmas food, even if you did end up with a few items which were never used! By 1990 this seems to have disappeared and we couldn't find any within the pages, unless we missed them.
What was new was K-line, a dedicated telephone line for Kay's agents and customers to check what was in stock.
We can't leave the catalogue without a look at the fashion. It was era of shell suits, but also dungarees and purple. We won't reveal the names of our staff who saw these pages and admitted having clothes very like them, or even having those hair styles! Some of these pages could be the dictionary definition of 1990!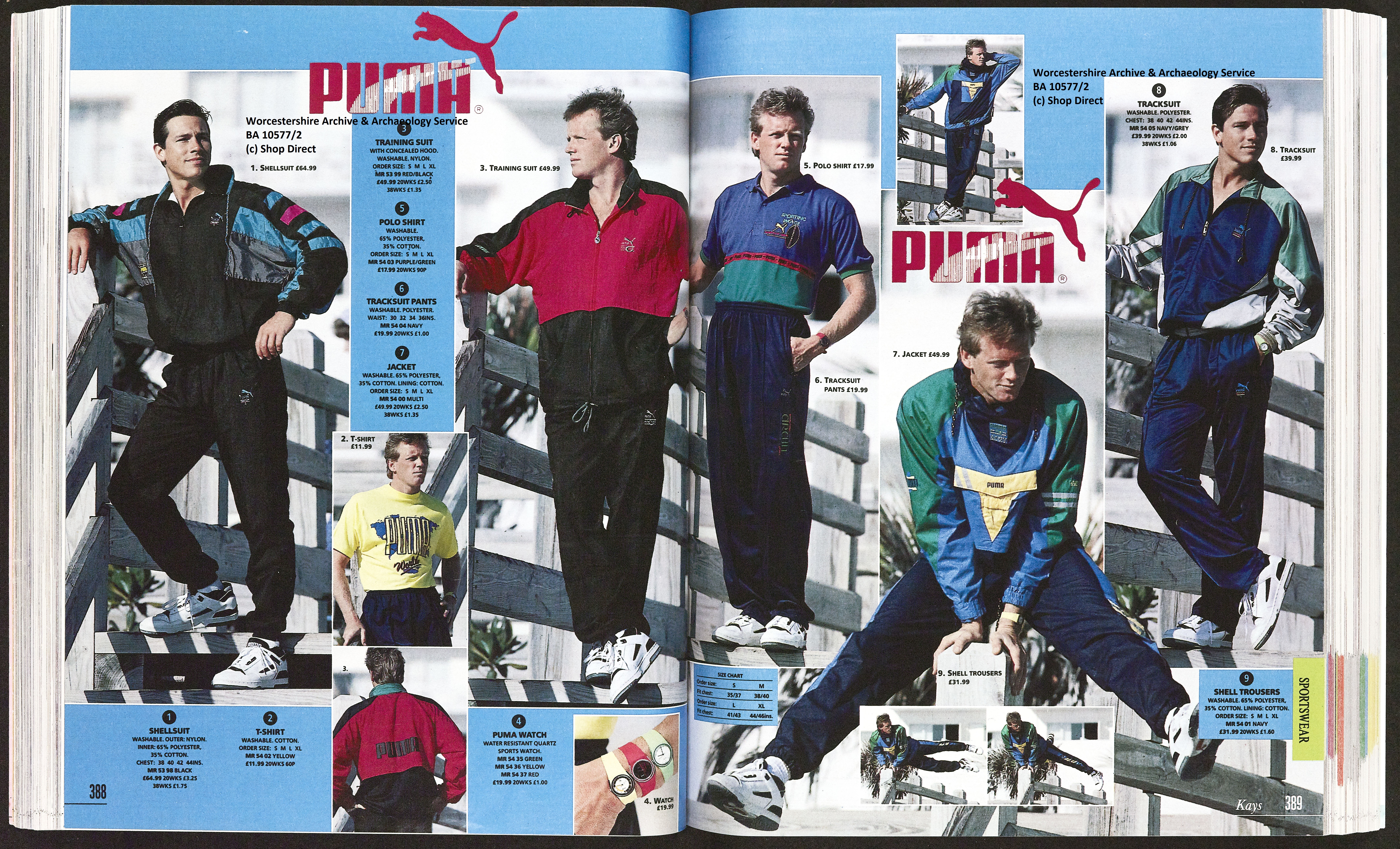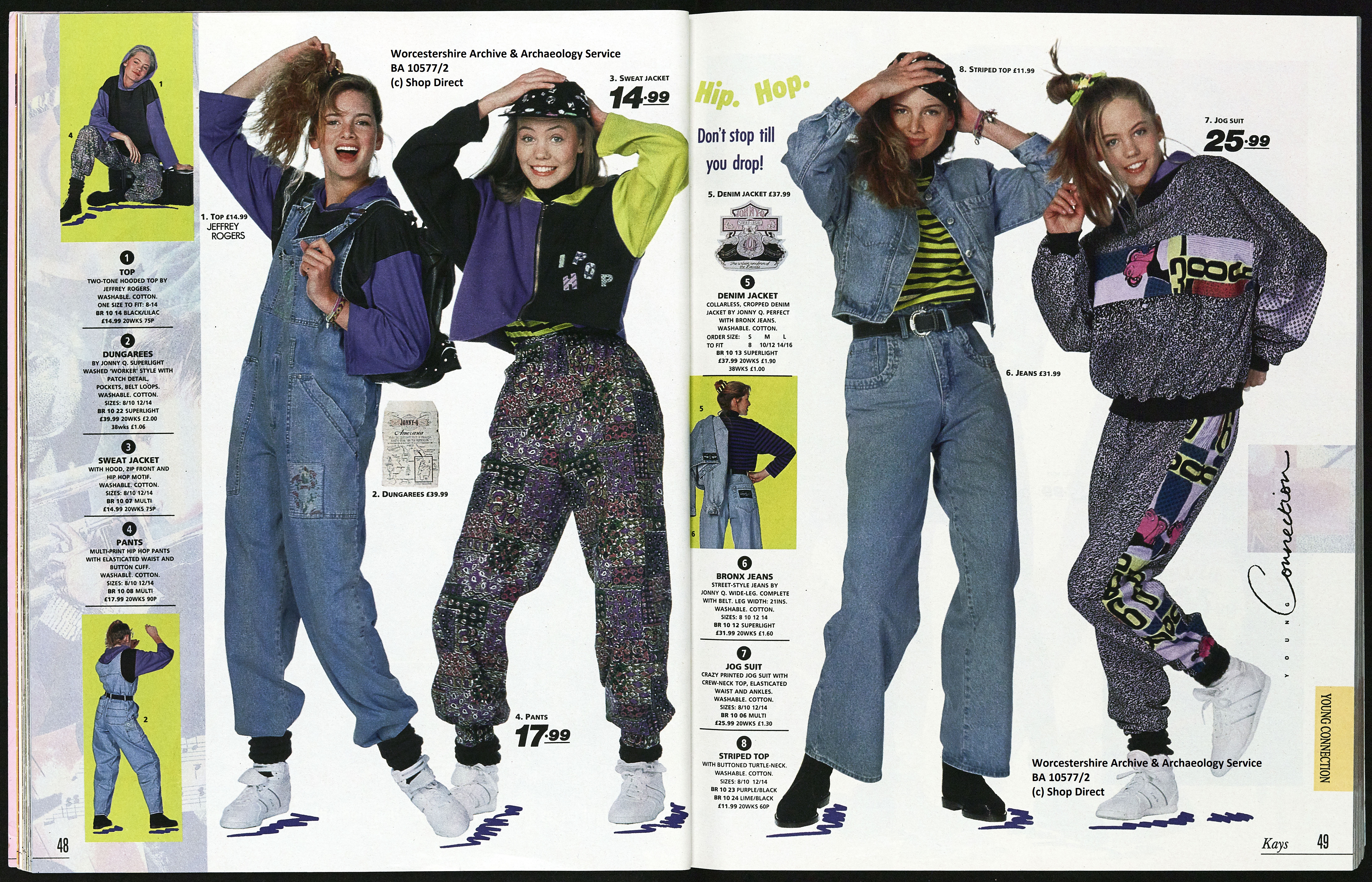 We have quite a number of Kays catalogues in the archives. Thank you to Shop Direct for allowing us to reproduce some of the pages here.
The images were copied by our Digitisation Team, who produce really high quality images from our collections for our own projects and for customers. They can also copy other people's images in a wide variety of formats.